This article first appeared in The Edge Financial Daily, on June 28, 2019.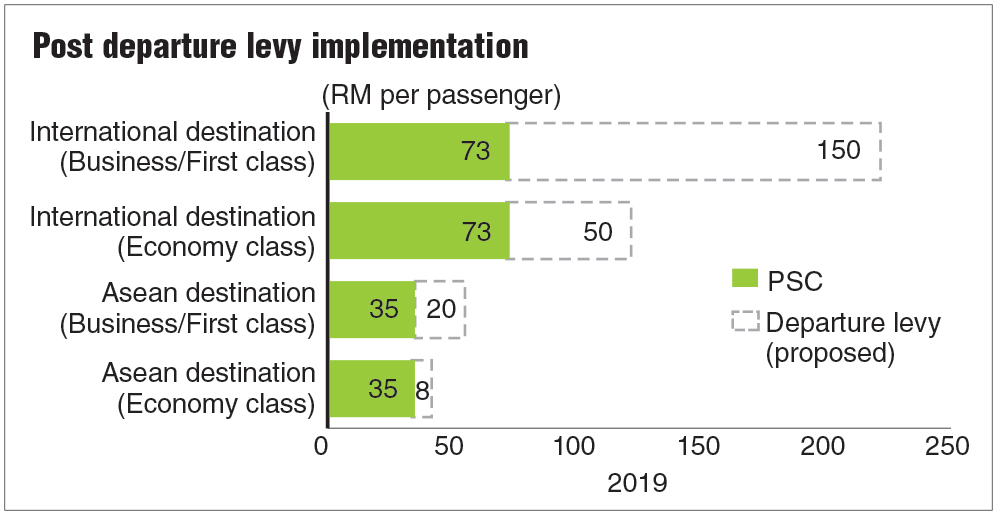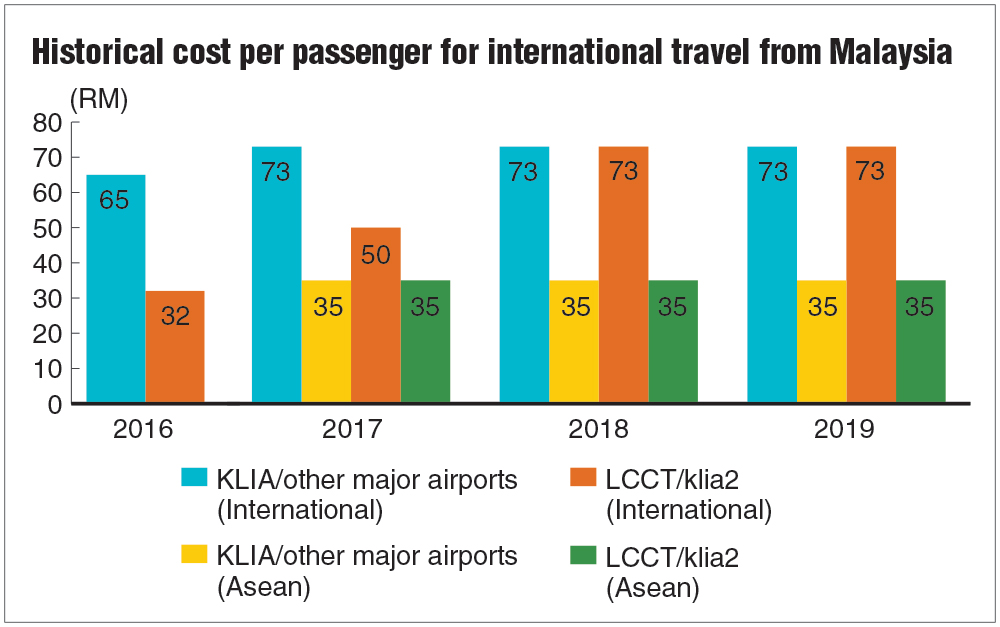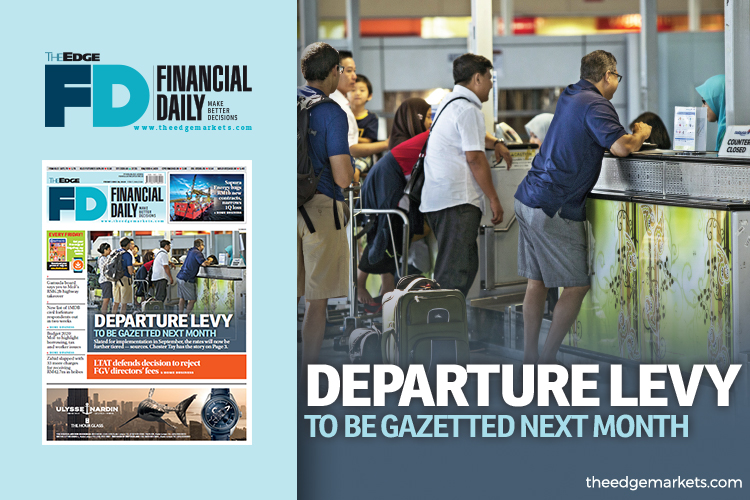 This article first appeared as 'Departure levy to be gazetted next month — sources' in The Edge Financial Daily, on June 28, 2019.
KUALA LUMPUR: The departure levy for outbound air travellers, which has become a bone of contention between the government and airlines since it was proposed in Budget 2019, will be gazetted next month for implementation in September, sources said.
The government had initially planned to impose the levy from June 1.
Sources told The Edge Financial Daily that the government is in consultation with key industry players on the rates, which will be segmented to passengers flying to Asean countries and those beyond.
It is understood that the rates in these two segments will be further tiered into economy class, business class and first class. For example, the departure levy will be RM8 for economy-class passengers and RM20 for business-class and first-class passengers flying to Asean destinations.
Passengers flying beyond Asean destinations, meanwhile, will pay a departure levy of RM50 for economy-class flights and RM150 for business-class and first-class flights.
This would replace an earlier proposal which calls for a departure levy of RM20 and RM40 on travellers flying to Asean countries and those beyond respectively.
According to sources, the government intends to provide exemptions to the proposed departure levy for infants below 24 months, transit passengers arriving and leaving Malaysia within 24 hours, crew on duty, pilgrimage travel, government agencies and those who buy tickets before Sept 1 for departure after the levy is enforced.
On a back-of-the-envelope calculation, based on a 2018 outbound international air travellers statistics and assuming 85% of them are on economy class and the remaining 15% on business class and first class, the revised departure levy structure will bring an additional revenue of RM1.1 billion into government coffers.
Malaysia Airports Holdings Bhd's 2018 annual report showed that 14.57 million passengers flew to Asean destinations through the country's five international airports. Those who travelled beyond Asean countries from these five airports totalled 14.84 million passengers.
When the Departure Levy Bill 2019 was passed in parliament in April, Deputy Finance Minister Datuk Amiruddin Hamzah said that if the initial structure was implemented, the government stood to collect between RM900 million and RM1 billion per year from the levy.
During the tabling of Budget 2019 last year, Finance Minister Lim Guan Eng said the proposed levy was aimed at encouraging domestic tourism.
"The rate proposed is consistent or not more than what many other countries are charging, including Thailand at US$20, Hong Kong at US$15 and Japan at US$10," Lim had said.
Still, it is worth noting that the proposed departure levy is in addition to the existing passenger service charges (PSC) of RM11, RM35 and RM73 for domestic, Asean and international destinations respectively.
The International Air Transport Association (IATA), a grouping of 290 airlines including Malaysia Airlines Bhd and Malindo Airways Sdn Bhd, had in April called on the government to reconsider the imposition of the departure levy, saying that it may do more harm than good to the economy.
Based on IATA's analysis, the introduction of the levy would reduce the number of international air passengers departing Malaysia by up to 835,000 per year, decreasing the aviation sector's gross domestic product contribution by up to US$419 million (RM1.74 billion), resulting in a reduction of up to 5,300 jobs.
In a video posted on AirAsia Group Bhd's Youtube channel last month, its group chief executive officer Tan Sri Tony Fernandes opined that Malaysia should focus on growth.
"In terms of departure levy I have spoken to many cabinet ministers, and I am optimistic that it won't happen, but that is my own feeling. I think the Malaysian economy is now growing from one that needs to be taxed, to one that is focusing on growth.
"I think tourism is one of the low hanging fruits, and it is a great job creator, so I don't think the government ... when initially it came in, there was a shortage in deficit, to make up for the deficit, I am giving a feeling that there is less enthusiasm for the departure levy, but we will see," he had said.
In April, Malaysian Association of Tour and Travel Agents had also called on the government to delay the proposed departure levy for six months to enable air travellers and the travel industry to get used to the system.