This article first appeared in The Edge Malaysia Weekly, on November 9, 2020 - November 15, 2020.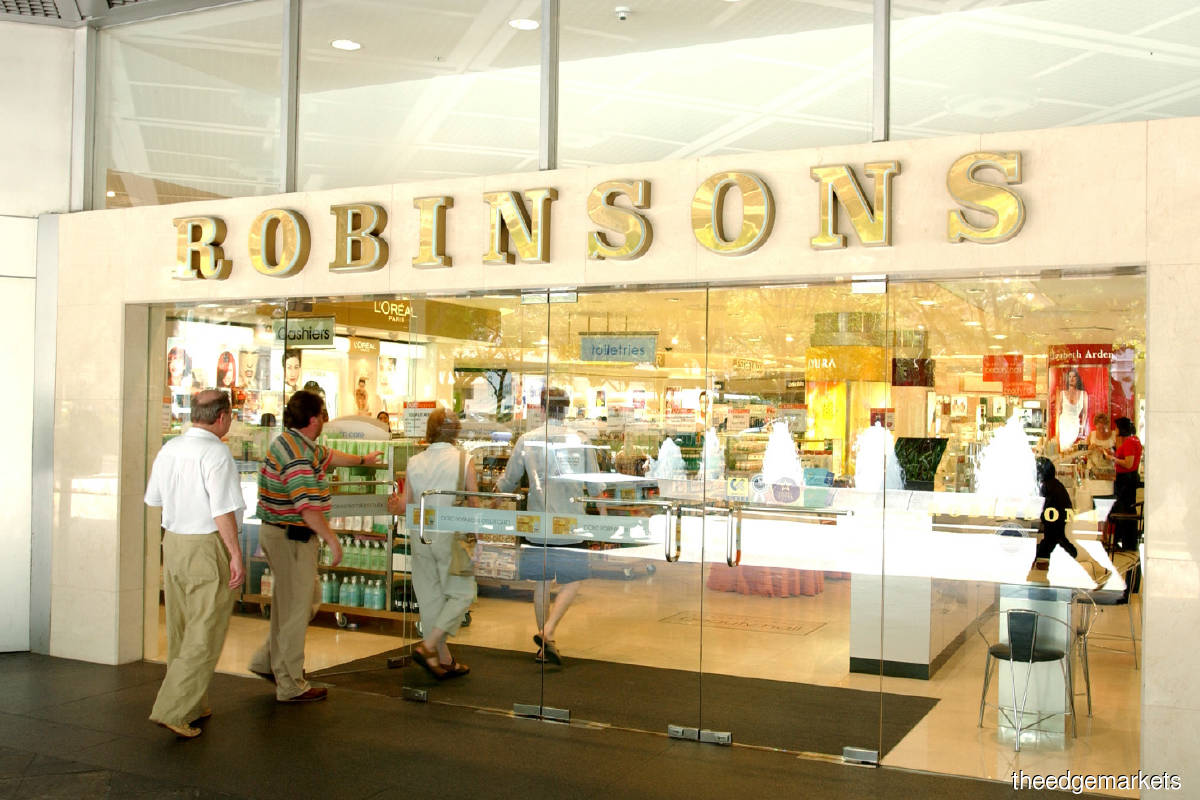 ICONIC 162-year-old department store Robinsons is the latest casualty in the retail market, the imminent closure of its remaining four stores in Malaysia and Singapore leaving shoppers shell-shocked.
Robinsons' departure, announced last week, begs the question of whether bricks-and-mortar department stores can remain relevant — particularly amid the Covid-19 pandemic — when many e-commerce sites now dominate the retail market.
In the second quarter of 2020, the worst-hit retail sub-sector was department stores, according to the Malaysia Retail Industry Report, which noted that sales had plunged by a massive 62.3%. The report is compiled by Retail Group Malaysia on behalf of the Malaysia Retailers Association.
A retail analyst believes the department store segment in Malaysia may have hit a bottleneck as consumers have become more selective or are looking for a different shopping experience.
"Consumers are not really attracted to the idea [of department stores] anymore. They are more brand-conscious and have better ideas of what they want already.
"You always think of apparels when talking about department stores. Consumers are quite knowledgeable in terms of what brands they want to buy such as Zara, Uniqlo and Padini," he tells The Edge.
In order to stay afloat, department store operators have to find their niche, he says, such as creating nice cafés that are "instagrammable".
Another analyst foresees that the operating environment will be tougher for most department store operators, especially for outlets that are in shopping malls, given the lingering uncertainties over the availability of a Covid-19 vaccine and the resurgence of cases.
"Most shopping malls [now] are like ghost towns as consumers are still cautious about being exposed in an open area. Also, some might think that more time is needed when shopping, as they have to adhere to the standard operating procedures at the stores. Therefore, shopping malls will see fewer people, thus affecting department stores," says the analyst, who believes that closing down non-performing outlets is an option to reduce operating costs.
"Moreover, the retailers should enhance, focus and invest more on e-commerce platforms," she adds.
However, Robinsons says the online model is not workable for department stores because individual brands want to maintain brand ownership online, coupled with stiff competition from full-fledged e-commerce sites.
Parkson Holdings Bhd chief operating officer Law Boon Eng tells The Edge that department store operations in Malaysia have always been challenging, given the relatively small population and gross oversupply of retail space.
But he points out that being in the right locations will always be profitable. "Sustainability to us is paramount, irrespective of market conditions. We have gone through numerous market conditions throughout our 32 years of operation.
"The fundamental key to our sustainability has been our prudence in managing costs, our cordial relationship with our suppliers and their unwavering support. That has kept us going even during the toughest market conditions."
Law says the company's operating cost structure is lean and that the operator is continuously evaluating the performance of individual stores.
"We weed out non-potential stores before they run into losses, as the tenancy agreement would not allow us to vacate immediately. At the same time, we are seeking new opportunities in profitable locations."
Law stresses that Malaysia and China will remain core markets for Parkson, but adds, "We will continue to pursue opportunities in other markets at the appropriate time."
Even prior to the Covid-19 pandemic, the department store operator had struggled to cope with changes in consumer behaviour and increasing competition.
In the red since FY2016, Parkson's net loss more than tripled to RM436.35 million for the financial year ended June 30, 2020 (FY2020), from RM129.18 million in FY2019, on the back of impairment losses on assets and receivables totalling RM242 million.
Parkson has almost an equal number of stores in Malaysia (42) and China (41). It has 15 stores in Indonesia, and four in Vietnam, bringing the total number to 102.
China proved a key market in FY2020, contributing RM137 million in profit, followed by Vietnam (RM7 million) and Malaysia (RM5 million).
However, a loss of RM20 million was recorded for Indonesia, on the back of a weak consumer spending sentiment as a result of surging Covid-19 cases.
In contrast, the better performance in the Chinese market was driven by the effective control of the pandemic and the implementation of various measures to stimulate consumer spending.
On Oct 15, Parkson triggered Practice Note 17 (PN17) of the Main Market Listing Requirements of Bursa Malaysia after its auditors issued an audit opinion on material uncertainty related to a going concern as its shareholders' equity on a consolidated basis as at June 30, 2020, of RM1.59 billion was less than 50% of its issued share capital (excluding treasury shares) of RM4.15 billion.
However, Parkson was not designated as a PN17 company. Nor was it required to comply with the obligations of PN17 classification under PN17 relief measures.
Malayan United Industries Bhd (MUI), which operates Metrojaya, also maintains that department stores can remain relevant to shoppers even though the operator continues to struggle to keep afloat.
"The key point to note is that we need to keep up with the times and continue to reinvent ourselves. We have to find the right balance between being a bricks-and-mortar store versus an e-commerce store," says MUI chairman and CEO Andrew Khoo Boo Yeow.
"More importantly, in these challenging times amid the coronavirus pandemic, department stores can act as a lifeline for suppliers and vendors. As a department store, Metrojaya can support the local community as another channel on which they can market their goods physically, without having to worry about operational costs."
Khoo says Metrojaya has already started a rationalisation programme to ensure that all its outlets contribute positively to the company's bottom line. "If an outlet is non-performing, we will take active steps to turn it around or close it down."
MUI reported RM297.8 million in revenue for the financial year ended June 30, 2020 (FY2020) — RM45.6 million (15.3%) came from Metrojaya,  or a 45.9% drop compared with RM84.3 million in the previous year — mainly because of the closure of all stores during the Movement Control Order (MCO) period and a total reliance on the domestic market.
Metrojaya recorded a lower loss before tax of RM2.7 million for FY2020 compared with RM20.5 million in the previous financial year.
As at end-June, it was operating three department stores and six retail outlets, the former located at Mid Valley Megamall in Kuala Lumpur; The Curve in Petaling Jaya; and Suria Sabah Shopping Mall in Kota Kinabalu.
Analysts say companies that have a combination of department stores and supermarkets, such as Aeon Co (M) Bhd and The Store Corp Sdn Bhd, are facing less pressure from the weak market sentiment, as "demand for daily basic necessities will remain despite the movement restrictions".
Owing to the MCO, Aeon fell into the red, registering a net loss of RM9.56 million for the second quarter ended June 30, 2020, against a net profit of RM19.45 million in the same quarter a year ago. For the half year, it made a net loss of RM2.09 million against a net profit of RM52.09 million in the year-ago period.
Aeon operates 34 department stores-cum-supermarkets, and also manages and operates 28 shopping malls. The Store, which was delisted from Bursa Malaysia in February 2017, has 75 outlets nationwide.