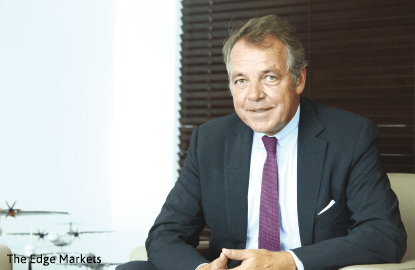 DUBLIN (June 2): The chief executive of Malaysia Airlines, turnaround specialist Christoph Mueller, said he was confident the carrier was on the road to recovery, but was coy about his own next move ahead of his departure in September.
Mueller, who revived Aer Lingus when CEO of the Irish carrier between 2009 and 2015, said he wanted to stay in the industry but hinted he may have had enough of restructuring.
"I've done these type of jobs now so many times, maybe I should do something else," he said in an interview on the sidelines of the annual International Air Transport Association meeting in Dublin.
"I can go so far as saying it will be certainly aviation-related, but that's the only thing I can say. Stay tuned."
Mueller declined to elaborate on the reasons for his departure which Malaysia Airlines has said was due to "changing personal circumstances".
The German was hired last year to nurse the airline back to health after it was left reeling when two disasters in 2014 - the disappearance of flight MH370 and the shooting down of flight MH17 over eastern Ukraine - compounded losses.
He launched a restructuring plan to cut a third of jobs, scrap some international routes, and renegotiate supplier deals, but his unexpected departure was announced in April and a successor has not been named.
Mueller said Malaysia Airlines, which was taken private by Malaysian national investment firm Khazanah in 2014, was ahead of schedule in its plan to be sustainably profitable by 2018.
As such, it is considering whether to expand its fleet by adding new long-range narrowbody aircraft, he said, adding a fleet plan was due to be published over the summer.
Mueller said adding narrowbody, rather than widebody jets would better suit Malaysia Airlines because available capacity at its main hub airport in Kuala Lumpur meant it could use the new planes to fly more frequently on routes to China.
"Instead of flying to a destination once a day with an A330 which is a widebody, we could fly twice a day with a smaller aircraft," he said.
Frequent flights help to attract business travellers, who often like to hold meetings and return quickly, Mueller said.
The CEO declined to say which model of aircraft the carrier was considering.
Long-range narrowbody aircraft on the market include Airbus's A321neo and Boeing's 737 MAX. Malaysia Airlines narrowbody fleet is currently made up of 56 Boeing 737s, according to fleet-tracking website airfleets.net.