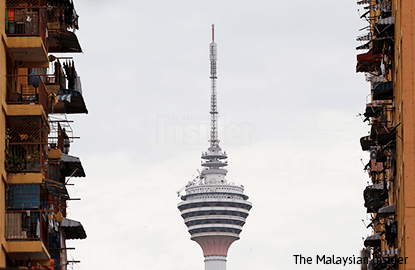 KUALA LUMPUR (Jan 27): The Guardian sees the Attorney-General's decision to exonerate Datuk Seri Najib Razak of any wrongdoing in the case of the RM2.6 billion donation as further evidence of a lack of democratic accountability among some Southeast Asian nations.
A-G Tan Sri Mohamed Apandi Ali yesterday cleared the Malaysian prime minister of corruption allegations into two cases involving large sums of money, namely the RM2.6 billion deposited into the latter's personal accounts in early 2013 and RM42 million from SRC International, a company under the Finance Ministry which Najib heads, transferred into the same accounts.
Since the investigations begun, Najib had not only denied all allegations against him but also silenced critics, sacking his deputy Tan Sri Muhyiddin Yassin, appointing loyalists, and dismissing the previous attorney-general Tan Sri Abdul Gani Patail, who was leading corruption inquiries.
Najib has also taken additional powers to control media and opposition, including the new national security council law, which human rights groups described as a step towards dictatorship.
The UK daily calls the absence of an international outcry about this failure of democratic accountability in Malaysia troubling.
The reluctance by the UK and United States to make waves may be explained by the high priority they attach to keeping Malaysia, as it is seen as a moderate, pro-western, mostly Sunni Muslim ally, especially in view of the threat of Islamic State (Isis) and global jihad.
The Obama administration also views Malaysia as part of its informal regional bulwark against China's rise, and as an important Asia-Pacific trading partner, the Guardian reported.
The same Western attitudes are seen in dealing with the repressive behaviour of the military junta in Thailand, with a high level of tolerance for the lack of free elections despite earlier promises by junta leader Gen Prayuth Chan-ocha.
Similarly, the Guardian says, since the Bush administration, the US continues to turn a blind eye to one-party rule in Vietnam, partly in return for Vietnamese support over China's expansion in the South China Sea.
Myanmar too is mired in some confusion after the lack of a hand over by the military to the National League of Democracy (NLD) party led by Nobel Peace Prize winner Aung San Suu Kyi.
The NLD won the general election by a landslide in November last year but despite assurances about a proper democratic transition, the military retains sweeping constitutional powers over security, budgets, borders and external relations, and will have a veto over who becomes the next president.