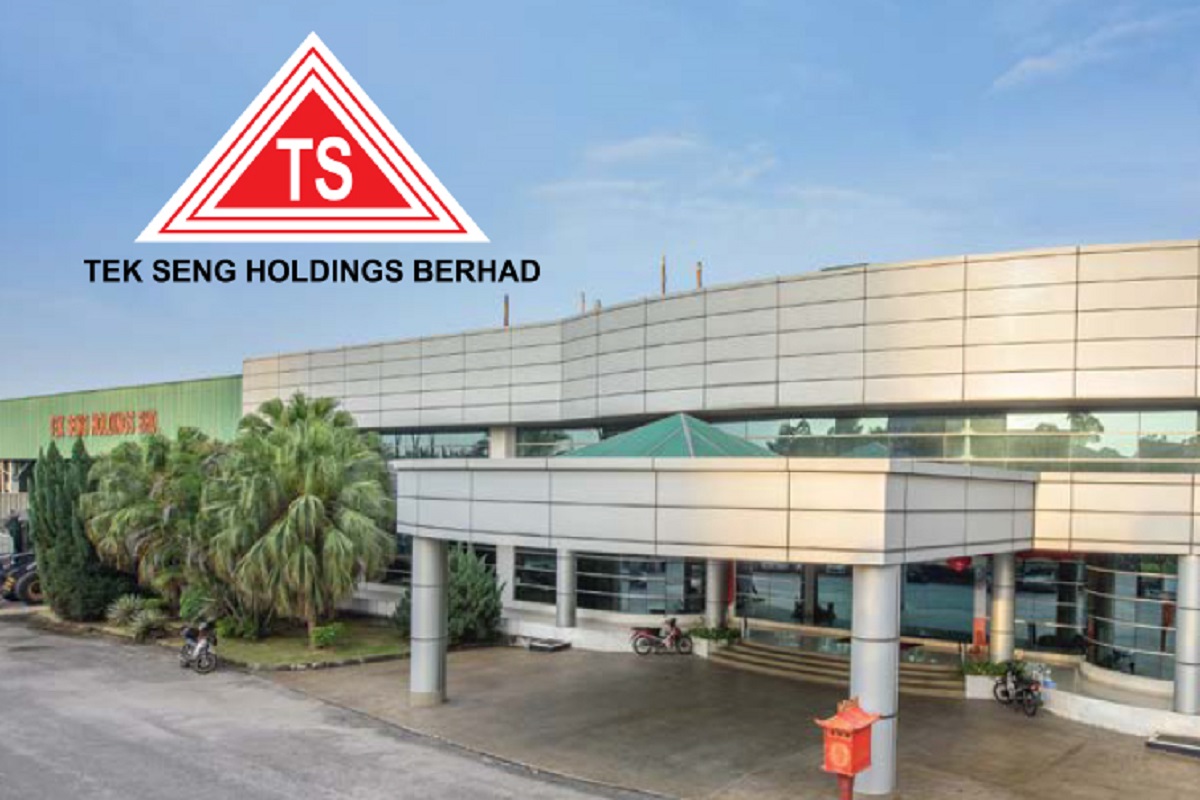 KUALA LUMPUR (Oct 30): Polyvinyl chloride (PVC) sheeting manufacturer Tek Seng Holdings Bhd saw its net profit for the third quarter ended Sept 30, 2020 (3QFY20) surged 42-fold to RM8.1 million, from RM191,000 a year ago on higher PVC sales and profit.
In a bourse filing, the group announced that its 3QFY20 revenue rose 23.35% to RM49.29 million, from RM39.96 million a year ago.
The group said the increase in profit was due to continuous increasing demand for polypropylene (PP) non-woven products, especially personal protective equipment (PPE) such as face masks and gowns, as well as in the furniture industry; higher contribution from PVC segment especially PVC products for household and furniture uses; higher selling price for the PVC segment, mainly PP non-woven products.
For the nine months ended Sept 30, the group returned to the black with a net profit of RM19.25 million, from a net loss of RM3.32 million a year ago. Its revenue for the nine-month period increased by 9.55% to RM142.58 million, from RM130.15 million in the previous year.
The group foresees the performance of the group for 2020 to remain stable for its PVC business although it may be affected by fluctuation in the price of raw materials as a result of the market uncertainty due to Covid-19 pandemic and the impact of the fluctuation in foreign currency.
"Moving forward, the group will focus on producing PP non-woven materials to cater for medical appliances," it said.
It also said its newly invested PP non-woven machine will commence full production by mid-November 2020, more than double of its current capacity.
"Our PP non-woven demand is expected to be fully filled up until the end of 2020. The International Organization for Standardization (ISO) [certification] that was obtained for PP non-woven division enables us to further expand into hygiene products and further enhance our sales stream," said the group.
The group will also be taking cautious approaches to mitigate the exposure by improving its operational efficiency, product quality and product innovation as a positive step forward to sustain its business growth as well as monitoring financial aspects more closely.
The group added that it will also look into exploring new market share globally.
As for its solar segment, the second factory building of TS Solartech Sdn Bhd has been rented out from Oct 1 onwards and the company continues to generate income from the 1.18 MW solar energy arising from the solar panel installed.
At the time of writing, Tek Seng fell 2 sen or 2.5% to 78 sen, valuing the company at RM284.93 million.