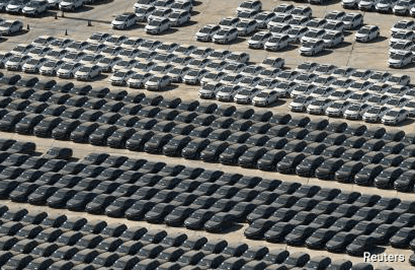 This article first appeared in The Edge Financial Daily, on January 14, 2016.
Automotive sector 
Maintain underweight: The 2015 total industry volume (TIV) is expected to record 665,000 to 668,000 units, relatively flat versus 2014's 666,500 units. The deterioration in consumer sentiment was being upheld by the ongoing aggressive sales and marketing campaigns by the various original equipment manufacturers (OEMs), which affected their margins. 
We expect 2016 to be another flat year (if not worse) for TIV at 665,000 units. Both national cars Perodua and Proton are likely to gain market share in 2016 on the back of new launches during the year. The consumer confidence index deteriorated to a record low of 70.2 points in the third quarter of 2015 (worse than the 2008 financial crisis level of 70.6 points), affected by higher costs of living and lower purchasing power. Lik(eroding OEMs' margin) as well as new Perodua and Proton model launches.
The continued tight lending practices by banks will continue to affect hire purchase approvals (especially car buyers in the lower-income group) as banks exercise more discipline on risk-based pricing. Hence, 2016 will be another year of constraint in terms of financing. 
The weakened ringgit against other major currencies (for example the US dollar and Japanese yen) by 9% to 18% year to date had severely increased OEMs' input cost structure and affected their margins. The full impact of the weakened ringgit will only be seen in 2016. Several OEMs had decided to increase car prices by this month. That said, OEMs may eventually resort to the usual aggressive sales and marketing campaigns, hence offsetting the benefits of price hikes. 
Risks include prolonged tightening of banks' hire purchase rules, slowdown in the Malaysian economy, global automotive supply chain disruption, sudden jump in fuel prices and interest rate. Forecasts  remain unchanged. 
Positives include potential export to regional market, that is Malaysia as a hub; and the implementation of energy-efficient policy. Negatives include tightening of bank lending rules, competitive pressure on margins and depreciation of ringgit. We maintain "underweight" on the automotive sector, given the lacklustre outlook in 2016 — deterioration in consumer sentiment and margin erosion due to lower sales volume, higher input cost (due to the weakened ringgit), and higher spending on sales and marketing expenses. Our top picks for the sector are DRB-Hicom Bhd and MBM Resources Bhd on the premise of distressed valuation. — Hong Leong Investment Bank Research, Jan 13