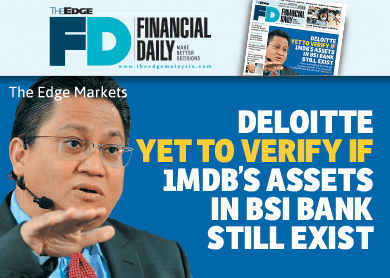 KUALA LUMPUR: 1Malaysia Development Bhd's auditor Deloitte & Co cannot verify now if 1MDB's investments, which were redeemed from the Cayman Islands and parked in BSI Bank Ltd in Singapore, are in cash, units or assets as it has yet to be given the green light by the Ministry of Finance to audit 1MDB's latest accounts for the financial year ended March 2015 (FY15).
This was revealed by Public Accounts Committee (PAC) chairman Datuk Nur Jazlan Mohamed (pic) yesterday, who also said that Deloitte cannot verify now if 1MDB's "assets" in Singapore are even still there or not, for the same reason.
But he said Deloitte, in conducting its audit of 1MDB's financials for FY14, had viewed the bank statements of 1MDB's funds parked at BSI Bank in Singapore and a few other locations, and had verified that the fair value of these assets had totalled RM13.4 billion at that point in time.
He added that Deloitte had informed the PAC that they had obtained an independent valuation of the assets and that the valuation tallied with the numbers.
"They have not been asked by their client, and it is up to MoF to instruct Deloitte to start work [and audit 1MDB's books] ... They want to do it but have not been given the green light by MoF," Nur Jazlan told reporters after a four-hour long meeting with Deloitte officials at Parliament yesterday.
Also present at the meeting with the PAC was Deloitte's audit partner, Ng Yee Hong, who signed off 1MDB's financial accounts for FY14.
Nur Jazlan said any company's accounts would have been audited by now as it takes about two to three months for an audit to be completed.
Nur Jazlan said Deloitte revealed to the PAC yesterday that 1MDB had sufficient assets to operate as a strategic investment fund when it last audited its accounts on March 31, 2014.
He said Deloitte also expressed that there was no reason the company cannot continue its operations and that it did not need government guarantees.
Nur Jazlan also brushed aside concerns that there could be political influence on Deloitte's audit of 1MDB, after questions were raised over the prime minister's son's role in Deloitte.
He said Nizar Najib, son of Prime Minister Datuk Seri Najib Razak, is attached to the international auditor's financial services section and not the audit section.
Deloitte is 1MDB's third auditor since it was set up in 2009 to spearhead development in the strategic sectors. Weeks after Deloitte signed off 1MDB's 2014 financial accounts in early November last year, 1MDB was struggling to repay a RM2 billion loan.
Petaling Jaya Utara Member of Parliament Tony Pua had previously called on Deloitte to restate 1MDB's accounts from the previous year to show the true picture of 1MDB's financial health.
He had also questioned how Deloitte's audit partner, Ng, could sign off 1MDB's March 2014 accounts on Nov 5 that year and say that 1MDB's funding facilities and net cash flow were sufficient to cover its cash flow needs when 1MDB was practically insolvent.
Meanwhile, Nur Jazlan said 1MDB president and group executive Arul Kanda Kandasamy, together with the strategic investment fund's former chief executive officer Datuk Shahrol Azral Ibrahim Halmi, will face the PAC in the first week of August. Nur Jazlan said the duo, who were lambasted for having skipped a hearing with the PAC that was initially scheduled for May 26, will be called up right after the Hari Raya Aidilfitri celebrations.
This article first appeared in The Edge Financial Daily, on June 11, 2015.