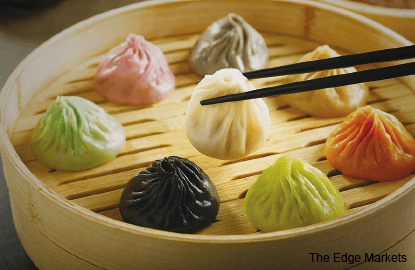 This article first appeared in The Edge Financial Daily, on September 23, 2015.
FOR visitors to the Chinese cultural capital of Shanghai, the first meal that you would want to consume is generally a no-brainer: xiao long bao, the city's traditional dumpling dish that has been made so famous the world over that it can now be found in almost every major city across the globe. 
There is nothing like watching a steaming basket of carefully-wrapped xiao long bao being served in front of you, just waiting to be savoured. Bite into the skin, and a hot, hearty broth quickly envelopes your senses. It is the magical combination of this broth and the delectable minced pork that makes this dish so well-loved by people from all walks of life. 
The original Shanghai xiao long bao was invented in Nanxiang circa 1875, a suburb of Shanghai, where it slowly spread across downtown Shanghai and further afield. Traditionally, xiao long bao was made with a tender, smooth, translucent skin that's filled with minced pork, and steamed in a round wooden basket. The defining specialty of xiao long bao is its soup-filled interior, which is usually slurped after biting into the skin, after which the entire bao is eaten whole. 
The two most famous xiao long bao places in Shanghai sport queues that can stretch as far as a city block in length. Nanxiang Mantou Dian and Gulong Restaurant are the two eateries serving xiao long bao that have the longest history, and are both packed 365 days a year. 
The restaurant which is credited for popularising xiao long bao to the rest of the world is Taiwanese restaurant chain Din Tai Fung. With outlets across the United States, Australia, Indonesia, Japan, Malaysia, Singapore and South Korea, the restaurant quickly converted legions of foreigners into ardent fans of xiao long bao. Din Tai Fung is now internationally famed for their signature xiao long bao, and two of its Hong Kong outlets—one in Tsin Sha Tsui and another in Causeway Bay—were awarded one Michelin star each in 2010. 
Nowadays, restaurants are quick to jump on the xiao long bao bandwagon by creating a myriad of delicious variants; some with the quirkiest flavours and stuffings imaginable. The earliest variant was made with crab filling, and is now popularly sold across Shanghai. The craze has also hit our shores with the arrival of Paradise Dynasty from Singapore. The restaurant's specialty? Rainbow xiao long bao. 
They serve an astounding eight flavours of xiao long bao, and true to its name they come in colourful skins. The eight flavours consist of ginseng, foie gras, black truffle, cheese, crab roe, garlic and Szechuan, as well as one in a more original Shanghai flavour, and are each identified by their coloured skins. 
The highlights of this rainbow basket are the immensely popular black truffle flavour with its earthy tones, the mozzarella-filled cheese flavour which tends to be favourite with children, and the Szechuan flavour with its spicy tinge of chilli oil and peppercorns. 
Like most exotic dishes, xiao long bao has come a long way from its humble roots in the outskirts of Shanghai, but thousands of us living half a world away have a handful of people to thank for introducing this amazing dish in to the international culinary world. 
Paradise Dynasty is located at Lot 1F-15, Paradigm Shopping Mall, Kelana Jaya in Petaling Jaya and at Lot 2F-15, Level 2, Bangsar Village II, Bangsar, Kuala Lumpur. For more info, log onto www.paradisefnb.com.my.