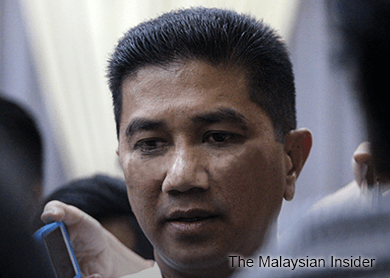 (Aug 18): Selangor Menteri Besar Mohamed Azmin Ali today denied that his brainchild Darul Ehsan Investment Group (DEIG) was similar to debt-laden 1Malaysia Development Berhad (1MDB).
Azmin, who is under fire for setting up a state investment firm which allegedly does not have to report to the state assembly, said DEIG would not have any impact on the state since the entity was only responsible for investment matters, while its policies would be decided by Menteri Besar Incorporated (MBI) and the state government.
"1MDB is a different company and does not receive any directive from the Finance Ministry, but DEIG's role is not like a middleman as alleged by Port Klang," he said, referring to his predecessor Tan Sri Abdul Khalid Ibrahim who is Port Klang assemblyman.
"It is fully owned by MBI, of course, policy level will be decided by MBI. But in terms of investments, it will be managed by DEIG that is tied to the existing enactments and will be improved," he told reporters in Shah Alam today.
He said the concept was similar to that practised by the federal government whereby MOF Incorporated was fully owned by the Finance Ministry but investments were done by Khazanah Nasional Berhad.
Earlier today, Khalid and Azmin locked horns during the state assembly sitting over the setting up of DEIG which is not under any state enactments and does not need to table its financial statements to the assembly, although it is responsible for the state's RM6.3 billion investment assets.
In defending the setting up of DEIG, Azmin said it is necessary because the state government needed a new entity to strengthen all existing assets in the 12 companies under MBI that manages investments and commerce.
However, he said MBI's role still remains as a company that runs corporate social responsibility (CSR) through its welfare programmes for Selangor residents.
"So, the returns from DEIG will be used to support the MBI's CSR funds. There is a difference between MBI's role, which is responsible for social programmes, and DEIG's role, which is to take care of investments."
He added the state government will relook MBI's enactment to further streamline it as there are some weaknesses that needed to be improved.
"I've discussed with the National Audit Department to see how MBI can be audited yearly to ensure its financial management is more transparent and responsible." – The Malaysian Insider