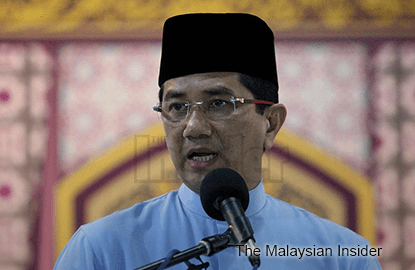 (Sept 8): Faced with increasing concerns over Darul Ehsan Investment Group (DEIG), DAP today said Selangor Menteri Besar Mohamed Azmin Ali has to address the challenges of transparency, strategy and consolidation and transformation on the state investment entity.
Party strategist Dr Ong Kian Ming said transparency must begin with Menteri Besar Incorporated (MBI) which currently is not required to table its accounts to the state assembly.
"If Azmin wants to reassure us that DEIG will be more transparent than Khazanah, the first thing he must do is to table the full accounts of MBI in the year-end budget sitting, regardless of state of the consolidation and restructuring exercise under DEIG.
"After all, Khazanah publishes information regarding its portfolio's performance as well as selected information regarding its balance sheet and income statement," he said in a statement today.
Azmin had previously likened DEIG to sovereign wealth fund Khazanah Nasional Berhad in terms of consolidation and management of various assets currently parked under MBI.
However, Ong said Azmin should go further and disclose information such as the compensation packages of the top executives in MBI, as well as the amount allocated to directors' fees, information which is not disclosed by Khazanah.
He said Azmin should emulate the example of the Employees Provident Fund (EPF), which does provide this information.
Additionally, he said, Azmin should review and reveal the current dividend policy of MBI as well as the GLCs under the MBI umbrella.
"I was surprised to learn that MBI has never made any contribution to the income of the Selangor government via dividends. I was also surprised to learn that other than Kumpulan Semesta Sdn Bhd, which is the company overseeing mining activities in Selangor, none of the other state owned companies contributed any dividends to the state government from 2004 to 2014," he said in attaching pictures of the state's reply to Kinrara assemblyman Ng Sze Han on dividends from Selangor GLCs.
"In contrast, Khazanah announced a dividend of RM900 million in 2014 and has paid out accumulated dividends of RM7.4 billion since 2004".
The second challenge, said the Serdang federal lawmaker, was on strategy whereby the current structure of MBI was unfocused and "needlessly complicated".
He said there was little information on the DEIG website to indicate if there was any coherent strategy for the core areas it was supposed to be focused on, namely property, infrastructure and construction and waste management.
For example, he asked how the group of companies under the infrastructure and construction core area would manage the state's water assets, especially after the takeover exercise of Syabas, Puncak Niaga, Kumpulan ABASS and Splash was completed.
"Who will be responsible for upgrading the water treatment plants?
"Who will undertake projects to increase the supply of treated water while awaiting the completion of the Langat 2 project? Who will be in charge to decreasing the level of non-revenue water (NRW) which is currently one of the highest in the country?"
He said the final challenge faced by Azmin was how the various companies under MBI would be consolidated and in many cases, turned around or transformed.
He said it was shocking that 20 out of the 28 companies reported after-tax losses in the financial year 2014.
He said Kumpulan Darul Ehsan Berhad (KDEB), the main holding company under MBI, reported after-tax loss of RM144.4 million in FY2014, while Kumpulan Hartanah Selangor Berhad (KHSB) experienced a massive RM235 million loss in FY2014 on the back of RM31.5 million in revenue.
He added that five out of the seven subsidiaries of Permodalan Negeri Selangor Berhad (PNSB) were dormant companies which did not register a single sen of revenue in FY2014.
Ong said many of the troubled companies and unconsolidated assets were left from the days of the previous Barisan Nasional state government and not cleaned up during the tenure of the former menteri besar, Tan Sri Abdul Khalid Ibrahim.
As such, now was a timely opportunity for Azmin to restructure, consolidate and transform these companies and assets in a strategic manner with the maximum amount of transparency possible. – The Malaysian Insider