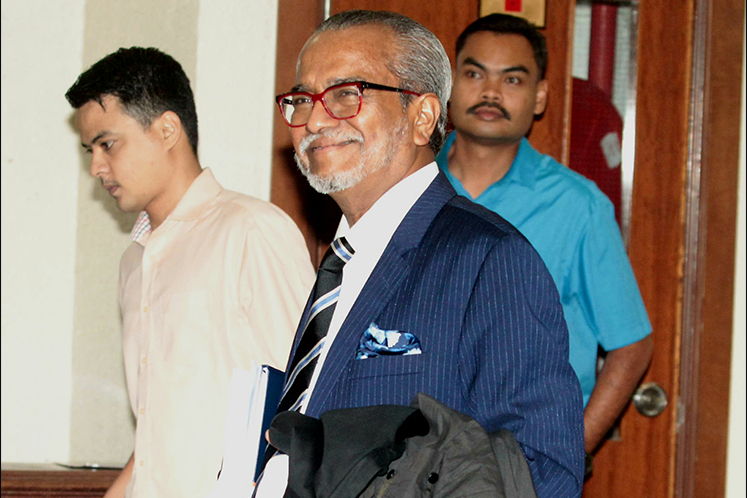 KUALA LUMPUR (July 3): Datuk Seri Najib Razak's lead counsel Tan Sri Muhammad Shafee Abdullah said the defence will soon reveal why SRC International Sdn Bhd ex-director Datuk Suboh Md Yassin was told to leave the country by former managing director and CEO Nik Faisal Ariff Kamil.
He said the defence has managed to "punch holes" in the case and intends to give a summary in the upcoming proceeding on Monday (July 8).
"All these monies going in and out of SRC were happening even before [Najib] was appointed adviser emeritus. All this talk of the adviser emeritus defrauding the company is a total red herring.
"On Monday we will do a round-up to see all the areas where we have punched holes. You will also find out why Suboh suggested that Nik Faisal told him to run away," he told reporters today, following the conclusion of day 32 of the trial.
Suboh had fled Malaysia in 2015 following a threatening phone call from a person purportedly from the Malaysian Anti-Corruption Commission who told him not to meet the Commission and leave the country.
He then spent a month in Bangkok, Thailand, before he was given flight tickets to Abu Dhabi, where he met officers from the MACC.
Shafee also gave a recap of what had transpired over the past three days, outlining the points that the defence has established in court.
These include a secret bank account under SRC ending 736 which was set up before the board members had joined the company, and were not notified about.
Nik Faisal is a signatory of the account.
"Straight away you can tell that the culprit is Nik Faisal. He cheated the board regarding the audit accounts and he misled the board on the 736 account," he said.
He added that none of the board members had personally checked with Najib regarding the instructions issued by Nik Faisal that were purportedly from the former premier, and not even SRC's former chairman Tan Sri Ismee Ismail who was close to Najib.
"How are you saying that the adviser emeritus was in the know and was defrauding the company when he was kept in the dark?
"The emeritus adviser was never invited for a board meeting either, not even once," he said.