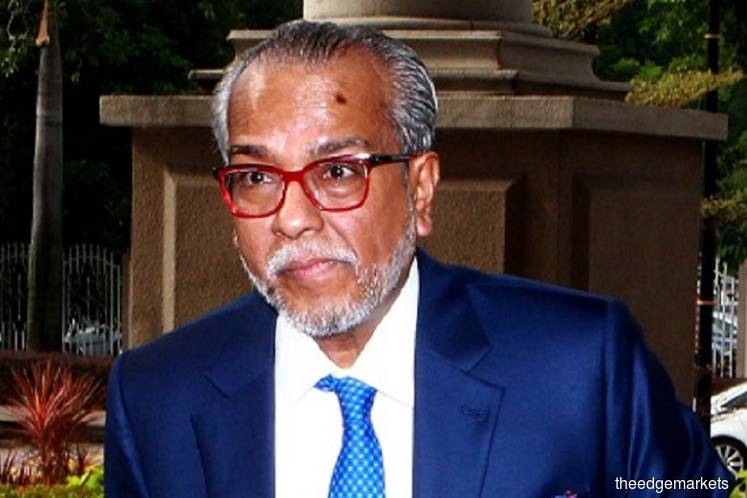 KUALA LUMPUR (Aug 28): The defence in Datuk Seri Najib Razak's 1Malaysia Development Bhd trial today brought up the issue of Datuk Seri Gopal Sri Ram's appointment as a senior deputy public prosecutor in the case.
The issue was raised by lead counsel Tan Sri Muhammad Shafee Abdullah before Sri Ram read the opening statement in the trial.
Shafee said the defence did not want to delay the trial, but to bring to the court's attention that the Court of Appeal had on Monday granted leave to Najib and Shafee's applications to remove the former Federal Court judge from leading the prosecution in their cases.
Besides being the lead prosecutor in Najib's 1MDB case, Sri Ram is prosecuting Shafee over the non-declaration of RM9.5 million the lawyer allegedly received from the former prime minister in his income tax.
Shafee said that since the appellate court granted permission for the High Court to hear merits of the judicial review application and the application has yet to be heard, it was advisable that proceedings should be deferred.
He said if the defence was right, then there is a possibility that if this trial proceeds, it would result in the annulment of the case.
"If the appellate court were to agree, a retrial would have to be made or an acquittal," he said.
Shafee further said an acquittal of Najib could be made if there is a blunder by the prosecution.
"The ball is in the prosecution's court on whether to proceed with the case," he added.
Sri Ram responded, saying that the matter would be dealt with when the matter comes to that High Court.
"They (defence) say the ball is [in] our court but I say the ball is up in the air," he said.
With that, Justice Collin Lawrence Sequerah allowed the case to proceed and Sri Ram read his opening statement.
Justice Sequerah had previously dismissed the defence's application to remove Sri Ram from conducting the prosecution on the grounds of bias.
The decision was upheld by the Court of Appeal, and a seven-member bench led by Chief Justice Datuk Tengku Maimun Tuan Mat had on Aug 7 dismissed Najib's appeal but it ordered the prosecution to produce the retired Federal Court judge's appointment letter.
See also:
Letters to show Arab donations to Najib a 'sham', High Court told
Sri Ram's opening statement at Najib's 1MDB-Tanore trial
1MDB-Tanore trial: Jho Low was Najib's 'mirror image', says prosecution