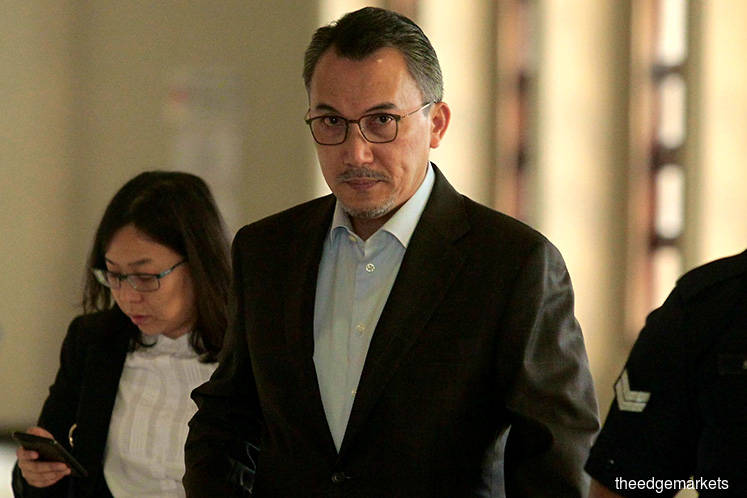 KUALA LUMPUR (June 11): Today's afternoon session of the trial against former Prime Minister Datuk Seri Najib Razak over his alleged involvement in embezzling funds from SRC International Sdn Bhd saw the defence going into overdrive to prove he was not in control of the special purpose vehicle (SPV). 
During his cross examination with former SRC board chairman Tan Sri Ismee Ismail (the prosecution's 39th witness), defence counsel Harvinderjit Singh combed through details of SRC's board meeting minutes with the witness, and dived deep into certain specific wordings of the SPV's memorandum & article of association (M&A), in order to show the court SRC's board and its management acted independently from Najib.
Nevertheless, Ismee maintained that then SRC managing director Nik Faisal Ariff Kamil was the link between Najib and the SPV board of directors.  
"I follow the instruction of the Prime Minister, who is also the advisor emeritus (of SRC), who is also the Finance Minister who owns Minister of Finance Inc (MoF Inc)," Ismee said, after Harvinderjit sought his clarification on the witness' answer during examination in chief that he was following directives of SRC shareholder during his tenure as the SPV's chairman.  
Ismee was also asked about Nik Faisal's managing director function, during which Harvinderjit pointed out, did not include being a "link" to Najib. 
To this, Ismee agreed. 
Harvinderjit further stated according to SRC's M&A, it was the board of directors that control the company instead of Najib, to which Ismee also agreed. 
The witness was also asked whether SRC's board was informed that it must report to MoF Inc. 
He was shown a letter dated March 23, 2012, stating there must be due diligence when an entity is taken over by MoF Inc.
"I am aware of the reporting obligation," Ismee said.
Harvinderjit then suggested the company should not report directly to the prime minister, who was also the finance minister, but to MoF Inc. 
Ismee agreed SRC should report to MoF Inc and not the minister in question. 
"This is part of the requirement of reporting. Yes," he said.
Nonetheless, Ismee said the SRC board was not informed that it has to report to MoF Inc. 
MoF Inc is a corporate body that serves as Finance Ministry's holding company which was established under the Ministry of Finance (Incorporation) Act 1957.
Meanwhile, SRC was initially incorporated by Nik Faisal and Vincent Koh Beng Huat on Jan 7, 2011, who owned one share each in the SPV, before SRC allotted 999,998 shares to MoF Inc's wholly-owned unit 1Malaysia Development Bhd (1MDB) in August 2011.
SRC was subsequently transferred to MoF Inc in February 2012. 
During the material time, Najib was the Prime Minister and the Finance Minister of the country. 
Today, Ismee also agreed with Harvinderjit that SRC's board may reject the advice by SRC advisor emeritus, if it was not in the best interest of the company. 
Earlier today, Ismee was also asked whether he was aware that one of SRC's company secretaries, Goh Gaik Kim, is the sister of fugitive businessman Low Taek Jho's mother Goh Gaik Ewe. 
Ismee told Harvinderjit that he was not aware of the relationship between Gaik Kim and Gaik Ewe back then.
The witness was also asked about matters regarding company secretary functions, to which he said he was not privy to such details.
"I will usually ask the company secretary, if I have a question," he said. 
Najib is facing three counts of criminal breach of trust, one count of abuse of power and three counts of money laundering in relation to RM42 million of SRC funds between Dec 26, 2014 and Feb 10, 2015. 
The trial before Justice Mohd Nazlan Mohd Ghazali continues tomorrow.
See also: Ismee: Najib in control of SRC after memorandum and articles of association changed