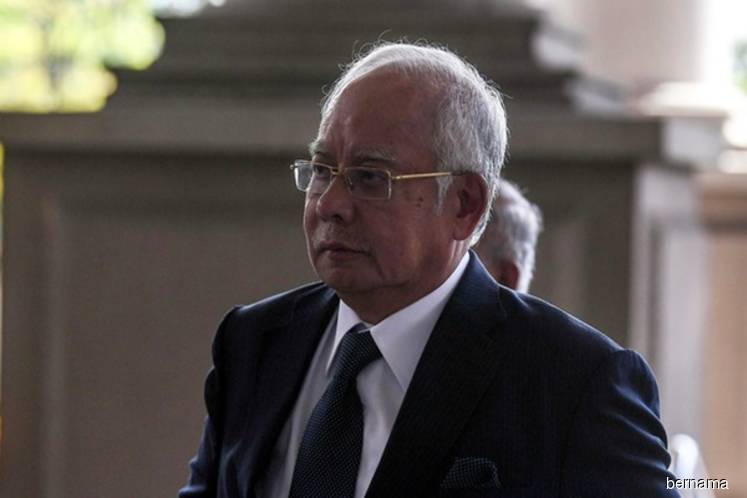 KUALA LUMPUR (March 8): The prosecution's application to transfer former prime minister Datuk Seri Najib Abdul Razak's six charges of criminal breach of trust involving RM6.6 billion of government funds in relation to International Petroleum Investment Co (IPIC) from the Sessions Court here to the High Court will be decided on Thursday, March 14.
The matter will be heard before High Court judge Mohd Nazlan Mohd Ghazali.
According to the Deputy Public Prosecutor Rozaliana Zakaria, they filed to transfer the case on Feb 28 and today was the first case management.
She said the High Court deputy registrar Mahyuddin Md Som then fixed March 14 to hear the application.
Rozaliana said a separate application will be filed to transfer former treasury secretary-general Tan Sri Mohd Irwan Serigar Abdullah's case at a later date.
Lawyer Syahirah Hanapiah for Najib, who also met Mahyuddin in his chambers, confirmed that the defence would not object to the transfer.
She presumed that Irwan's case would also be transferred to the High Court.
It was reported that Najib and Irwan had on Oct 25 claimed trial to six counts of misappropriating some RM6.64 billion in government funds.
The offences were allegedly committed between Dec 21, 2016 and Dec 18, 2017.
Part of the funds has been slated for certain purposes including the management expenditure of KLIA, and subsidy and cash assistance, reportedly under the Budget 2017 allocation.
Previously, it has been reported that the monies were channelled to 1Malaysia Development Bhd (1MDB) instead, to repay its debts including US$1.2 billion to Abu Dhabi sovereign wealth fund IPIC in April 2017.