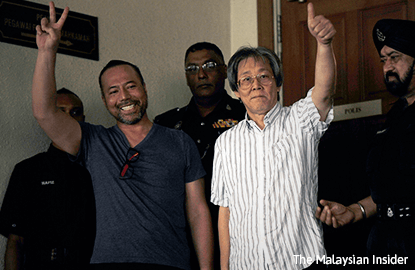 (Oct 19): The Federal Court will now determine the validity of the charge and detention of lawyer Matthias Chang and former Umno leader Datuk Seri Khairuddin Abu Hassan under a security law for attempting to sabotage the economy.
The High Court today referred the matter the apex court under Article 4 of the Federal Constitution as constitutional issues were raised.
"We will prepare the papers in a day or two for the matter to be referred to the Federal Court," judge Datuk Mohd Azman Husin said when allowing the alternative submissions made by the lawyer of the two accused, Mohamed Haniff Khatri Abdulla.
The issue to be raised is whether Section 124L of the Penal Code falls under the Security Offences (Special Measures) Act 2012 (Sosma).
Khairuddin and Chang have been charged under this section of the Penal Code and seek a review of whether their alleged offence can be deemed a security offence.
Haniff had earlier submitted that Sosma procedures could not be used for offenses under the Penal Code as it violated Article 149 of the constitution, which gives power to Parliament to enact laws restricting a person's fundamental rights if the legislature believes that person is a threat to national security or public order.
The lawyer said the High Court had the power to rule if his clients should stand trial in the Sessions Court, if Section 124L was not a security offence.
Haniff said the judge could also offer bail to the two, pending the outcome of their case.
"Your Lordship has the option to refer the matter to the Federal Court if Section 124L and Sosma violates Article 149."
Khairuddin and Chang appeared before Azman today to review their charge of attempted sabotage of the Malaysian economy, an offence framed under Section 124L of the Penal Code.
They have been accused of committing the offence in France, United Kingdom, Switzerland, Hong Kong and Singapore, between June 28 and Aug 26 this year?.
They are not on bail since their alleged offences are classified as a security offence under Sosma.
The prosecution intends to use procedures under Sosma instead of the Evidence Act, to prove their case. – The Malaysian Insider