This article first appeared in The Edge Financial Daily, on August 8, 2018.
Click / Tap image to enlarge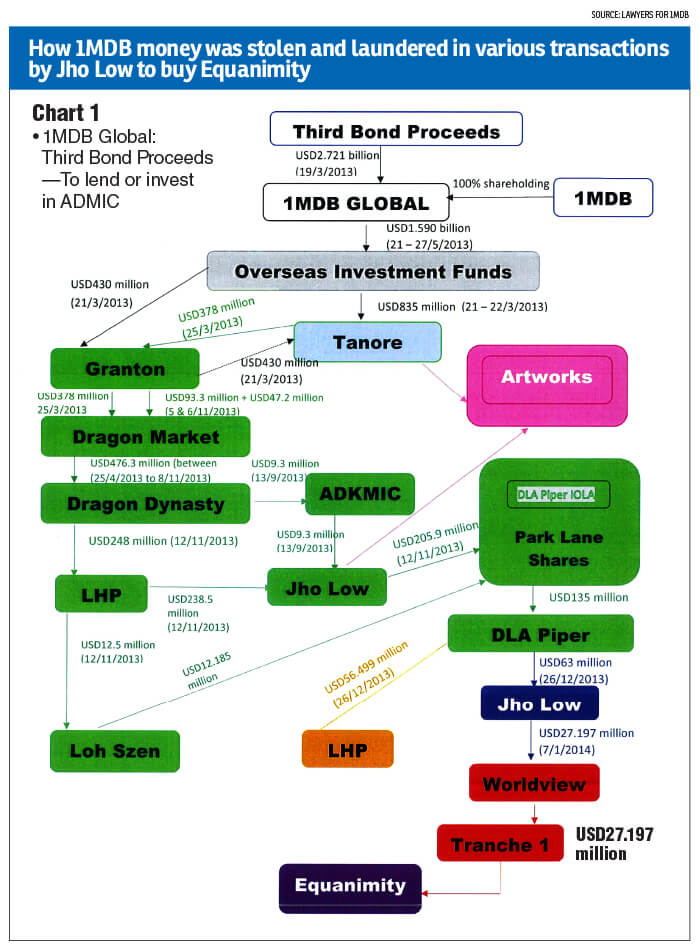 Click / Tap image to enlarge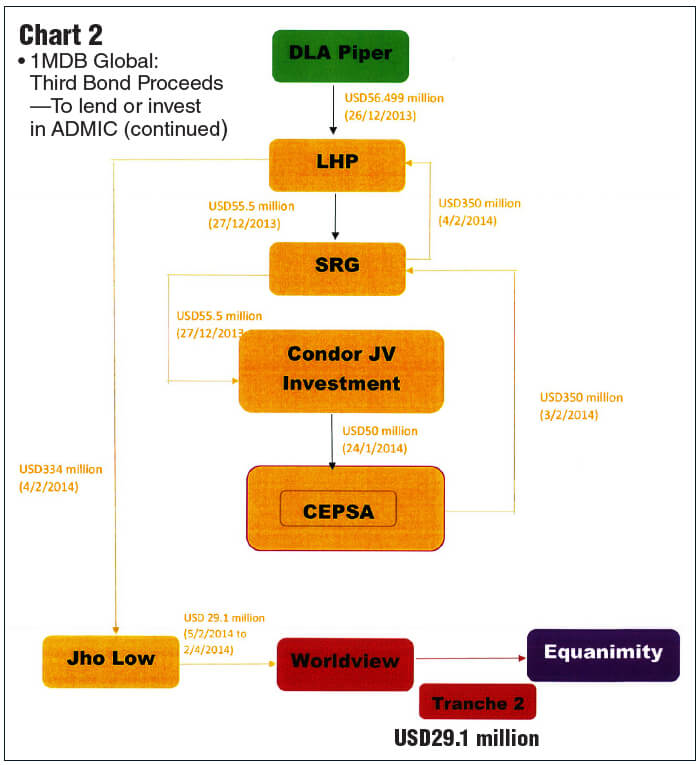 Click / Tap image to enlarge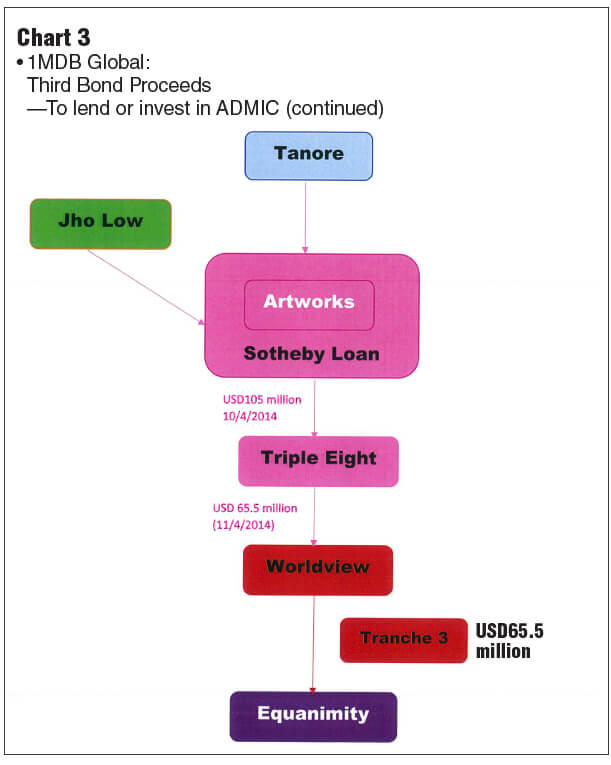 Click / Tap image to enlarge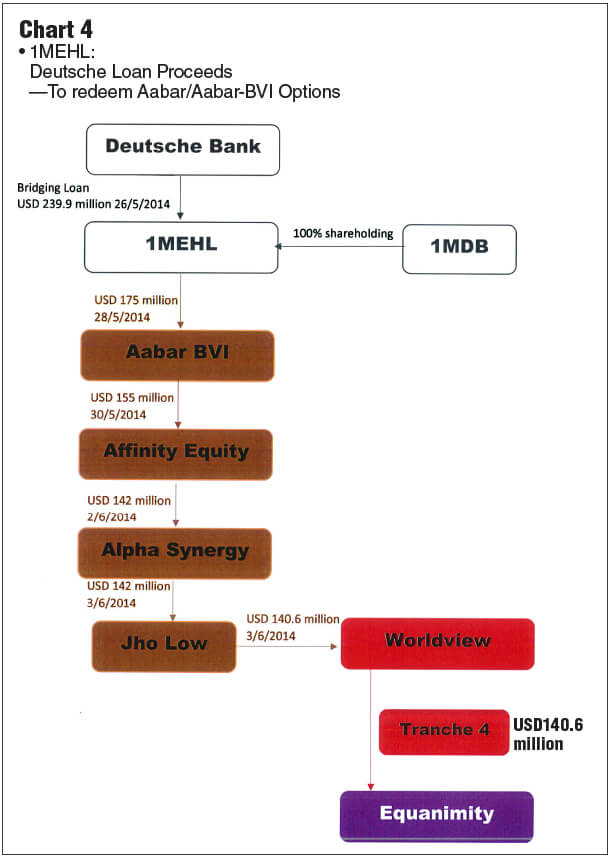 KUALA LUMPUR: Super yacht Equanimity of fugitive financier Low Taek Jho (Jho Low) fame, was bought using four tranches of funds totalling US$262.4 million misappropriated from 1Malaysia Development Bhd (1MDB) between January and June 2014, according to lawyers representing the Malaysian government who "arrested" the billion-ringgit vessel in Port Klang yesterday.
In fact, US$140.6 million or just over half the yacht's price tag was paid in early June 2014 using proceeds of a US$239.9 million Deutsche Bank bridging loan taken by 1MDB's then 100%-owned unit 1MDB Energy Holdings Ltd (1MEHL) on May 26, 2014, according to information from Sitpah Selvaratnam, from the firm Tommy Thomas Advocates & Solicitors and lauded as one of Malaysia's best maritime lawyers. [See Chart 4]
Two days after getting the loan, 1MEHL transferred most of the cash to Aabar BVI (British Virgin Islands), also known as the fake Aabar. The money then went through Affinity Equity and Alpha Synergy before reaching Jho Low, who on June 3, 2014 transferred US$140.6 million to WorldView for the fourth and final payment of the yacht. The earlier three tranches originating from 1MDB also went to WorldView.
"WorldView Ltd is a family trust of which only the Low family are beneficial owners of," according to Low's email in June 2015 to a lawyer at Hill Dickinson LLP and a senior BSI banker cited in the 251-page filing by the US Department of Justice (DoJ) in June 2017 to seize 1MDB assets, including the Equanimity.
The same filing said Jho Low and his parents Low Hock Peng (LHP) and Evelyn Goh Gaik Ewe on Sept 9, 2013 flew from Barcelona to Rotterdam — near where the Equanimity was being built — to view the shipyard and the yacht the following day.
The DoJ filing also said Jho Low laundered over US$200 million in misappropriated funds traceable to 1MDB's 2013 bond sale into a US account belonging to US-based law firm DLA Piper.
The US$29.1 million second payment for Equanimity made on Feb 5 and 18 as well as April 2, 2014 was part of the US$56.5 million that went from DLA Piper's account to LHP — who with Jho Low participated in the Condor joint venture (JV) through Strategic Resources (Global) Ltd (SRG) to acquire Houston-based Coastal Energy with International Petroleum Investment Co (Ipic) and Ipic's Spanish unit Compañía Española de Petróleos SA.
The first and third tranches of payments for Equanimity made on Jan 7, 2014 and April 11, 2014 originated from US$2.72 billion bond proceeds raised in March 2013 by 1MDB Global Investment Ltd, which found their way to another Jho Low-linked offshore entity, Tanore Finance Corp.
The bond proceeds were intended for a JV with Ipic's unit Aabar Investments PJS called Abu Dhabi Malaysia Investment Co. But instead of funding the Tun Razak Exchange development, the cash ended at Tanore instead. The money in the Tanore account was also used to buy artworks and the Park Lane hotel in New York, according to the DoJ filing.
When questioned by reporters yesterday, former prime minister Datuk Seri Najib Razak said he has never been on the Equanimity and has no knowledge that the yacht was bought using 1MDB money.
"Why we didn't pursue [to get back the yacht] earlier [was] because we were interested in the full settlement with United Arab Emirates on Ipic … that is worth much more than this Equanimity. That is the biggest sum; we wanted [this] big settlement to be settled first, that's why we didn't pursue the yacht," Najib said,  adding that the Equanimity "is being used as a populist move".
"I have no knowledge whatsoever as to the yacht and also the yacht itself is subject to litigation. It's not a clear-cut matter," Najib added.