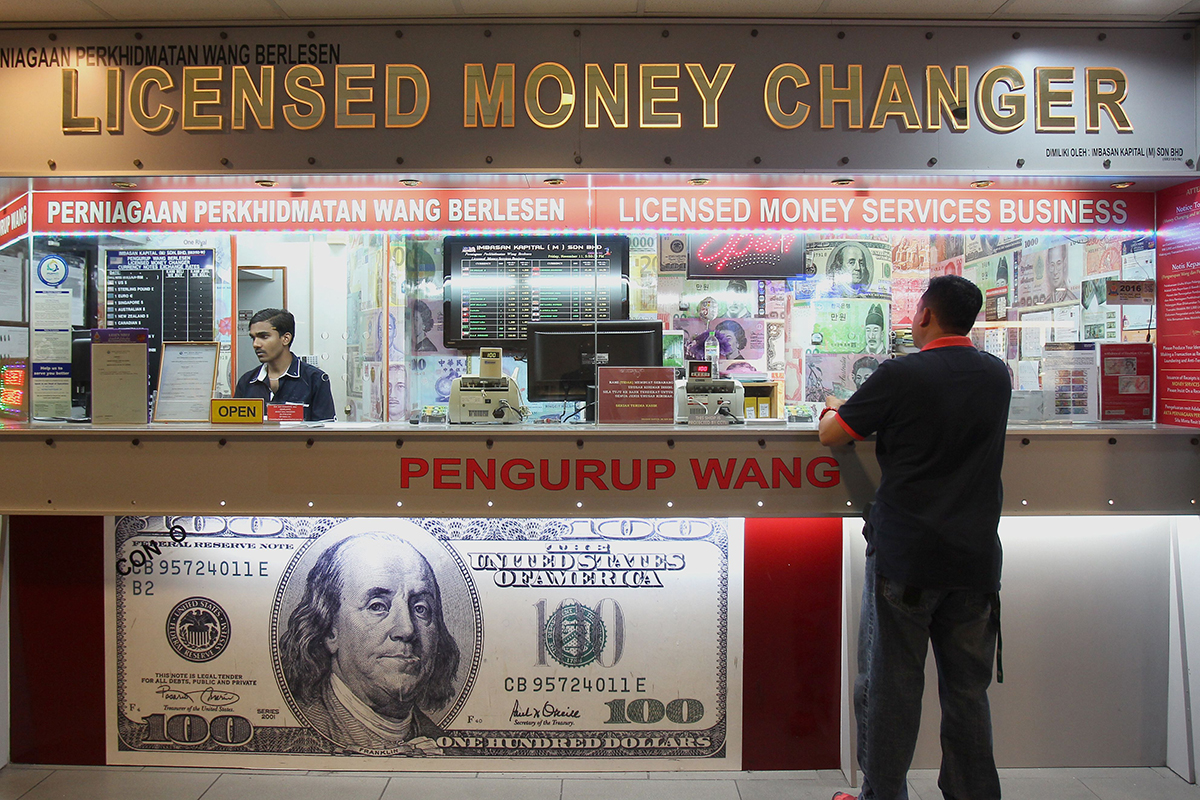 KUALA LUMPUR (Aug 17): DBS Research has revised downwards its US dollar-to-ringgit exchange rate forecast to the 4.20 to 4.40 range. 
Noting in a report today that the ringgit has since 2015 followed through with further depreciation to 4.40 per US dollar every time it weakened past 4.20, the research house said there are "fundamental reasons" why it will likely happen again. 
At press time, the ringgit was at 4.2375 against the greenback. 
Explaining the downgrade, DBS Research said Malaysia's economic growth is poised to slow significantly in the second half of 2021 (2H21) from 7.1% year-on-year (y-o-y) in 1H21 on account of the third wave of Covid-19 infections. 
The research house noted that the central bank had downgraded its full-year 2021 gross domestic product (GDP) growth forecast to between 3% and 4% from the earlier projected range of 6% to 7.5%.
Another reason for possible weakening of the ringgit, said DBS Research, is the fact that the government intends to widen the budget deficit to 6.5% to 7% of GDP from the initial estimate of 6%. 
"This will require an increase in the statutory debt limit from 60% of GDP. Investors will be vigilant of future debt rating downgrades because of the political leadership crisis," the research house said.
Late last year, Fitch Ratings downgraded the country's long-term foreign currency debt rating by one notch to BBB+. Meanwhile, in June, S&P affirmed Malaysia's foreign currency and local currency long-term issuer ratings at A- and A respectively, with a negative outlook. 
While forecasting the ringgit to see weakness, DBS Research believes that a better vaccination rate in Malaysia, together with a favourable external demand environment and supportive economic policies, would bode well for the economic recovery in 2022. 
The research outfit kept its full-year GDP growth forecast at 4% for 2021 and 5% for 2022 for Malaysia. 
It said that the domestic vaccination push is likely to provide impetus to restart and safely reopen the economy.  
It also noted that besides Singapore, Malaysia is the closest in ASEAN to exceed an 80% full vaccination rate for the entire population by October.  
"Economically important, the Klang Valley has exceeded a 50% full vaccination rate for its adult population, helped by the federal government's Operation Surge Capacity," said the report. 
Domestic demand expected to gradually improve
Bank Negara Malaysia (BNM) expects all states to transition to Phase 3 of the National Recovery Plan (NRP) by October and Phase 4 by November. 
There has also been some easing of restrictions for states under Phase 1, with 11 economic activities allowed to operate, provided that 50% of the adult population have been fully vaccinated. 
Meanwhile, the research house also thinks domestic demand should gradually improve as restrictions are relaxed while external demand is favourable. 
"An improvement in retail and recreation mobility is likely to progressively translate into better consumer and business sentiment. We would see household spending pick up, partly driven by pent-up demand for high-contact services, such as retail and food.
"Labour market conditions should also start to improve," it opined. 
On the external environment, DBS Research said the benign external demand environment should aid in growth recovery going into 2022. The US has led exports so far this year, with its economy taking the pole position among developed economies in coming out of the economic contraction in 2020. 
Moreover, the research house expects economic policies to remain accommodative despite uncertainties surrounding the pandemic and the political situation in the country. 
"In our view, the synchronous financial, monetary and fiscal policy response is likely to provide continued support to economic activity. The authorities are likely to continue to rely on non-fiscal targeted measures to aid businesses and households. This comes at a time when fiscal space is limited, while monetary policy is likely to play a complementary role," it added.
Malaysia has announced a total of RM530 billion in stimulus since the start of the pandemic. 
DBS Research highlighted that the government had limited fiscal policy space to manoeuvre, and any measures from direct fiscal injections will likely be limited.