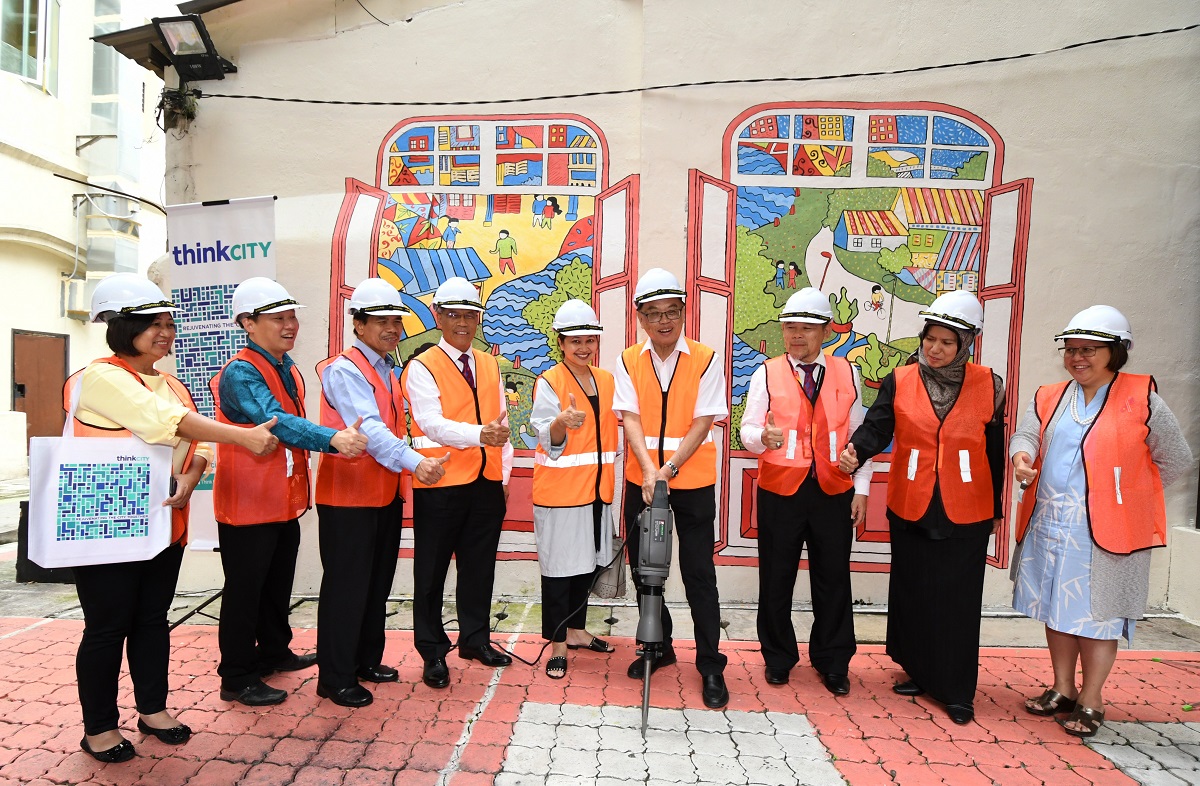 (From left) Personal assistant for MP of Bukit Bintang Sally Sien; Khor; director of Project Implementation & Building Maintenance Department, DBKL Hj Mohd Sahak Surip; Mahadi, director of Think City Suryani Senja Alias; Fong; director of Civil Engineering & Urban Transportation Department, DBKL Hj Abd Hamid Surip, deputy director of Project Implementation & Building Maintenance, DBKL Sharifah Junidah Syed Omar; and programme director & partnerships of Think City, Lee Jia Ping. (Photos by Low Yen Yeing/EdgeProp.my)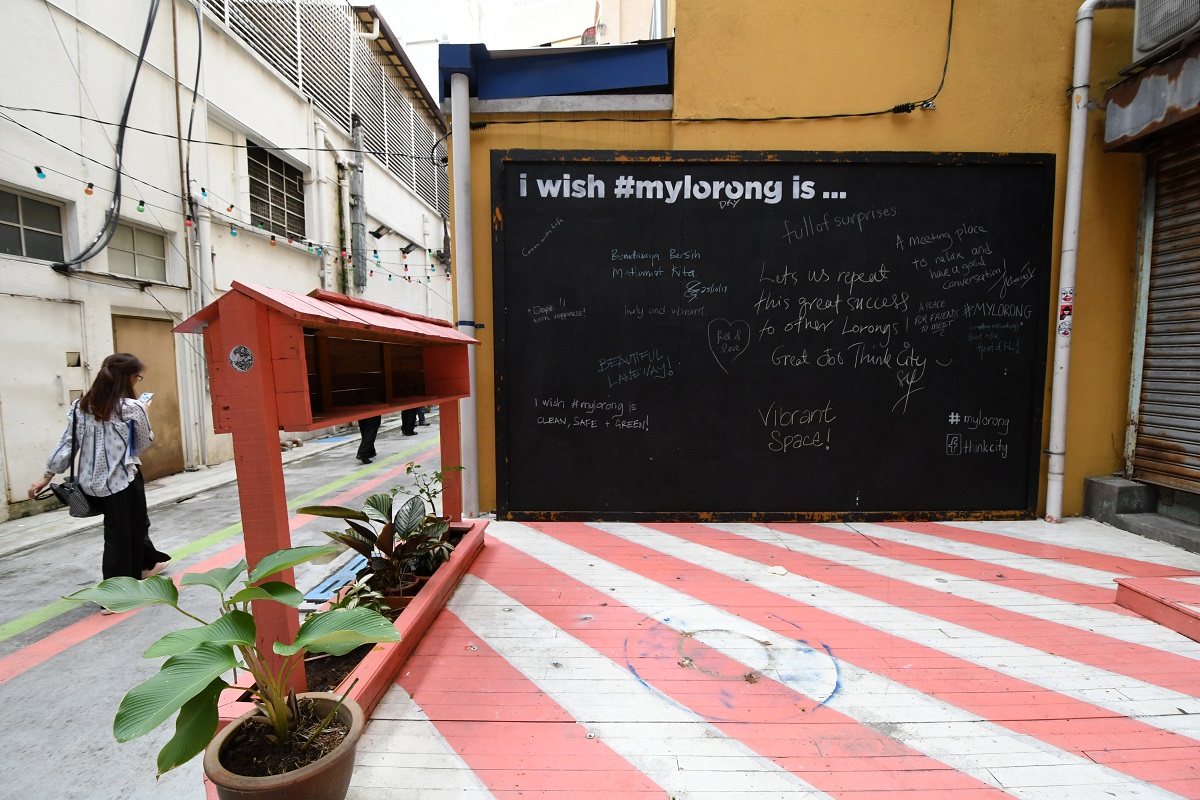 Lorong Bandar 13 laneway.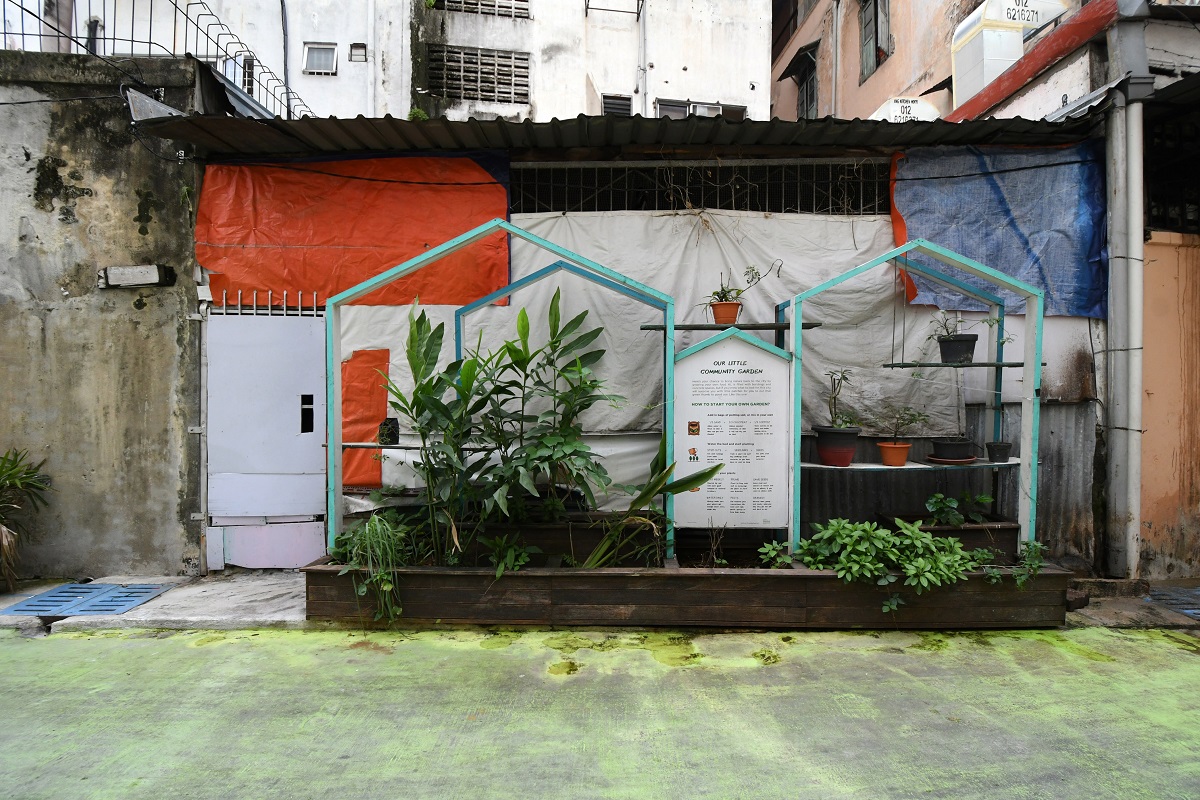 Lorong Bandar 13 laneway.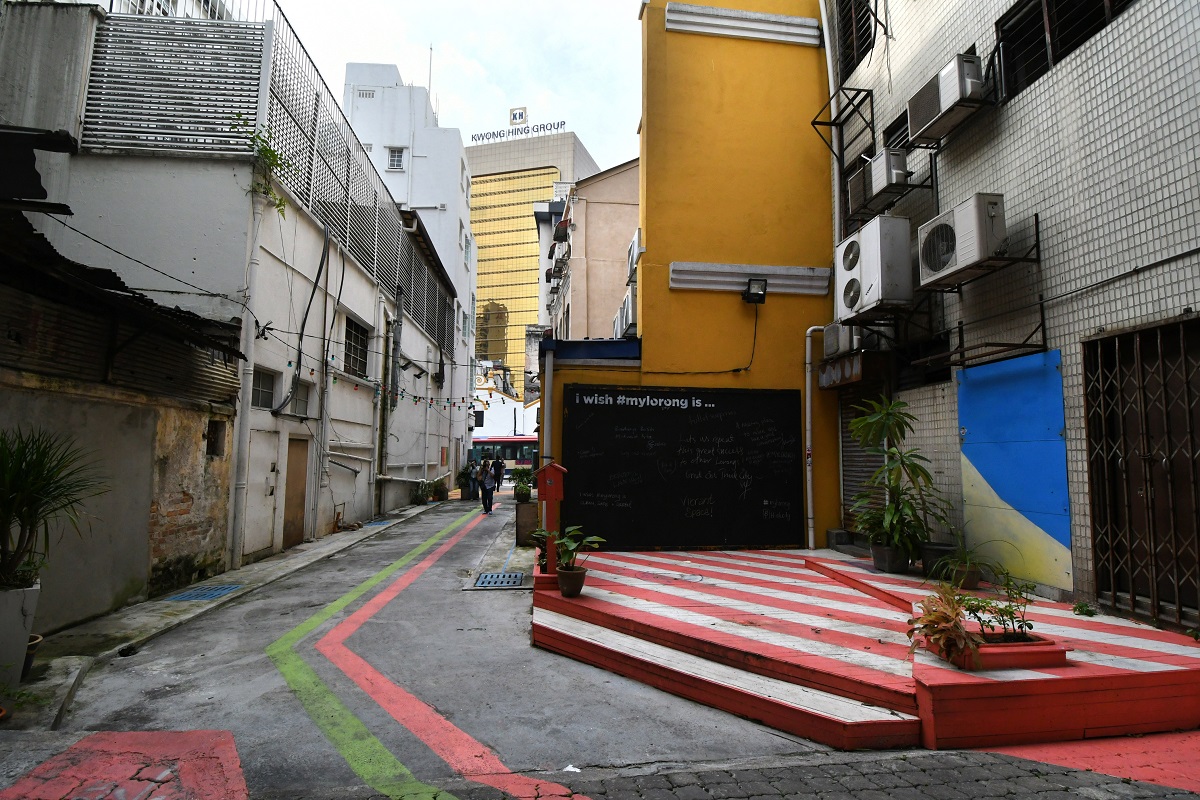 Lorong Bandar 13 laneway.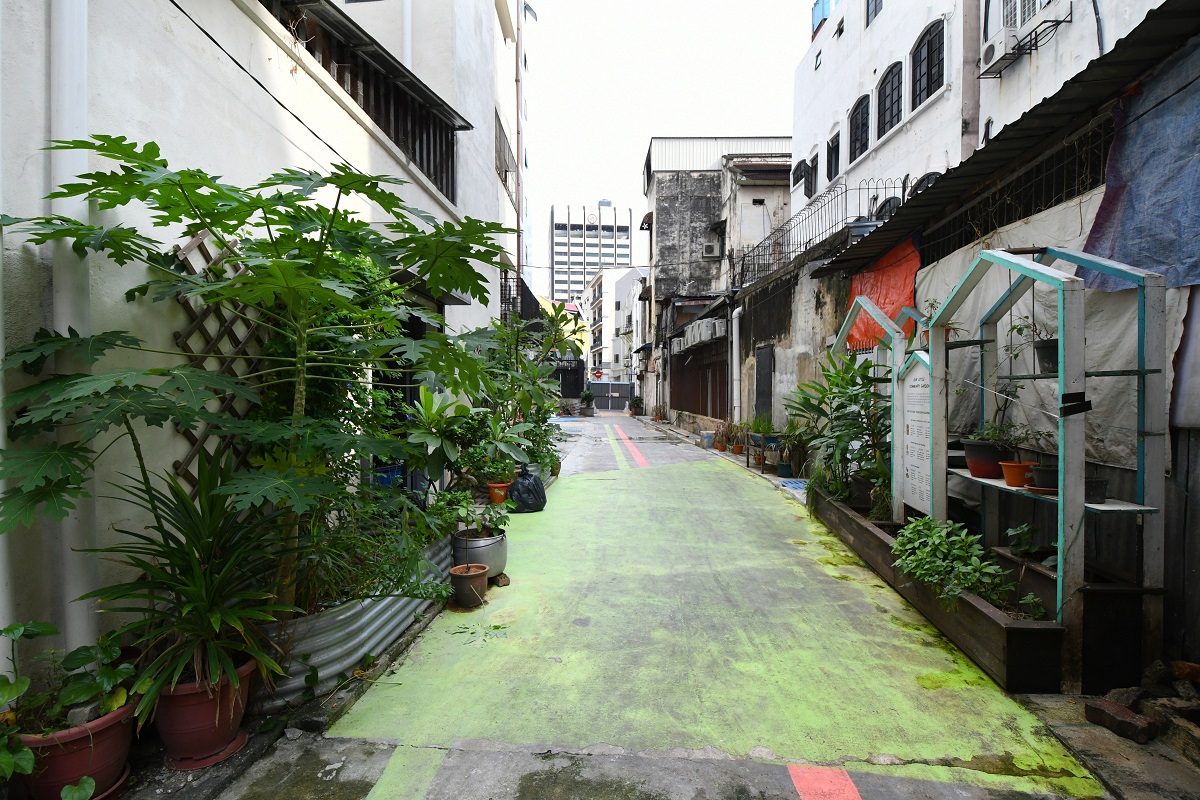 Lorong Bandar 13 laneway.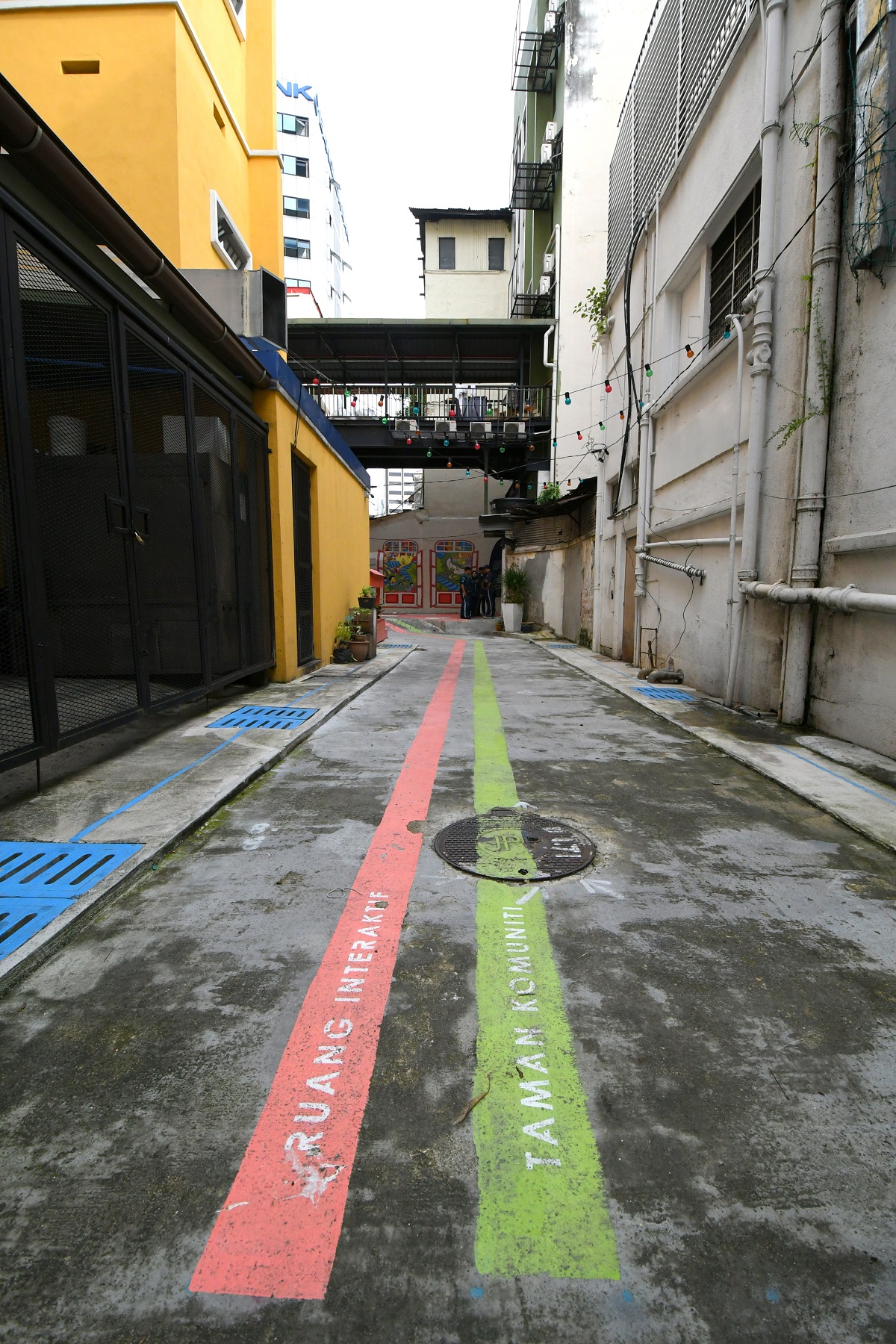 Lorong Bandar 13 laneway.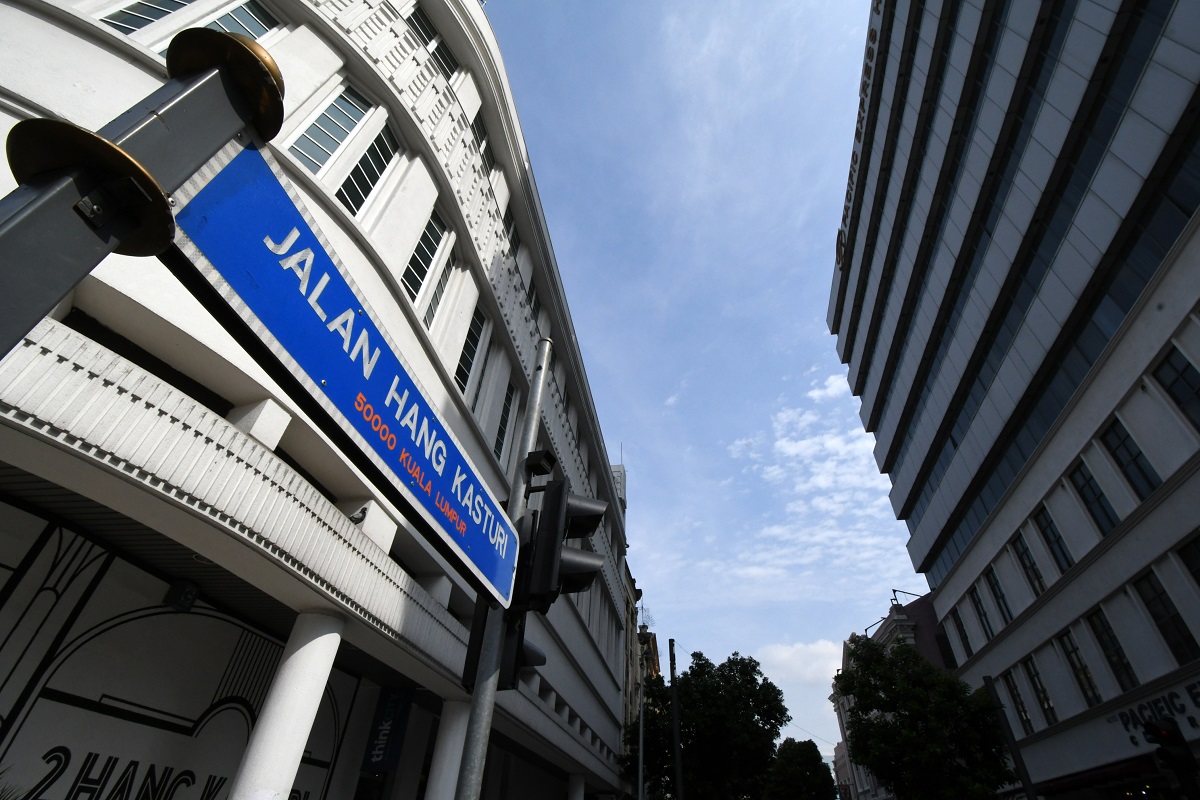 Jalan Hang Kasturi
KUALA LUMPUR (June 27): Nine laneways within the historic core of Kuala Lumpur have been identified as part of an upgrading programme worth RM300,000.
A collaboration between Kuala Lumpur City Hall (DBKL) and Think City, the main goal of the improvement programme is to create safe, clean, functional and attractive laneways primarily for the benefit of local stakeholders and pedestrians.
The selected laneways are Lorong Bandar 13, Lorong Lebuh Ampang, Lorong Hang Lekiu, Lorong Tun HS Lee South, Lorong Yap Ah Loy, Lorong Pudu, Lorong Tun Tan Cheng Lock and Lorong Hang Kasturi South.
"This is ultimately to enhance the vibrancy of Kuala Lumpur through functional and creative spaces that facilitate pedestrian traffic, showcases environmentally friendly practices and deters indecent behavior through design," said Think City's programme director for Kuala Lumpur and Johor Bahru Dr Neil Khor at the ground breaking ceremony for the upgrading of Lorong Bandar 13 today.
He added that the laneways were selected based on the current condition of the space, its connectivity and its potential to improve its existing use by local stakeholders.
"Think City will provide the technical support while DBKL will take care of the funding. The estimated investment for this project is about RM300,000. DBKL has a budget to upgrade two more laneways after Lorong Bandar 13 this year. Hopefully by 2020, all nine laneways will be upgraded," Khor said.
He added that Lorong Bandar 13 is expected to be upgraded by October this year.
He explained that the cost covers work on underground structures and pipes to make sure the laneways are safe for public use. It also involves planning to ensure that the upgrading works retain the historical element of the laneways.
DBKL project management executive director Datuk Mahadi Che Ngah said the upgrading project will enable pocket spaces in the city to be better utilised.
"We noticed that there are many spaces in the city center which are neglected and abandoned. We can't just leave these space like that.
"We decided to revive these spaces. We are running out of space in the city so we cannot afford to waste any space in the city," said Mahadi.
Meanwhile, Bukit Bintang MP Fong Kui Lun who officiated the ground breaking ceremony said a better city environment will encourage more tourism activity in the city.
In September 2017 Think City and DBKL collaborated to create a demonstrative laneway improvement programme at Lorong Bandar 13.
"To kickstart the programme, we initially undertook site observation and analysis as well as data collection with local stakeholders. By understanding the space, its uses and the people patronising it, we gained a deeper appreciation of what the community wanted," Khor noted.
Some of the issues identified were random waste disposal, lack of lighting, uneven pavements and potholes as well as illegal parking. The Lorong Bandar 13 laneway was also used by drug addicts and the homeless.
"We discovered other areas that need improvement and we are now prepared to deliver a permanent solution for Lorong Bandar 13.
"For the other eight laneways, we will continue to leverage meaningful community engagement to come up with customised solutions, drawing on the feedback and aspirations of local stakeholders for physical upgrading works coupled with social and economic improvements," Khor said.
Click on this link to go to the original story on EdgeProp.my