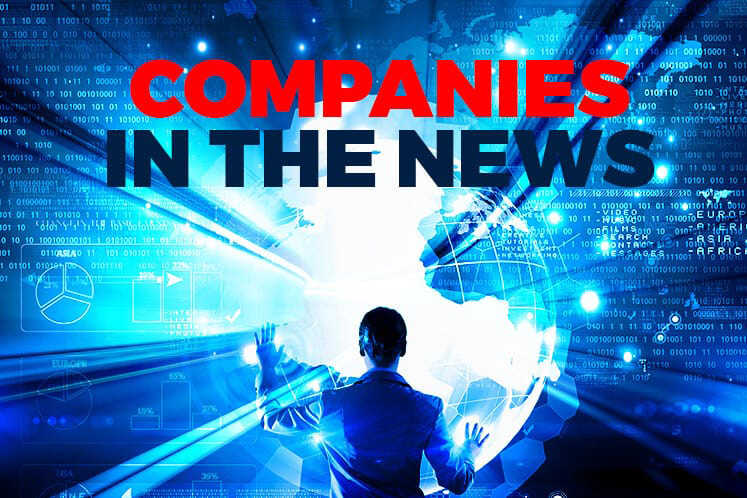 KUALA LUMPUR (July 16): Based on corporate announcements and news flow today, companies that may be in focus on Tuesday (July 17) may include the following: DBE Gurney Resources Bhd, KLCC Stapled Group, Salcon Bhd, TFP Solutions Bhd, Pasdec Holdings Bhd, GHL Systems Bhd, Nova MSC Bhd and Xinghe Holdings Bhd.
DBE Gurney Resources Bhd's wholly-owned subsidiary DBE Poultry Sdn Bhd has secured a RM36 million contract from Ayamas Food Corp Sdn Bhd to supply poultry products to all KFC restaurants in Perak for a one-year period ending June 30, 2019.
DBE Gurney said the signing of the agreement is expected to generate an annual turnover of about RM36 million to the group.
Former Petroliam Nasional Bhd (Petronas) chairman Tan Sri Mohd Sidek Hassan has tendered his resignation as chairman and director of KLCC Property Holdings Bhd (KLCCP) and KLCC Real Estate Investment Trust (REIT).
In a filing with Bursa Malaysia today, KLCCP said Mohd Sidek, 67, is stepping down from his position with immediate effect.
In a separate filing, KLCC REIT said following Mohd Sidek's resignation from KLCCP, he is also resigning as chairman and director of KLCC REIT Management Sdn Bhd.
This is in line with the requirement for common directors with respect to KLCCP and KLCC REIT Management to ensure alignment with the interests and directions of KLCCP and KLCC REIT within KLCC Stapled Group.
Salcon Bhd has bagged a RM71.27 million contract to build a storm water-pumping station in Sri Lanka over a 21-month period.
Salcon said its wholly-owned subsidiary Salcon Engineering Bhd has received the letter of acceptance from the Ministry of Megapolis and Western Development of Sri Lanka for the design and building of the Ambatale Storm Water Pumping Station.
Salcon said the project will commence upon the fulfilment of the conditions precedent, and is expected to contribute positively to its earnings in the financial year ending Dec 31, 2018 (FY18), FY19 and FY20.
Business productivity consultancy TFP Solutions Bhd's major shareholder Datuk Hussian @ Rizal A. Rahman, 56, is now its managing director (MD).
The former non-independent director, who holds a 30.59% indirect stake via his company Rappotrans Sdn Bhd, has also relinquished his post in the audit committee due to his MD designation.
Pasdec Holdings Bhd chief executive officer (CEO) Datuk Zuber Shamsuri will step down from his post following the expiry of his contract tomorrow.
According to Pasdec's Annual Report 2017, Zuber, 51, was appointed as CEO on July 17, 2017.
Previously he was a group project director of Zenith Aim Group. He joined Zenith Aim Group of Co since 1989 and has in-depth experience in project development planning, construction and property management.
GHL Systems Bhd has been appointed as a direct merchant acquirer for UnionPay International in Malaysia.
GHL's wholly-owned subsidiary GHL Cardpay Sdn Bhd has commenced merchant acquiring for UnionPay and is expected to reach 5,000 merchant outlets by August.
With this, GHL will be enabling merchants to accept both UnionPay card payments and QR Code payments.
 
After falling into the red for two consecutive financial years, Nova MSC Bhd expects to turn itself around in the current financial year ending March 31, 2019 (FY19), on the back of its backlog orders from the digital government services segment.
Its current orderbook stands at RM117 million, which will keep the group busy for the next three years.
Focused on its two strategic pillars of e-solutions, namely digital government and smart healthcare Nova MSC is eyeing to secure more contracts for its digital government services segment, particularly in Malaysia.
Additionally, the group is expecting a "substantial revenue contribution" from its digital government services in Malaysia, while capitalising on the Malaysian government's aspirations to digitalise and revamp the public areas.
Xinghe Holdings Bhd has aborted its planned private placement of up to 10% of its issued share capital to raise up to RM18.32 million.
In a filing with Bursa Malaysia, Xinghe said the deadline for it to fully implement the private placement lapsed yesterday.
"The company does not wish to seek any extension of time for the private placement," it added.
On Oct 16 last year, Xinghe proposed to place out new shares to third-party investors to be identified later to raise up to RM18.32 million, mainly for working capital or funding future investments or business projects in Malaysia, as well as expenses relating to the proposed exercise.