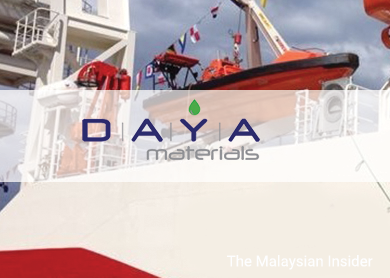 KUALA LUMPUR: Daya Materials Bhd's (DMB) shareholders will see a massive dilution on shareholding and earnings per share (EPS) following a bond conversion that results in issuing 840 million new shares, which is equivalent to half of the company's existing share capital.
In a filing with Bursa Malaysia, DMB (fundamental: 0.55; valuation: 0.9) said the stock exchange had approved the issue of new shares.  The convertible bonds were issued to Siem Offshore Rederi AS (Sora), which sold an offshore subsea construction vessel, Siem Daya 1 (SD1) to DMB, as payment settlement.
DBM sealed the acquisition agreement in August last year when the purchase price was initially US$140 million (RM523.6 million).
On April 24, the terms and conditions of the memorandum of agreement were renegotiated, which saw the purchase consideration for SD1 reduced to US$120 million.
In the agreement, it also terminated a proposed SD2 acquisition from Sora in view of the prevailing market conditions and oil prices.
Meanwhile, an additional US$30 million convertible bonds were issued to Sora to part finance the proposed vessel purchase to make up for the US$20 million cash difference.
It said in the event that the nominal value of the additional bonds issued exceeds RM126 million, Daya Materials will be required to pay the difference to Sora in cash.
In an earlier announcement, DBM acknowledged that the company's EPS may be diluted as a result of the enlarged share capital in issue pursuant to conversion of the bonds. "Nevertheless, the dilution impact on the EPS of the group will also depend on the actual number of new shares to be issued and the level of profits generated from the operations of the SD1," the company said.
SD1 will be chartered to Technip Norge AS in the North Sea and North Atlantic regions for RM440 million on a seven-year contract that ends in 2020, according to the same announcement.
DBM also received a call option notice from Perfect Propel Sdn Bhd (PPSB) last month, stating its intention to exercise a revised call option, which requires it to dispose of a 50% stake in its 70%-owned subsidiary Daya CMT Sdn Bhd  to PPSB for RM30 million.
It said the disposal would enable the group to raise funds to part finance the proposed SD1 vessel acquisition.
This article first appeared in The Edge Financial Daily, on June 11, 2015.