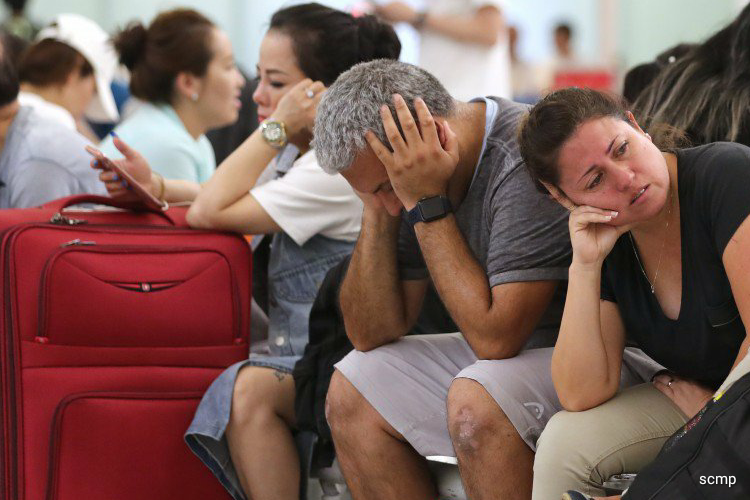 (Aug 13): Anti-government protesters have vowed to return to Hong Kong airport, even as carriers strove to clear a backlog caused by a mass sit-in that shut the complex down a day earlier.
More than 300 flights were cancelled on Tuesday at Hong Kong International Airport, one of the world's busiest, leaving many passengers stranded.
Demonstrators were expected to return by 1pm, according to a call-out circulating online.
On Monday, protesters who had occupied the arrival hall from Friday to Sunday moved into departures. That prevented passengers from checking in or clearing security, forcing the cancellation of all flights in and out of the city.
As of 8am Tuesday, 160 departing flights and 150 arrivals, due to leave or land at the airport between midnight on Monday evening and 11.55pm on Tuesday, had been cancelled.
Long lines of passengers formed in the departure hall at check-in counters as the airport tried to recover from Monday's chaos and airlines strove to clear their backlogs, while others were seen sleeping after camping at the airport overnight.
The arrival hall was mostly quiet. Some protesters remained, holding placards in the arrivals area.
The Airport Authority said the airport had rescheduled flights on Tuesday, which meant flight movements would be affected.
It urged passengers to check the latest flight information on its app and to confirm details before heading to the airport.
Among those left stranded was Ecuadorian Nelson Cevallos, who had originally been scheduled to fly from Hong Kong to Shanghai on Spring Airlines at 5.50pm on Monday.
"It was a disaster," he said, adding that he was very angry about the situation.
There were no staff around to help him when the protests took off, he said, and the information counter only gave him a number to call.
"I called that number and they gave me another number in Shanghai to call and my wife called them," he said. He was later contacted by a service centre in Malaysia, and was told he would be put on a 1.20pm flight on Tuesday. That flight was rescheduled to 8pm.
A Brazilian passenger who only gave only her surname Pires said she had to pay a lot of money for a hotel room after her Shanghai flight was cancelled. She was unable to get on a Tuesday flight and was booked to fly on Wednesday. 
"I know it is not the airline's fault, but I just really want to go home," said Pires, who lives in Shanghai. The airline told her it would not provide any accommodation for her.
"I will check if I have insurance. I paid for everything myself," she said, adding she decided she would go and do some sightseeing.
Spring Airlines passengers unable to get on a Tuesday flight were given a note saying passengers who had booked flights with the carrier on or before August 12 would be able to transfer to flights up until August 25 for free.
Lillian Kok, a retiree from Tai Po, who arrived almost six hours early for her 3pm flight to Malaysia, questioned protesters' tactics, saying they could risk damaging Hong Kong's reputation.
"I don't mind the protests; it's OK to have demands," she said.
"When we were young we sat [protesting] for hours in Victoria Park but then we would leave.
"But the airport is the city's gate. What will people think when they arrive and see this?"
Chang Ya Yuan, from Taiwan, was among the dozens of travellers who stayed in the airport overnight.
"I have been at the airport for 14 hours, but luckily it has not disrupted my plans as I'm just accompanying my mother on a business trip," said Chang, who was stopping at Hong Kong for business before heading to Shanghai.
Her original flight was due to leave at 4pm on Monday and was rescheduled twice before being cancelled.
"I don't think I will have to pay, since it was not our fault the flight [was cancelled]. But there wasn't a single member of staff around last night, and they would not let us enter the departure area even though we already had our transiting boarding pass," she said.
Chang said they had slept on chairs behind the check-in counters, while other passengers tried to get some sleep on the carpeted floor behind the desks.
Meanwhile, Hong Kong Airlines, which is controlled by mainland Chinese conglomerate the HNA Group, took out adverts in newspapers condemning violent acts, saying they openly challenged the principle of "one country, two systems", and expressing its support for the city's government and police.
They urged the city to "calm down all riots and protect Hong Kong".
In the wake of the government's shelving of the extradition bill, which would have allowed criminal suspects to be sent back to the mainland, protesters have been trying to broadcast their demands to an international audience.
The five demands of the movement include the bill's full withdrawal and an independent investigation into police's use of force at demonstrations, as well as genuine universal suffrage.