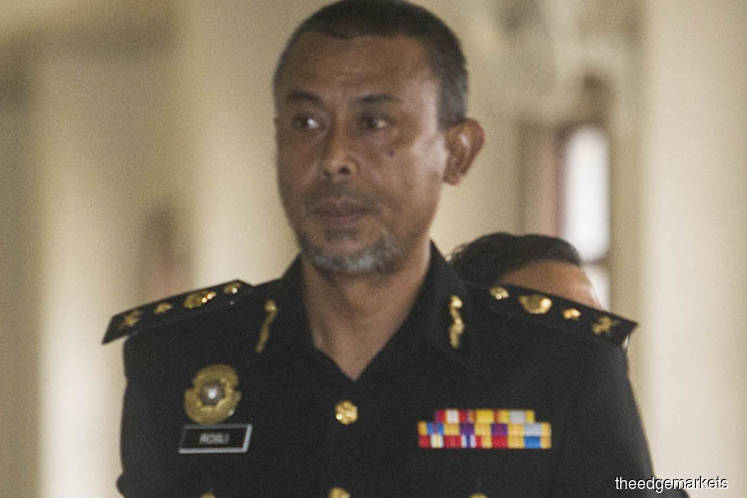 KUALA LUMPUR (Aug 14): The prosecution in the Datuk Seri Najib Razak SRC International Sdn Bhd case is expected to complete the examination-in-chief of Malaysian Anti-Corruption Commission investigating officer Senior Assistant Commissioner Rosli Hussain today.
Yesterday Rosli told the court of efforts to track former SRC chief executive officer Nik Faisal Ariff Kamil as well as fugitive businessman Low Taek Jho, and their names had been listed on Interpol's red notice.
Low, or better known as Jho Low, had left the country on May 29, 2015 and Nik Faisal just before the 14th general election (GE14) on May 7 last year.
Rosli said arrest warrants had been issued on them by the magistrates court and subsequently red notices were issued and their passports were revoked last year.
The red notices were put up in Hong Kong, Thailand, Indonesia, Macau, Myanmar and China but to no avail.
Rosli, who is the 57th prosecution and last witness, also told the High Court that besides Nik Faisal, two of Jho Low's close associates Terence Geh Choh Heng and Casey Tang Keng Chee had left the country a day before GE14.
Two others namely businessman Eric Tan Kim Loong and Jasmine Loo Ai Swan had left Malaysia several days after GE14 and have not been found since despite putting their names on Interpol's red notice, said Rosli.
The witness also told the court that the passports for the four of them had also been revoked.
Rosli is expected to be questioned further by DPP Datuk Suhaimi Ibrahim on the seizure of bank account documents for about two hours, and the defence would then cross-examine the witness.
Against this backdrop The Edge is reporting today's proceedings involving Najib, who is the highest ranking politician to be charged in court, live.
Users of The Edge Markets app may tap here to follow our live reports.