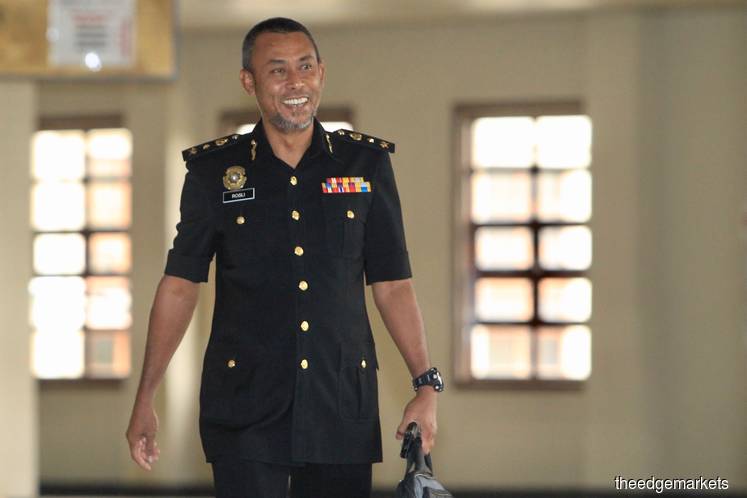 Malaysian Anti-Corruption Commission investigating officer (IO) Rosli Hussain (Photographer: Shahrin Yahya/The Edge)
KUALA LUMPUR (Aug 9): The prosecution in Datuk Seri Najib Razak's criminal breach of trust, abuse of power and money laundering case involving RM42 million from SRC International Sdn Bhd funds at the High Court here is inching closer to the end.
This comes as Malaysian Anti-Corruption Commission investigating officer (IO) Rosli Hussain is expected to be called to the witness stand today.
Normally, the IO is the last witness called by the prosecution before it closes its case on the accused in a criminal trial.
This would then be followed by submissions by the prosecution and defence, before Justice Mohd Nazlan Mohd Ghazali decides to either call for Najib to enter his defence or acquit the former premier.
Yesterday saw the cross-examination and re-examination of former Finance Minister II Datuk Seri Ahmad Husni Hanadzlah, who clashed with defence lawyer Tan Sri Muhammad Shafee Abdullah many times.
Husni, the sole member from Najib's cabinet to be called, had wanted to further explain his repsonses but was stopped by Shafee on several occasions, resulting in heated exchanges.
The 56th prosecution witness maintained that Najib was autocratic in dealing with 1Malaysia Development Bhd and its former subsidiary SRC.
Husni, who was also MP of Tambun, also said yesterday that it was unprecedented for a government-linked corporation (GLC) to have an advisor emeritus, as 1Malaysia Development Bhd (1MDB) and SRC did.
He also accused the former premier of being behind allegations of sexual harassment and graft involving him after he made a speech in Parliament questioning 1MDB and SRC, and using blogger Raja Petra Kamaruddin to run him down following his resignation from the Cabinet in June 2015.
Against this backdrop The Edge is reporting today's proceedings involving Najib, who is the highest ranking politician to be charged in court, live.
Users of The Edge Markets app may tap here to follow our live reports.