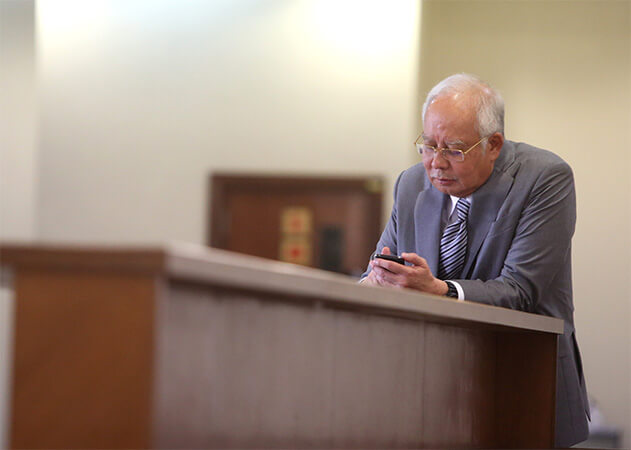 Datuk Seri Najib Razak Photo by Sam Fong/The Edge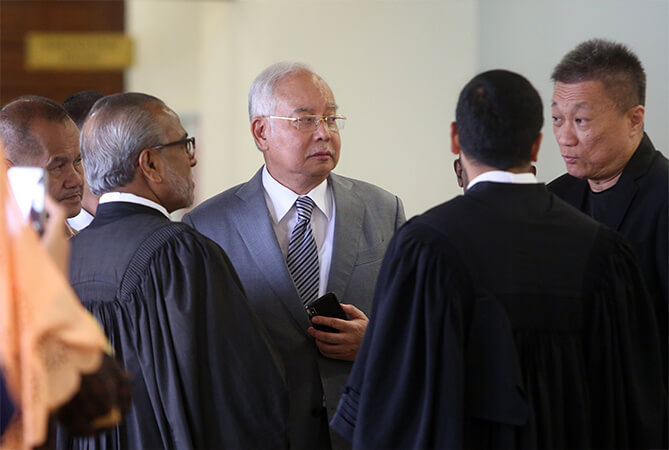 Najib (second from left) with Shafee (left).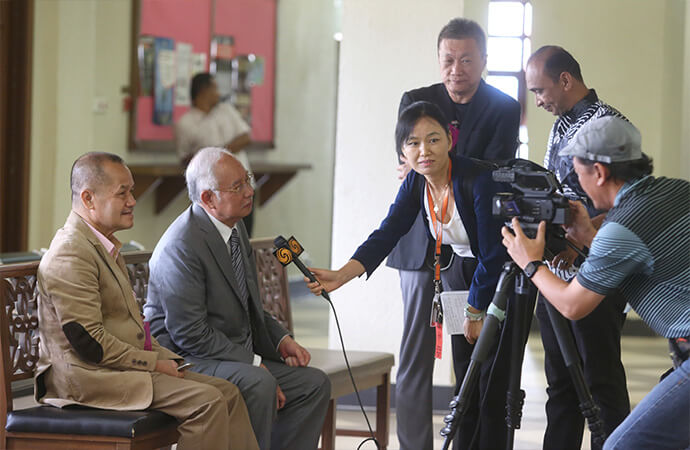 Najib being interviewed during a break in proceedings.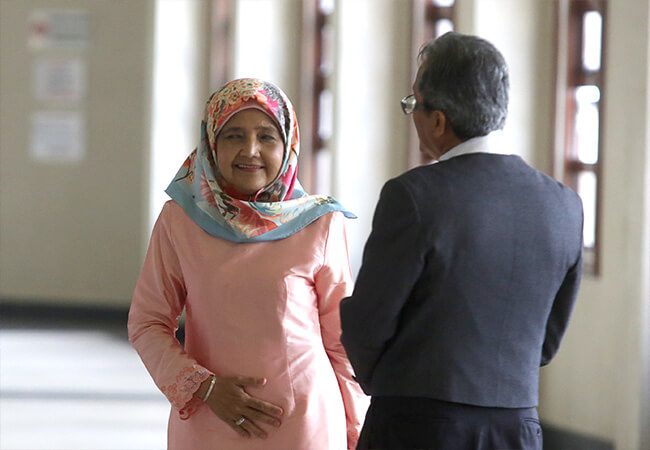 Former KWAP CEO Datuk Azian Mohd Noh.
KUALA LUMPUR (May 29): The Datuk Seri Najib Razak RM42 million SRC International Sdn Bhd trial enters its 20th day today with the Kumpulang Wang Persaraan (Diperbadankan) (KWAP) former chief executive officer Datuk Azian Mohd Noh continuing her examination-in-chief by the prosecution. 
Azian, 66, who is now retired, testified in the High Court yesterday that an application letter dated June 3, 2011, was signed by SRC International Sdn Bhd director Nik Faisal Ariff Kamil for an RM3.95 billion loan did not follow KWAP's procedural requirements.
The letter also included a handwritten note from Najib saying he agreed with the suggestion.
KWAP, Malaysia's largest public services pension fund required all loan applicants address their applications to the fund directly, along with supporting documents or proposals.
However, during examination-in-chief by Deputy Public Prosecutor Datuk Ishak Mohd Yusoff yesterday, Azian agreed that SRC should have made the application to KWAP and not through Najib, who was then the prime minister and the finance minister.
Despite this, KWAP approved the RM2 billion loan in August 2011 after SRC secured a government guarantee, and another RM2 billion loan in March 2012.
She further testified that she met the late Datuk Seri Azlin Alias, who was Najib's private secretary at a hotel lobby in KL Sentral regarding the loan sought by SRC.
"Azlin told me that Najib had agreed with the proposal by SRC where the letter was addressed to him and referred to a note made by Najib on the letter," she added.
Meanwhile, Ihsan Perdana Sdn Bhd (IPSB) managing director Datuk Dr Shamsul Anwar Sulaiman is expected to be recalled today as he have yet to finish his cross examination by Najib's lead counsel Tan Sri Muhammad Shafee Abdullah, who was absent yesterday.
Shafee, is also acting for Samirah Muzaffar, 44, the wife of the late Cradle Fund chief executive officer Nazrin Hassan, in his murder case and had to appear in Federal Court yesterday for Samirah's bail application hearing.
Samirah and two teenagers aged 14 years old and 17 years old were charged with the murder of Nazrin.  
When testifying in court yesterday, Dr Shamsul claimed he was forced to follow orders issued by Yayasan Rakyat 1Malaysia (YR1M) project director Dennis See Thuan Buan and former YR1M CEO Ung Su Ling when IPSB's Affin Bank accounts were used as a transit account to transfer money to Najib.
The presiding judge Justice Mohd Nazlan Mohd Ghazali will continue to hear the testimonies today.
The Edge is bringing the trial involving Malaysia's former highest-ranking politician who led the country for nine years live.
Users of The Edge Markets app may tap here to follow our live reports.