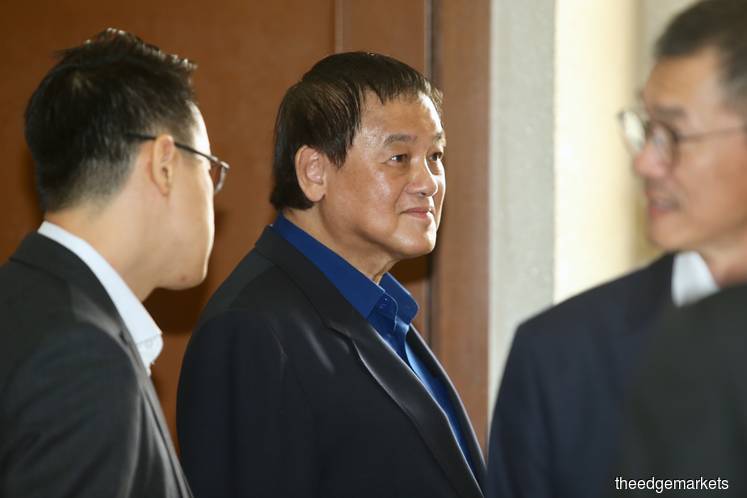 Datuk Tan Eng Boon (centre) Photo by: Mohd Suhaimi Mohamed Yusuf/The Edge
KUALA LUMPUR (Aug 2): Datuk Tan Eng Boon, who is accused of bribing former Federal Territories minister Datuk Seri Tengku Adnan Tengku Mansor, has sought to dismiss an application by the prosecution to have his case jointly heard with the latter's trial. Tengku Adnan is also known as Ku Nan.
Tan's lawyer Faisal Moideen argued today that a joint trial will bring prejudice to Tan, as he will lose the opportunity to call in Ku Nan as a witness.
Deputy public prosecutor Julia Ibrahim said the application for an order by High Court judge Mohd Nazlan Mohd Ghazali to have a joint trial for Tan and Ku Nan was on the grounds that there is "unity of purpose and design" on the facts of both cases.
Tan is accused of giving — and Ku Nan receiving — RM1 million for the approval of Nucleus Properties Sdn Bhd's application (now known as Paragon City Development Sdn Bhd) to increase the plot ratio relating to the development of Lot 228 along Jalan Semarak here.
If found guilty, Tan may be jailed for up to 20 years and fined no less than five times the amount of the gratification, or RM10,000, whichever is higher. He also faces an alternative charge under Section 165 of the Penal Code for allegedly abetting Ku Nan in committing the same offence.
Tan and Ku Nan were charged separately at the Sessions Court on Nov 15 last year.
The Sessions Court had on Jan 7 this year approved the prosecution's application to transfer Ku Nan's case to the High Court. Subsequently, his hearing is set to begin on Sept 3 this year.
The decision for today's application, said Justice Mohd Nazlan, will be heard on Aug 9. It is anticipated that the decision will be heard first before the judge proceeds with former prime minister Datuk Seri Najib Razak's SRC International Sdn Bhd-related trial, which will also continue that day.
Earlier today, Justice Mohd Nazlan had also dismissed Tan's application for a stay of his hearing pending an ongoing appeal against the Sessions Court's decision for his case to similarly be heard at the High Court.
"Even without a stay, the appeal could proceed," said the judge.