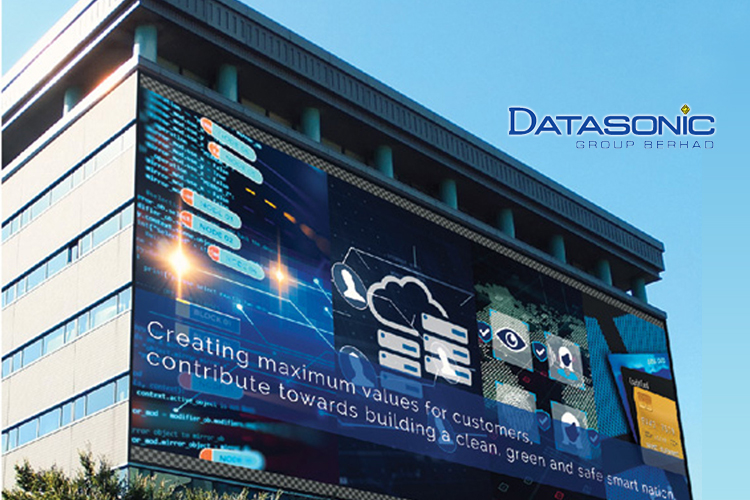 KUALA LUMPUR (March 11): Shares in Datasonic Group Bhd rose by as much as 8.51% in active trade this morning.
At 10:21am, the counter was trading eight sen higher at RM1.02, giving it a market capitalisation of RM1.38 billion.
It saw some 30.86 million shares changing hands on the local bourse today, exceeding its 200-day average trading volume of 12.67 million by over two times.
This rise is a sharp contrast to its trading activity during the morning trading session yesterday, where it plunged to 69 sen in mid-morning trade. That said, the stock rebounded to close unchanged at 94 sen yesterday.
In a note to investors today, RHB Research said the upheaval in the local political environment contributed to a 40% correction in its share price, which also saw some short-selling activities.
"Unsurprisingly, the risk-off sentiment is profound following the wider spread of Covid-19, oil price slump, and domestic political changes.
"However, we believe the steep correction is overdone, given Datasonic's strong business fundamentals, which are backed by a total outstanding orderbook of RM611 million and sustainable strong earnings," the research house said.
RHB Research also opined that Datasonic's fourth quarter ended March 31, 2020 (4QFY20) is expected to yield strong results, particularly as it recognises profits from auto-gate maintenance related works.
It further cited that Datasonic's core earnings for 3QFY20 were the best in its recent history, rising 71.5% year-on-year and 46.9% quarter-on-quarter on the back improved revenue following stronger MyKad orders and higher revenue from security and surveillance, maintenance, and Europay, MasterCard and Visa-card related solutions.
In terms of contracts, the group is one of 15 bidders for the approximately RM1.5 billion National Integrated Immigration Systems (NISS) contract, for which tender submissions closed on March 4, 2020.
Meanwhile, Datasonic is also bidding for the foreign visa contract (VLN) from the Home Ministry. The VLN is potentially worth between RM1 billion and RM1.5 billion, and bidding for the contract will close on April 16, 2020
"We expect the roll-out of these contracts sometime in April or May. We believe Datasonic is among the frontrunners for these bids, given its track record as a reliable integrated service provider for KDN in national security-related solutions since 1998," the research house opined.
RHB Research added that as far as core competencies are concerned, Datasonic is currently involved in the four main modules for immigration systems in terms of passports and auto-gate related border controls, while also having experience in visa, pass and permit modules.
All in all, the research house is still maintaining its "buy" call and a RM1.96 target price (TP) on Datasonic. This TP is based on a 39 times forecasted financial year ending March 31, 2021 (FY21) price to earnings (PE) ratio.
This PE ratio implies a 0.5 times probability of a RM1.44 per share hypothetical value from the VLN contract.
"We maintain our call too, given Datasonic's sustainable strong results, potential job wins in the near term, and undisputed track record in securing contracts and delivering outstanding service — irrespective of the government of day," RHB Research opined.
However, should Datasonic fail to clinch the VLN and NISS contracts, its TP may revert to RM1.21.