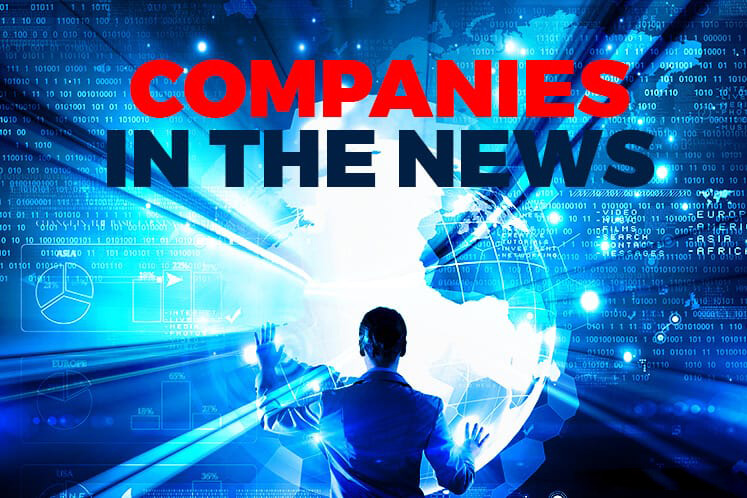 KUALA LUMPUR (Oct 19): Based on corporate announcements and news flow today, stocks in focus on Monday (Oct 22) may include Datasonic Group Bhd, My EG Services Bhd, CIMB Group Holdings Bhd, DutaLand Bhd, British American Tobacco (Malaysia) Bhd, Gadang Holdings Bhd and Vortex Consolidated Bhd.
Both Datasonic Group Bhd and My EG Services Bhd (MyEG) issued clarifications denying making payment to former Deputy Prime Minister Datuk Seri Ahmad Zahid Hamidi or anyone to secure projects from the Government.
Both companies denied being a party to the charges that had been filed against Zahid, who earlier today was slapped with 45 charges related to criminal breach of trust, graft and money laundering.
Under three of the charges, Mastoro Kenny IT Consultant & Services allegedly gave Zahid 24 cheques worth over RM13 million between July 15, 2016 and Feb 8, 2017 to secure contracts from MyEG.
MyEg also said that it received a confirmation from Malaysian Anti-Corruption Commission that neither the company nor its board of directors are under investigation in relation to the charges.
The charge sheet also stated that Zahid received a bribe from Chew Ben Ben, a director of Datasonic Group, in the form of two cheques worth RM5 million and RM1 million produced by Sarana Kencana Sdn Bhd to a Maybank account owned by Lewis & Co as kickback.
It said Zahid then facilitated the appointment of Datasonic to undertake a five-year contract to provide 12.5 million chips for Malaysian passports to the Immigration Department.
Datasonic, however, clarified that neither the company nor any of its directors had made any payment to Zahid in relation to the supply of chips for passports.
CIMB Group Holdings Bhd said it has received Bank Negara Malaysia's greenlight for the appointment of Datuk Mohd Nasir Ahmad as the group's new chairman.
Mohd Nasir, who has been a member of the group's board of directors since 2015, and its senior independent director since April 2016, will be taking over from Datuk Seri Nazir Razak, who stepped down today.
Meanwhile, it said CIMB Thai Bank PCL's net profit for the third quarter ended Sept 30, 2018 rose 131% to 177.26 million baht (RM22.6 million) from 76.54 million baht a year earlier, on higher interest income and lower impairment losses.
CIMB Thai, owned 94.11% by CIMB Group, said interest income during the quarter rose 6% to 3.91 billion baht, from 3.69 billion baht previously.
Quarterly operating income however, fell 5% to 3.29 billion baht from 3.46 billion baht a year ago.
For the cumulative nine months, net profit fell 4% to 537.38 million baht from 554.38 million baht.
DutaLand Bhd has bagged a RM12.03 million contract for the construction of a new extension and upgrading work for the Avenue K shopping mall on Jalan Ampang, Kuala Lumpur.
Its wholly-owned unit, Oakland Holdings Sdn Bhd, accepted the letter of award today from City Properties Sdn Bhd.
The group said the transaction is a related party one as certain DutaLand directors and major shareholders are deemed to have interests in the transaction.
The group said work is expected to commence this month and is scheduled to be completed in four months.
British American Tobacco (Malaysia) Bhd's (BAT) net profit for the third quarter ended Sept 30, 2018 was flat at RM145.81 million versus RM145.49 million a year earlier. Earnings per share remained the same at 51.1 sen.
Revenue also saw just a slight increase to RM735.53 million from RM734.61 million a year ago, which the group attributed to a volume decline as a result a slowing legal market.
The group has declared a third interim dividend of 40 sen per share to be paid on Nov 16.
For the cumulative nine months, net profit fell 14% to RM352.17 million compared with RM411.6 million previously while revenue dropped 8% to RM2.05 billion from RM2.23 billion a year ago.
Construction engineering firm Gadang Holdings Bhd's net profit dropped 10% to RM16.54 million from RM18.34 million in the first quarter ended Aug 31, 2018 (1QFY19) due to lower revenue from its construction and utilities segment as well as higher expenses.
The group said other expenses for the quarter under review increased to RM1.06 million compared with the preceding year mainly due to unrealised loss on foreign exchange.
Earnings per share fell to 2.5 sen versus 2.79 sen in 1QFY18, while revenue rose 11% to RM129.15 million from RM116.74 million last year.
IT company Vortex Consolidated Bhd intends to raise up to RM54.89 million through a series of corporate exercises that involve a share consolidation, rights issue with warrants, and a right issue of new irredeemable convertible preference shares (ICPS).
Vortex plans to consolidate every two existing shares into one, which would result in an adjustment to its share price.
For illustration, based on the company's last transacted market price of 8.5 sen per share, the adjusted reference price would be 17 sen post-consolidation.
Vortex will then carry out a renounceable rights issue of up to 60.989 million new shares on the basis of one rights share for every five consolidated shares held on an entitlement date to be determined. The issuance comes with one free detachable warrant for each rights share subscribed.
The issue price of the rights share has been fixed at 15 sen each.