This article first appeared in The Edge Malaysia Weekly, on June 1, 2020 - June 07, 2020.
Click / Tap image to enlarge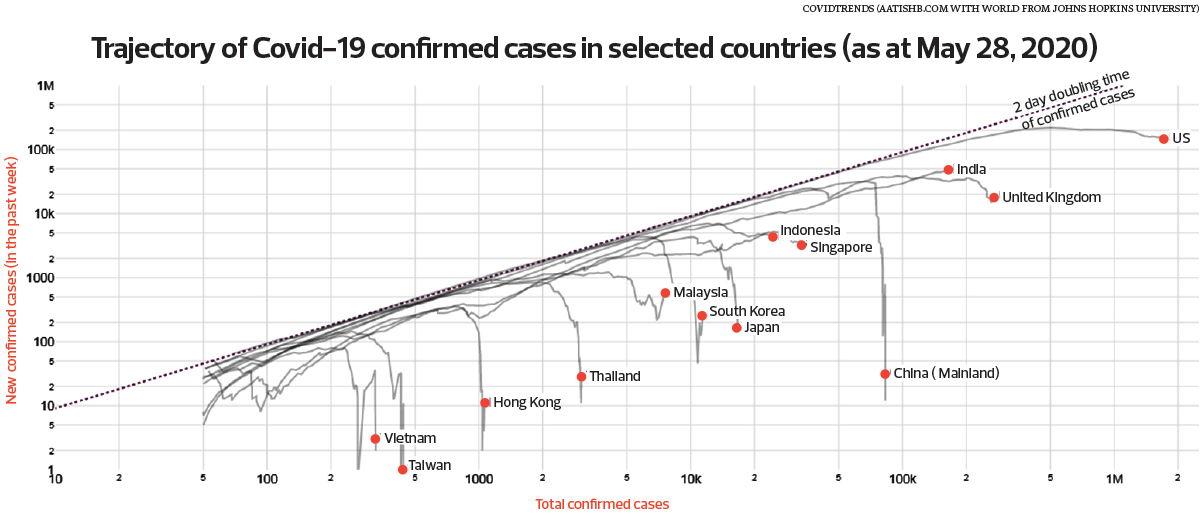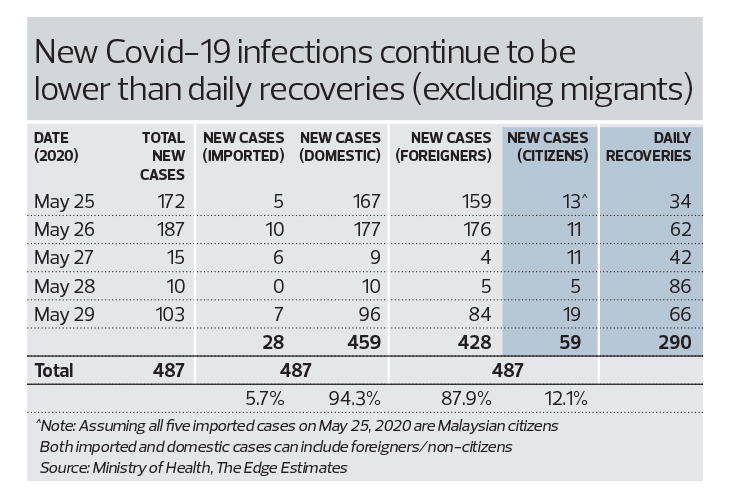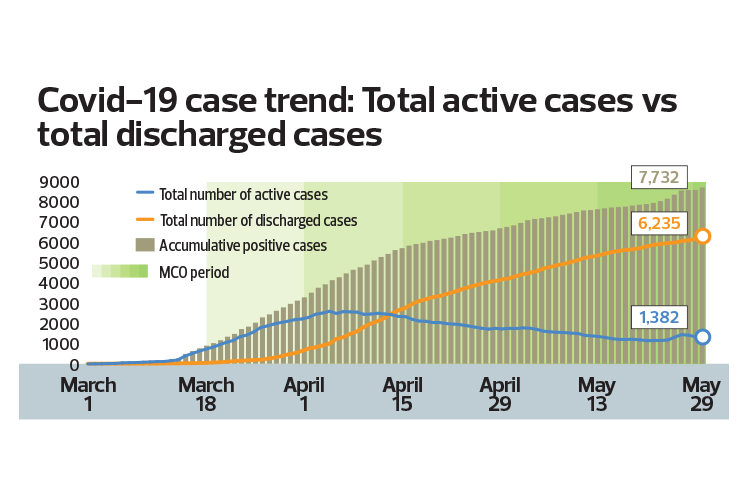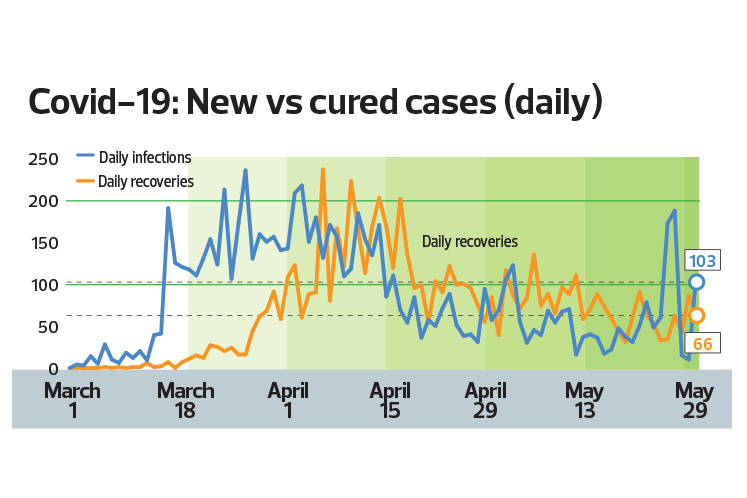 (This article has been updated.)
THE data looks reassuring as Malaysia passes the first month since May 4 when more businesses were allowed to resume operations by adhering to strict standard operating procedures after 47 days of near-lockdown to curb the spread of Covid-19.
The number of daily new cases rose back to triple digits over three days last week (May 25, 26 and 29) as Malaysia stepped up screenings among migrants, just as the Ministry of Health director-general Datuk Dr Noor Hisham Abdullah had flagged on May 25. The jump in the number of migrants who tested positive caused daily new cases to exceed daily recoveries again after staying below for the most part since turning positive on April 6.
Migrants made up at least 88% or 428 of the 487 who tested positive for Covid-19 between May 25 and 29 (this is assuming all five imported cases on May 25 are Malaysian citizens), back-of-the-envelope calculations show. According to Noor Hisham, migrant workers made up 990 or 77.3% of the 1,189 new cases detected between May 4 and 27, with Malaysian citizens accounting for only 270 or 22.7%.
Even as the number of tests done daily rose to a new high of 30,020 on May 21, the number of daily new cases remained below 100 in all but three of the 26 days (May 4 to 29) and stayed below 50 a day in more than half the period. As at May 26, 519,944 individuals had been tested in Malaysia, with the infection rate at 1.46%, down from 2.83% on May 6 when 227,436 individuals had been tested, according to official data.
To be sure, Malaysia is still working to raise the number of tests done daily — which could well result in a higher number of daily infections being recorded. A saving grace is that the number of Covid-19-related deaths remained at 115, with zero deaths recorded over eight days and only 10 higher than the 105 who succumbed as at May 3, just as the Movement Control Order (MCO), imposed on March 18, was gradually eased.
These data points could have some bearing this week as policymakers decide if the Conditional Movement Control Order (CMCO) will be further extended beyond June 9 and if more freedom of movement can be given to businesses and individuals. While the MCO has helped Malaysia flatten the curve, the economy of most countries can ill afford the cost of prolonging a lockdown longer than necessary. In Malaysia, it has been estimated that the economy loses RM2.4 billion for each day businesses are shut or curtailed during the MCO.
Finding the right balance between saving lives and livelihoods remains a challenge globally, more so for countries with limited fiscal and monetary room to manoeuvre.
"Unfortunately, no government has yet discovered any objective metrics to determine the right level of movement restrictions, and every government is operating without a manual. Therefore, a combination of professional judgment, epidemiological and health systems data and data on adherence to movement restrictions will be necessary to make decisions for Malaysia and other countries," says Dr Khor Swee Kheng, a physician and public health expert and a member of the Malaysian Health Coalition that represents 23 professional and six civil societies.
"The three main priorities for Malaysia in the coming two to three months or so are the health and housing of migrants and refugees; a gradual phased restart of non-economic aspects of public life such as educational, cultural and religious activities; and strengthening the health system to account for physical and mental fatigue, routine care for routine diseases like diabetes and cancer, and a resupply of all our equipment and consumables," adds Khor, who was a University Malaya Health Systems and Policies senior fellow and is a student at the Blavatnik School of Government at Oxford University.
Dr Yap Wei Aun, a health system specialist and advisor to Malaysia's former minister of health, admits that some measures will damage the economy more than others and calls on policymakers to make the wearing of masks mandatory.  As it is, Malaysia only encourages the wearing of masks in public.
"More than 50 countries already require mandatory wearing of face masks. It is one of the least economically damaging measures to slow down the spread of Covid-19 ... don't miss this low-hanging fruit," Yap says, noting that it is important for even those who seem well to wear face masks in public, given that research now shows that the coronavirus can be transmitted by asymptomatic cases (infected individuals who show no symptoms).
Vietnam made it compulsory for people to wear face masks in public as early as March 16 — just five days after the World Health Organization (WHO) declared Covid-19 a pandemic on March 11 — and shut its borders on March 20 before implementing a shutdown on April 1. Despite easing social isolation rules on April 22, the country,  with a population of 95 million, only has 327 confirmed Covid-19 cases and zero deaths as at May 29.
Vietnam is set to produce its first-ever over-ear headphones for Apple — the first time the latter is manufacturing a new product outside China, according to news reports. The International Monetary Fund reckons that Vietnam's economy may slow to 2.7% this year but could pick up to 7% in 2021.
South Korea, which chose to control the pandemic with wide testing instead of a lockdown and even successfully held a presidential election, made it mandatory for people to wear masks when using public transport nationwide.
The government reportedly ran special flights for businesses like Samsung, LG and Hyundai with critical manufacturing facilities in foreign countries to reboot supply chains hit by travel restrictions.
Last Friday, the Bank of Korea said it expects its economy to contract 0.2% in 2020,  from an earlier forecast of 2.1% growth in February, before growing 3.1% in 2021, assuming that Covid-19 infections peak in the second quarter.
Singapore, which initially discouraged those who are well from wearing face masks, made it mandatory to wear them when stepping out of the house from April 14. Those who flout the rule risk at least a S$300 fine while foreign residents could have their work pass or permanent resident status revoked. Over 93%, or 30,995 of the 33,249 positive Covid-19 cases in the city state as at May 28, were work permit holders staying in dormitories. Infections among Singaporeans and permanent residents were below 5%, according to data on Singapore's Ministry of Health website.
"There is very strong evidence that [wearing masks] works. Initially, there were concerns that if everyone wore surgical masks every day, there would not be enough for health workers, but so far, the supply of these masks has been ample and alternatives like cloth masks work too," explains Yap.
"However, there is one caveat related to how these masks work. It works primarily by catching the droplets from infected individuals as they leave their mouth. This means that by wearing a mask, we are protecting others, and, only to a lesser degree, ourselves. Face masks, in other words, work best if everybody wears them. This is why it is critical for authorities to make it mandatory for all, even those without symptoms. If we don't pluck this low-hanging fruit by enforcing a measure with very limited economic impact, we may ultimately have to pay a higher price through measures that are more restrictive on economic activity and freedoms," he adds.