This article first appeared in Enterprise, The Edge Malaysia Weekly, on May 13, 2019 - May 19, 2019.
The team has analysed responses from more than 30,000 users across 13 Asia-Pacific countries since 2016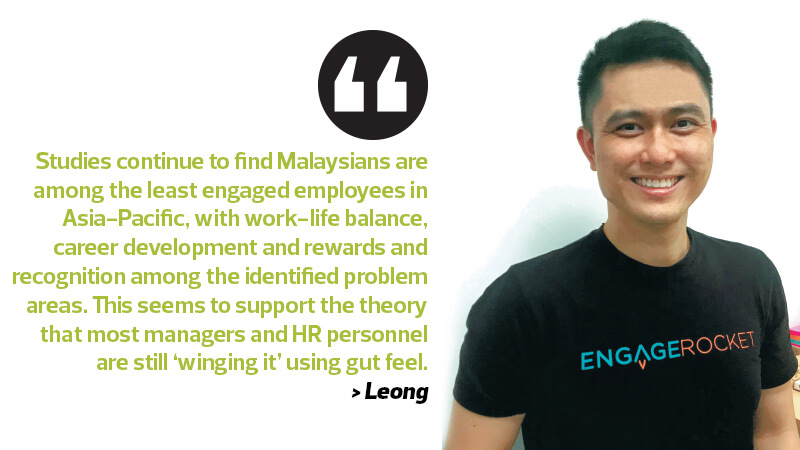 The ability to retain talent is as much a challenge for multinational corporations (MNCs) as it is for small and medium enterprises (SMEs). This is what Leong Chee Tung and Dorothy Yiu, co-founders of Singapore-based start-up EngageRocket, discovered during their stint at a global human resources consulting firm.
The duo, who were serving Fortune 500 clients at the time, learnt that talent policies and people management decisions were usually made with scanty data or worse, gut feel. These included key decisions such as who to promote, develop, retain or fire, says Leong. That is probably why people end up hating their jobs, he adds.
"Companies were spending tens of millions of dollars a year to engage and retain people using data no more reliable than flipping a coin. Employee engagement, especially in Southeast Asia, is low and stagnant. The data on employee experience, such as how people feel at major stages in their journey with a company, is siloed, poorly collected, late or non-existent."
This "old way" is clearly broken as it is impossible to carry out any meaningful action to better the workplace, improve motivation and productivity and personalise employees' experiences, says Leong. "Businesses need a new way of working with people to make their jobs more meaningful while improving business performance. Thus, EngageRocket was born to build better workplaces using people analytics."
The start-up offers a cloud-based software that helps companies make better people decisions using real-time data. This is collected through pulse surveys, 360° reviews and basic employee demographic data, which are instantly analysed to provide insights on which HR programmes are actually working and whether each individual manager's leadership style is generating the desired effect on their teams.
A pulse survey is a fast and frequent tool used to gain insight into a company's health while a 360° review is where employees gather information from their subordinates, colleagues and supervisors on top of doing a self-evaluation.
"Studies have shown that 75% of the reason people leave their jobs is because of their direct manager. As the saying goes, people join companies but leave managers. And the research generally supports this," says Leong.
"This is where employee engagement matters most. The extent to which HR and leaders can systematically deliver a sense of autonomy, a path to mastery and a sense of deep purpose to all of their employees will drive the effectiveness of job retention efforts."
The whole analysis process is automated, so SMEs do not have to dedicate a large HR team to administer and collate these insights, he says. "SMEs are hard-pressed to hire and retain great talent. They have three ways to overcome this — find ways of attracting better talent, get much better at keeping what good talent they already have and inspire the people they do have to outperform their résumés.
"Another defining feature of SMEs is that everyone wears multiple hats or does many different jobs at once. Very few bosses have time to carve out regular one-on-one conversations with their staff to discuss their development and the HR department tends to be more focused on just filling the recruitment pipeline and getting payroll right."
Leong, who is CEO of EngageRocket, says it has analysed responses from more than 30,000 users across 13 Asia-Pacific countries since the platform was launched in 2016 and most have acknowledged that they now know better which areas of HR to focus on.
UNDERSTANDING PEOPLE ANALYTICS
There are an average of seven employee record systems in a company and extracting data from these systems can be tricky, says Leong. Something as simple as measuring an employee's time spent at the company in days versus months and years would require some reconciliation between those systems.
However, because the space of people analytics is still new, the payoff from making the effort to get this data-cleaning exercises right is unclear, he says. "The easy decision is to put this off for later or wait until others have figured it out before playing catch-up.
"Studies continue to find Malaysians are among the least engaged employees in Asia-Pacific, with work-life balance, career development and rewards and recognition among the identified problem areas. This seems to support the theory that most managers and HR personnel are still 'winging it' using gut feel."
For start-ups, the organisational challenges they face are turbo-charged growth and extreme uncertainty, says Leong. It is critical for them to have up-to-the-minute understanding of where everyone's minds are at and what main barriers they need to overcome. It will also need to see that everyone on the team is pulling in the right direction and know how to reward people at each milestone.
"Great talent want to work with other great talent and the only path to scaling a start-up is by consistently attracting, motivating and retaining great talent — without the bounty of resources available to the more established companies," says Leong.
"Using other non-monetary levers, such as culture, intrinsic motivation and camaraderie, have become extremely important. Applying a scientific approach to this is consistent with how a start-up is built and this will rely heavily on smart people analytics."
It is still not too late for companies to adapt people analytics into their HR systems as the concept is still very much in its early days, he adds. "Everyone is still figuring things out together. The difference is those who adopt this scientific method of managing people are categorising and learning from their experiences much faster and in the medium term will exponentially outpace others who have chosen not to embrace this mindset."
Leong says its main focus this year will be broadening data collection methods to allow for a more granular understanding of trigger points and areas to improve for HR and management. This will be supported by increased investment in artificial intelligence, machine learning and natural language processing to generate more actionable insights to personalise employee experiences further.
"We aim to triple revenues from the start of the year and identify two to three new markets for further investment. We are also deepening the capabilities of our product to help generate even more actionable insights for our customers," he says.