This article first appeared in Enterprise, The Edge Malaysia Weekly, on September 9, 2019 - September 15, 2019.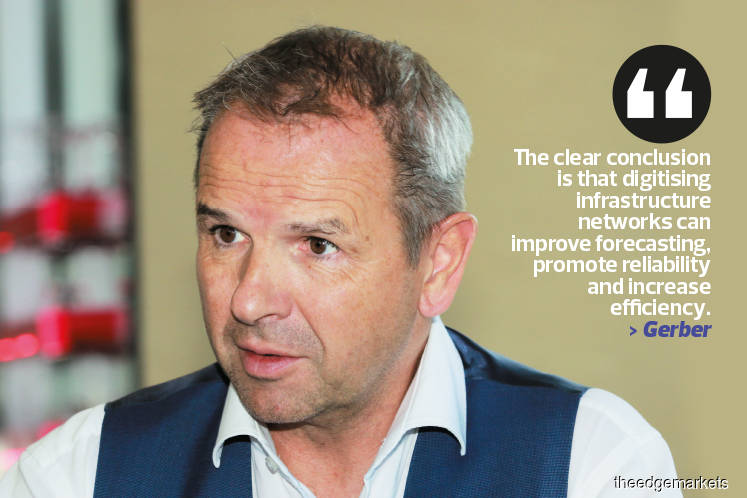 Companies need to find a way to capture the right data, analyse it and come up with solutions for common problems, says Erich Gerber, senior vice-president for Europe, the Middle East and Africa, and Asia-Pacific and Japan at Tibco Software Inc.
Gerber, who was in Kuala Lumpur, briefly spoke to Enterprise about the benefits of automation and digitisation, especially in the country's infrastructure networks.
He points out that if a company or country really wants to benefit from automation, it has to master data management and this includes the sharing of data between stakeholders. "It cannot work if one party says, 'This is my data and I am not going to share it with anybody else.'"
One of his favourite examples is the change wrought by Aeroporti di Roma, which runs Rome's Leonardo Da Vinci-Fiumicino Airport, one of the busiest in Europe. The airport,which was previously voted the worst in the continent, handles more than 40 million passengers a year.
"The Rome airport was rated the worst in Europe and within two years, it has moved up to the top spot, which tells you that technology can change things. Before this, there were a lot of issues in terms of jams or passengers being forced to queue for a long time. There was a lot of time being wasted," says Gerber.
He points out that the company adapted Tibco's real-time analytics software, Tibco Streambase, which it previously used only for issuing alerts when the airport became overcrowded, to analyse business-critical data and forecast delays to aircraft departures and passenger movements up to three hours in advance.
Aeroporti di Roma chief information officer Emiliano Sorrenti told an online IT journal that the system was built over its entire ecosystem, on top of its existing software. "For example, we can analyse the entire passenger journey, from entering the airport to taking a flight, and analyse the experience of the entire journey, always using anonymous data."
Sorrenti's team developed two dashboards — one for airside, showing the progress of aircraft and related services, and one for landside, showing the progression of passengers through the airport. Airport managers are able to click on the displays when they spot a problem and drill down into the data to find its cause.
Gerber says the huge improvement (going from worst to best airport in Europe in just two years) was made possible through the intelligent sharing of data. The airport was already collecting significant volumes of data — air traffic control and ground handlers shared data with the airport's collaborative decision-making system. It also took feeds of road traffic data from sensors in Rome, which could be used to predict the flow of traffic to the airport.
It extracted the data and made it accessible to the people responsible for the day-to-day running of the airport through two graphical displays.
In Malaysia, this sharing of information would be especially useful in dealing with traffic jams, for instance. "If I were Transport Minister, I would make sure that the various stakeholders cooperate by sharing data. Technology is important, but applying technology — implementing it and enabling people to use it — in the right way is even more critical," says Gerber.
He adds that people have different interpretations and understanding of the term "analytics". "I have a clear view of what it means. It starts with displaying data on a nice screen. That basically tells you what has happened. If we manage to collect data and bring it up on a nice dashboard, we can look at it and see that, perhaps, there was a traffic jam today and it lasted from 5.30pm to 6.15pm in this particular area. That does not make us a lot more intelligent, however."
What do we do with this data? "The next thing you need to know is why the jam happened. And that is also an analytic to play with because it can bring you supporting data to give you a better read into why that traffic jam happened. Maybe there was an accident or there was a construction area that led to it. Or maybe, it was just a regular occurrence," says Gerber.
"Once we have figured out what happened and know why it happened, the next step — which is perhaps the most important — is to figure out what to do about it. "That is the big thing. Technology can tell us, based on mathematical formulas about patterns that we collect and analyse and that the machine is learning, that a traffic jam is likely to occur at the same place at the same time the following day," he says.
Gerber says we can add all the variables, like weather influence or proximity to an area where a sport is being played, combine the data and figure out what is likely to happen to give people an alternative so they can avoid a negative experience such as being stuck in a jam.
Data analytics is the key to resolving Kuala Lumpur's transport situation, he reiterates. In an article he wrote for a local daily some years ago, he talked about how predictive maintenance could be scheduled to minimise vehicle breakdowns, for instance, which he described as "the great bugbear of commuters".
"Data feeds on the areas and timing of regular traffic congestions can allow for the planning of more efficient bus routes as well as managing peak-period congestion at bus stops with more frequent service for popular routes. This may sound esoteric, but it is really not rocket science and other countries are already using data analysis to help manage their public transport issues," he wrote.
Tibco has also worked with the Dutch Railways — the principal passenger railway operator in the Netherlands, which provides rail services on the Dutch main-rail network and international services to other European destinations — to turn it around. "Running these vast networks gives Dutch Railways access to huge amounts of data, collected through intelligent train technology, ticketing systems, travel information, real-time monitoring and services for maintenance and control unit staff," says Gerber.
He adds that previously, each train service had its own IT environment, making it difficult to work together and maintain each system. "Dutch Railways had a vision to integrate all this information to deliver a more reliable and better service to customers."
The railway operator used streaming analytics, in-memory computing, integration and messaging software to provide real-time information on train services and maintenance scheduling. Commuters were also able to use a travel planner application to ensure a seamless and prompt commute.
"The clear conclusion is that digitising infrastructure networks can improve forecasting, promote reliability and increase efficiency," says Gerber, adding that Tibco has technology that enables its customers to be more predictive in what they need to do.
However, to get to the point of being predictive, they need to capture relevant data, he says. "And that is a difficult task. The more data-generating resources you have out there, the more you need to integrate them. And that needs to happen in real time because data is volatile and perishable."
Another area in which it can help is nurturing talent in data analytics. "We are working with universities across Southeast Asia to help with education on data analytics and data science. This is a long-term game because when these students graduate and go into the workforce, they will go back to the roots of what they are familiar with, that is, they will get their employers to license Tibco software," says Gerber.
Tibco was founded in the late 1990s and its primary task at the time was to automate Wall Street, he adds. "The base problem we address is how to get different systems to talk to each other and get a unified result. The traders on Wall Street literally had 10 to 20 screens, which all represented one particular application that they had to track. Because these were very smart people, they knew how to connect the dots. But the problem that we resolved was bringing all this information to one screen."
Almost from the outset, in 2000 or 2001, Tibco started operating in Asia-Pacific. "And we have had very strong ties with this part of the world for the past 10 years, actively operating out of Southeast Asia and having sales, marketing and consultancy resources here," says Gerber.
Although he has tried to break into Malaysia's public transport sector, he admits that for the most part, Tibco has never really been a vertical player. "We do not have solutions for a particular industry. We have built technology with the notion of using it in any kind of larger enterprise. So, it does not matter whether you are in the financial services, telecommunications, transport, healthcare or insurance industry, technology basically solves the same kinds of problems," he says.
"Whether you are a bank, telco or travel agency, you deal with people. They are your customers and you need to make sure that they are more loyal to you than they are to the competition. And technology can help with that. All our technology is used for enhancing operational efficiency or customer experience."
Tibco has about 20 clients in Malaysia. They are in the financial services, logistics, telecommunications, oil and gas, and utility sectors.