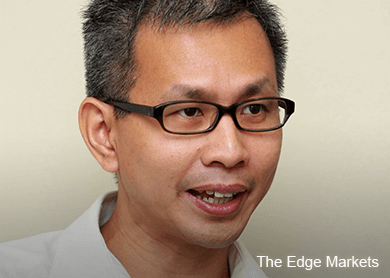 KUALA LUMPUR (Mar 26): DAP wants the Auditor-General (AG) to demand the complete list of investors who bought 1Malaysia Development Bhd's (1MDB) US$6.5 billion (RM23.91 billion) worth of bonds via financial services entity Goldman Sachs.
DAP national publicity secretary Tony Pua said the AG should demand the complete list of investors who bought these bonds issued by three 1MDB units to ensure transparency of these bond placements.
"Why is (Prime Minister) Datuk Seri Najib Tun Razak unwilling to reveal the details of the 'commissions, fees and expenses' if he is so convinced that 1MDB paid a fair sum for US$6.5 billion of bonds raised via Goldman Sachs?
"The failure of the Ministry of Finance to address these issues seriously is despicable as Malaysians have the right to know how 1MDB lost billions of ringgit via such exorbitant 'comissions, fees and expenses' while now requiring a tax-payers' bailout," Pua told reporters at the Parliament lobby today.
Pua expressed his disappointment on the response to his question to parliament last Tuesday (Mar 24) when he queried the government on the commissions, fees and charges for the 1MDB bonds.
Today, Pua said commissions, fees and charges were stated in the prospectus for the US$3 billion bond issuance by 1MDB Global Investment besides two exercises of US$1.75 billion each by 1MDB Energy and 1MDB Energy (Langat).
According to Pua, the US$196 million deducted for "certain commissions, fees and expenses" as stated in the prospectus of 1MDB Energy worked out to about 11.2% of the US$1.75 billion bond exercise.
Meanwhile, the US$283 million worth of commissions, fees and expenses for 1MDB Global Investment translated to about 9.4% of the company's US$3 billion bond exercise.
For comparison, Pua raised a question as to how state-controlled uility Tenaga Nasional Bhd and Penerbangan Malaysia Bhd were able to raise US$350 million and US$1 billion by paying only 2% and 0.5% in fees and expenses, which was much lower.
"What was more interesting is the fact that other Goldman Sachs' fund-raising exercises were substantially cheaper as well and that Najib cannot use the excuse that those were Goldman's standard rates.
"For example, Goldman charged another Malaysian company, Equisar International Inc, only 1.3% in fees. On the other hand, Apple Inc and the Mexico Government paid Goldman Sachs fees and expenses of only 0.3% and 0.2% respectively," said Pua.