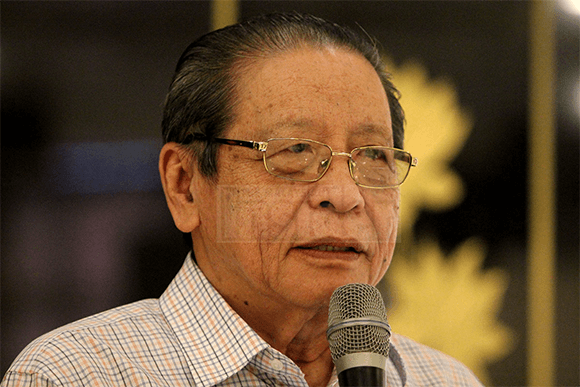 (Aug 19): PAS will not back a possible vote of no-confidence against Prime Minister Datuk Seri Najib Razak said a top DAP leader, despite the opinions of its election director Datuk Mustafa Ali.
DAP parliamentary leader Lim Kit Siang said Mustafa's support for the motion, which is said to be in the works by opposition parties and some Umno MPs, does not reflect PAS's official stand which is determined by its president Datuk Seri Abdul Hadi Awang.
Last month, Hadi had gone on record to state that PAS will not support a no-confidence vote against the prime minister.
"Mustafa is not Hadi. If he was, Pakatan Rakyat would not have broken up. So, it is not relevant. It must be Hadi himself (who makes the stand)," Lim said.
Today, however, PAS deputy president Datuk Tuan Ibrahim Tuan Man agreed with Mustafa, saying the party would support a vote of no-confidence against Najib.
But Tuan Ibrahim and Mustafa's views are contrary to Hadi's, who last month explicitly warned PAS's federal lawmakers not to support any such motion in the Dewan Rakyat.
The DAP has always blamed Hadi for breaking up Pakatan Rakyat, mainly because of his refusal to abide by the collective decisions taken by its three component parties PAS, DAP and PKR.
Mustafa today was reported saying he personally agreed with efforts to bring the motion against Najib in Parliament, even though his party had yet to make an official stand on the matter.
Mustafa also refuted suggestions from Deputy Prime Minister Datuk Seri Ahmad Zahid Hamidi that such a move was unconstitutional or that it was undemocratic.
"Zahid should not be so arrogant and act as if this a coup d'etat and that it is undemocratic. It's not an overthrow of the government. There is a difference between changing the government through democratic means and a coup d'etat."
It is learnt that there are moves to lobby Barisan Nasional and opposition MPs to support a vote of no-confidence against Najib in Parliament.
This comes as Najib is being implicated in scandals involving government-owned investment firm 1Malaysia Development Berhad (1MDB), and that he received RM2.6 billion in political donations prior to the last general election, held in May 2013. The funds were later said to be from a Middle-Eastern country.
On Monday, a blog had published the names of 20 BN MPs that were allegedly part of a plot to topple the prime minister. Some of them denied these accusations and have lodged police reports on the matter. – The Malaysian Insider