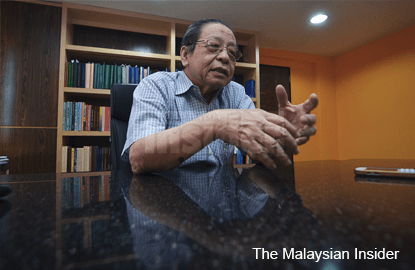 (Aug 19): DAP has proposed a commission of inquiry comprising former leaders and civil officers to investigate the political scandals and events since the cabinet reshuffle late last month.
Its parliamentary leader, Lim Kit Siang, said the commission which should be filled with "Malaysian elders" should look into whether there was an alleged "coup" to topple Prime Minister Datuk Seri Najib Razak.
In addition, the commission should investigate allegations of corruption against Najib and whether he should be charged; the abrupt dismissal of former attorney-general Tan Sri Abdul Gani Patail; the axing of Najib's deputy in last month's cabinet reshuffle; and the raids at the Malaysian Anti-Corruption Commission.
Lim proposed that the panel consists of people such as former prime minister Tun Abdullah Ahmad Badawi, former minister Tan Sri Rafidah Aziz, former inspector-general of police Tun Hanif Omar, former attorney-general Tan Sri Abu Talib Othman and human rights activist Datuk Ambiga Sreenevasan.
He justified this "unprecedented commission" by saying that Malaysia was a democratic country and Malaysians were entitled to know the truth about the incidents in Putrajaya last month.
"This is not child's play but concerns the fate and future of 30 million Malaysians," he said at a press conference at the DAP headquarters today.
The Gelang Patah lawmaker said the commission should delve into whether there was a plot to stage a coup against Najib by criminalising and toppling him from office, as well as whether there was any basis to charge him with corruption.
Deputy Prime Minister Datuk Seri Ahmad Zahid Hamidi had recently revealed that an "elderly" Umno leader planned to topple the government with the support of the opposition as well as ruling Barisan Nasional (BN) lawmakers.
And last month, new Attorney-General (A-G) Tan Sri Mohamed Apandi Ali had denied the authenticity of a purported draft charge sheet which emerged online showing a corruption charge against Najib over a 1MDB-linked company, SRC International Sdn Bhd.
Apandi had said it showed the existence of a plot to topple Najib.
Lim said the proposed commission should look at illegal and unconstitutional acts committed to frustrate the A-G from exercising his discretionary powers under the Federal Constitution to institute or discontinue any proceedings for an offence.
Former A-G Tan Sri Gani Patail was abruptly replaced by Apandi, while Malaysian Anti-Corruption Commission (MACC) officers were questioned and its offices raided by police over alleged leaks of information related to 1MDB.
In a Cabinet reshuffle last month, Najib also removed his deputy and another minister who were critical of 1MDB.
The reshuffle also caused the suspension of a probe by Parliament's Public Accounts Committee (PAC) into 1MDB when four of its members were elevated to ministerial positions.
Lim said all these incidents had worried Malaysians, even as answers were lacking over the RM2.6 billion donation into Najib's personal accounts from a Middle Eastern country.
Despite Putrajaya's assurances that the country's fundamentals are strong, worries remained over the economy as the ringgit, Asia's worst performing currency in the past one year, has plunged beyond the RM4 against the US dollar. – The Malaysian Insider