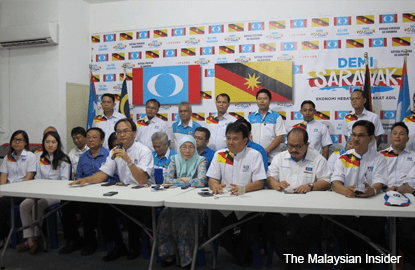 KUALA LUMPUR (Feb 3): Even though negotiations between the opposition's two biggest parties – DAP and PKR – for seats in the Sarawak elections are still ongoing, DAP seems resigned to accept that PKR will not give up seats it contested in the 2011 election and which DAP now wants.
They are mainly sub-urban Dayak seats which DAP wants to win in its attempt to break-out of its urban Chinese strongholds.
"So be it, if it fails," Sarawak DAP chairman Chong Chieng Jen said today when reacting to PKR having named candidates to seats reportedly still on the negotiating table.
"Then we will have no choice but to take them on three-cornered fight (with the Barisan Nasional candidate).
"It is my hope that we'll be able to go for straight fights, but if that is not possible, then we have no choice," said Chong, who is also Bandar Kuching MP and Kota Sentosa assemblyman.
The Sarawak Pakatan Harapan alliance is expected to meet on Feb 19 to thrash out the seat squabble.
PKR state chief Baru Bian last Sunday unveiled the names of 37 candidates including to seats with overlapping claims like the Dayak seats of Opar and Tasik Biru in Bau, Serembu, Bengoh, Tarat Kedup and Bukit Semuja in Serian, the new mixed seat of Batu Kitang and the Malay seat of Tupong.
DAP had hope of fielding Chong's personal assistants Mordi Brimol in Tasik Biru, Sanjan Daik in Bengoh, Abdul Aziz Isa in Tupong, former Sarawak Shell employee Edward Andrew Luwak in Kedup and Bunsin Kalum in Bukit Semuja.
If the seat talk fails, Mordi could face PKR's Boniface Willy Tumek and the BN candidate, while Abdul Aziz would face PKR national women's exco member Nurhanim Hanna Mokhsen and a new face for the BN since the incumbent Assistant Minister in the Chief Minister's Office Datuk Daud Abdul Rahman is stepping down.
PKR naming their national women vice-president Voon Shiak Ni to the new Batu Kitang seat has reportedly infuriated DAP leaders.
Chong had earlier said the Batu Kitang seat should go to DAP since it was carved out of the seats of Kota Sentosa and Batu Kawa which are held by DAP.
While they contested in 15, mostly Chinese majority urban seats in the last election, DAP this time around is aiming for at least 35 seats.
They won in 12 – Kota Sentosa, Batu Kawa, Padungan, Pending, Repok, Meradong, Bukit Assek, Dudong, Pelawan, Kidurong, Piasau and Pujut – picking mostly off the BN Chinese party, the Sarawak United People's Party (SUPP).
"We therefore feel obliged to take the position that the 49 seats PKR contested in 2011 are not up for grabs and to shut our doors now and we will maintain the status quo to avoid prolonged negotiations on seats."
Both parties have an uneasy alliance with DAP Dayak leaders claiming PKR's continued cooperation with PAS "had made many Sarawakians lose confidence in PKR, even after the formation of Pakatan Harapan".
"The PKR always think that the Dayaks accept them but they never understand that the Dayaks were reluctantly doing so in previous elections because DAP had not gotten into the rural areas.
"The talks among the people in the villages and longhouses are about DAP's continuous effort, not PKR," Chong's aide and potential Mambong candidate Sanjan Daik, was quoted as saying in a statement.
"If we were to fight each other, so be it. We will be ready," the party's Serian deputy chairman Bunsin Kalun was quoted as saying by the local daily The Borneo Post.
In the last state elections, PKR contested in 49 seats and winning only three – one Chinese urban seat, Batu Lintang, and two rural Dayak seats – Krian and Ba Kelalan.
PKR is sticking to the resolution it made in March last year where it said it would, "maintain the status quo … and will focus on all the 49 seats we contested in the 10th state elections in 2011".
PKR also stated then they would only negotiate on the 11 new seats that SPR was planning to create then.