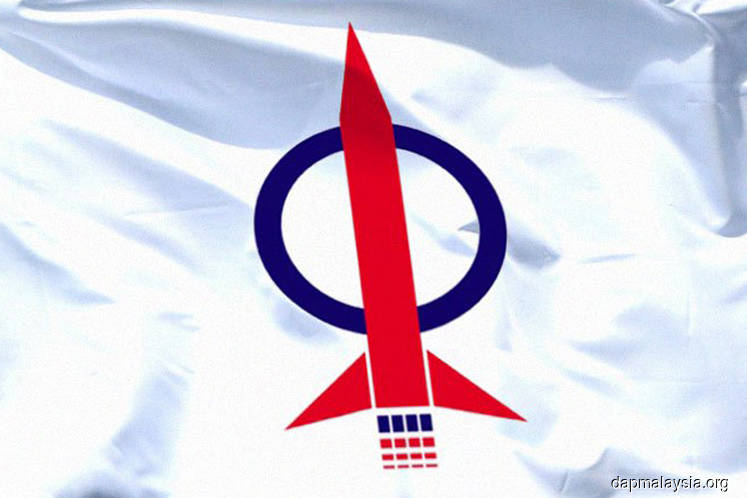 KUALA LUMPUR (April 5): The opposition Pakatan Harapan (PH) coalition faced twin setbacks on Thursday, as the 13th Parliament adjourned after completing its full term. 
For the first time in its history, DAP candidates for a general election will not be contesting under its familiar 'rocket' logo, Secretary-General Lim Guan Eng said. 
Instead, all parties in the opposition bloc will use a common logo which Tun Dr Mahathir Mohamad, the PH candidate for prime minister, will reveal in Johor on Friday, said Lim.  
"This is a difficult decision to reach. DAP is willing to use a common logo, except in Sabah and Sarawak," Lim told reporters outside the Dewan Rakyat today. 
Asked whether the decision to drop the DAP logo will affect its grassroots support, Lim said: "This will have some impact, it cannot be denied.
"But [it is] important for us to have one logo against Barisan Nasional. Since they (Registrar of Societies) refused to register Pakatan Harapan [as a body] and its logo, we have no choice," Lim added. 
The decision was made to ensure "there is no doubt" on the opposition's stance in this coming GE14, he added.
"It is important that the rakyat in Peninsular Malaysia can see clearly that the opposition bloc is united as a team.
"Our prime minister candidate is Tun Dr Mahathir Mohamad, and the deputy is Kak Wan (PKR president Datuk Seri Dr Wan Azizah Wan Ismail). It is very clear [that we are united]," he said. 
"[Our members] in Sabah and Sarawak will not be tied to this decision. They will continue to use the DAP party logo. They have the autonomy… We respect the autonomy in both of the states," he added. 
When asked on whether the opposition bloc will contest under the PKR banner, Lim said: "This will be announced by Tun Mahathir tomorrow. We wait until tomorrow." 
Lim also confirmed that the other parties in Pakatan Harapan have agreed to use the common logo as well. 
"This is a serious fight, the final round for Malaysians to change. 
Earlier today, Bernama reported that the Registrar of Societies (RoS) had issued a temporary suspension order on Parti Pribumi Bersatu Malaysia, giving it 30 days to furnish required particulars or face dissolution.
RoS director-general Surayati Ibrahim said PPBM was prohibited from using the party name and symbol and carry out party activities during the 30 days.
She said the order was made after PPBM failed to submit full information and documents requested via a statutory notice on Feb 28.
"If, within the 30 days, PPBM submits the information and documents as instructed, RoS can cancel the temporary suspension order," Surayati said at a press conference in Putrajaya.
On March 17, PPBM president Tan Sri Muhyiddin Yassin said that the party is not able to produce the meeting minutes, as no meetings have been held because RoS only approved the setting up of its divisions in July last year. 
However, on March 29, PPBM said it had submitted documents and other details as demanded by RoS. 
Pakatan Harapan is formed by DAP, PKR, PPBM and PAS splinter party Parti Amanah Negara.