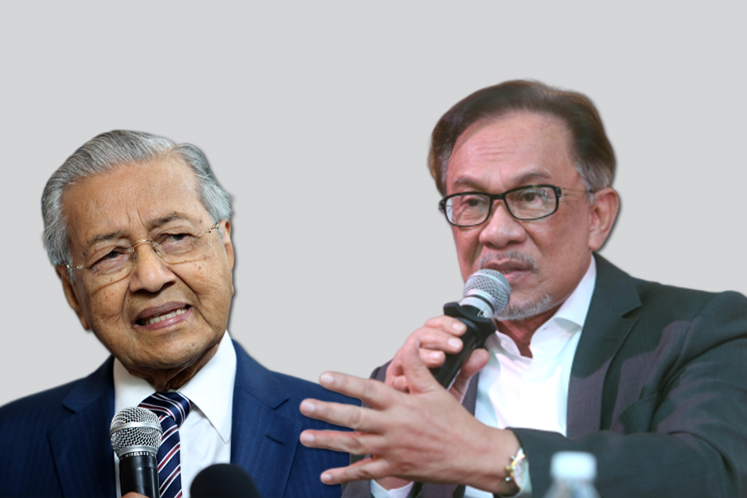 KUALA LUMPUR (June 19): DAP and Parti Amanah Negara want PKR to stick to the decision to name Tun Dr Mahathir Mohamad as Pakatan Harapan's candidate for the Prime Minister's post as Datuk Seri Anwar Ibrahim has not obtained sufficient support.
In a joint statement today, DAP and Amanah thanked PKR for naming PKR president Anwar as its choice for the Prime Minister's post, but questioned the party's decision to not consider Dr Mahathir as the second option.
PKR, after an emergency meeting earlier today to address who would be Pakatan's Prime Minister candidate, said the party will support only Anwar as the candidate and rejected the idea of having Dr Mahathir returning as the country's Prime Minister for the third time.
"We respect the right of PKR to make its decision on this question but we are surprised by this stance as Dr Mahathir has already been accepted as the second option at the Pakatan presidential council meeting chaired by Anwar on May 30," DAP and Amanah said in their statement.
They said the May 30 meeting had decided that if the first option to nominate Anwar as the Prime Minister candidate failed to secure enough support to facilitate the takeover of the current Government, then the second option of Dr Mahathir as Prime Minister and Anwar as Deputy Prime Minister would be submitted.
The statement added that after exhausting all efforts, Anwar was only able to garner the maximum support of 96 MPs, comprising 91 Pakatan MPs (38 from PKR, 42 from DAP and 11 from Amanah) as well as Dr Mahathir and four other Parti Pribumi Bersatu Malaysia MPs.
"Datuk Seri Anwar Ibrahim's last attempt to get the support of Gabungan Parti Sarawak (GPS) was also unsuccessful and the agreed timeframe was over and he failed to get enough support," they added.
"We hope that efforts to secure support through the second option can be made as agreed as the (current) Perikatan Nasional administration is clearly inflicting damage on the country's institutions and finances," said DAP and Amanah.