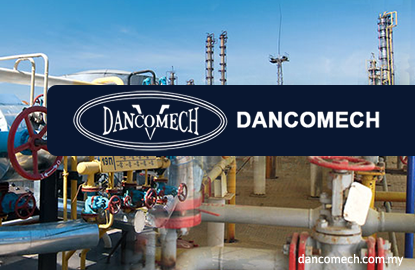 KUALA LUMPUR (April 13): Dancomech Holdings Bhd, a process control equipment and measurement instruments distributor, is eyeing to float its shares on the Main Market of Bursa Malaysia.
It plans to utilise the proceeds of its initial public offering (IPO) for repayment of bank borrowings, purchase of offices cum stores and equipment as well as working capital.
The remainder will be used to defray the listing expenses incurred during the corporate exercise.
According to its draft prospectus on the Securities Commission Malaysia website, the company intends to purchase a new office cum store in Johor Bahru, Johor, to enable it to implement its business strategies, market coverage expansion and strengthen its position in Johor.
The purchase of a new office was due to the termination of tenancy agreement with its landlord for properties in Taman Daya on June 30, 2015.
"We believe the demand for our products in Johor will increase in light of the Refinery and Petrochemical Integrated Development (RAPID) in Pengerang, Johor," it added.
Aside from that, the company also intends to utilise part of its proceeds to expand its market presence in Sabah and Sarawak to enhance its ability to service its customers there by establishing an office to improve the delivery time of products.
The company plans to upgrade its testing laboratory to enable it to conduct better safety valves testing and repair services.
"We will purchase additional fittings, tools and machineries," it added.
Currently, Dancomech has a testing facility for conducting safety valves testing and repair services for various types of valves, and it only uses the laboratory facility for Leser brand safety valves testing purposes.
"We also intend to set up a stainless steel flexible hose assembly line, which is in line with our future business plans and product expansion," it said.
Its IPO involves the issuance of 24 million new shares, including the public issue of 7.5 million shares or 5.03% of its enlarged issued and paid-up share capital and 2.5 million shares or 1.68% for eligible directors, employees and persons who have contributed to the success of the group.
Nearly 14 million shares will be available to Bumiputera investors to be approved by Ministry of International Trade and Industry (MITI).
The promoters of the IPO comprise the company's director Aik Cwo Shing and Aik Swee Tong, along with its major shareholders such as ABC Equity Sdn Bhd, Aik Kwo Liang, Wong Chiau Siew, Aik Hui Luan, Aik Ai Kok, Aik Seng Kah, Aik Hui Chyn and Chan Chop Tong.
They collectively hold a 73.15% stake in Dancomech.