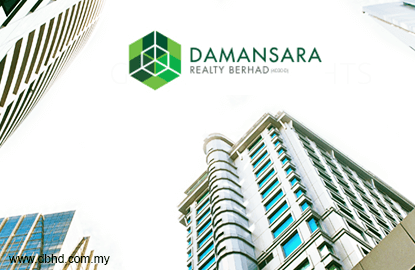 This article first appeared in The Edge Financial Daily, on July 4, 2016.
KUALA LUMPUR: Many companies may have painted a gloomy outlook for the domestic property sector, but this is the sector Damansara Realty Bhd is focusing on this year in seeking to return to profitability.
The company conducted a strategic review of its business portfolio following a change of ownership, and decided to rejuvenate its property division.
The company, which underwent corporate restructuring in 2014, saw the emergence of Seaview Holdings Sdn Bhd, a private vehicle controlled by well-connected businessman Datuk Daing A Malek Daing A Rahaman, as controlling shareholder following its acquisition of a 51% stake from Johor Corp Bhd.
Daing Malek, a member of the Council of the Royal Court of Advisers to the Sultan of Johor, is said to be a close associate of the Johor royalty.
Damansara Realty chief executive officer (CEO) Mohd Fazlin Shah Mohd Salleh said the company is bullish about the property sector as, unlike its peers, it concentrates on self-contained townships.
Giving his first media interview after being appointed as CEO, Mohd Fazlin said the company is currently undertaking two major projects — Taman Damansara Aliff in Johor Baru and Bandar Damansara Kuantan — which should keep it busy for at least the next 10 years.
The company has completed the development of 26 units of three- and four-storey terraced shop offices in Damansara Aliff and is ready to deliver to purchasers, he told The Edge Financial Daily.
Following the success of Damansara Aliff, Mohd Fazlin said the company is planning to undertake the development of a nearby 68-acre (27.5ha) plot of land located close to Bandar Baru Uda.
Without disclosing the project's gross development value, he said Damansara Aliff is a mixed development project featuring serviced apartments, malls, commercial and office units, hotels, medical centres and international universities.
"We are currently in the midst of drafting the details of the development and hope to kick-start the project by next year," said Mohd Fazlin, who was appointed to the post in August last year.
Over in Pahang, Mohd Fazlin said the group will "revitalise" the development of Bandar Damansara, a self-contained township that sits on 500 acres of land in Kuantan.
"This project will focus on delivering a contemporary living concept with greater exclusivity of [a] gated and guarded concept," he said, adding that the location is also not a flood-prone area.
"To date, we have completed the construction of 10 units of semi-detached houses and 36 units of double storey link houses. The project dubbed 'Damansara Hill' is exclusively designed with a modern living concept," he said.
According to him, the second phase of the project — Damansara Hill 2 — which offers a similar concept but with a different design approach, is expected to begin construction by the fourth quarter of this year.
"The project involves the construction of 46 units of landed houses, comprising 10 units of semi-detached and 36 units of terraced houses," he said.
More recently, the company secured the contract for the proposed development of 1Malaysia Civil Servants Housing (PPA1M) and the commercial part of a mixed development in Presint 5, Putrajaya from Putrajaya Corp.
This project carries a total estimated gross development cost of RM467.31 million.
According to Mohd Fazlin, Damansara Realty is now in final discussion with Putrajaya Corp to finalise the terms and conditions in relation to the award.
"Under the contract, we are tasked to build 1,350 PPA1M units (675 units of 1,000 sq ft and 675 units of 1,200 sq ft), and 45 units of six-storey shop offices," he said.
Mohd Fazlin also spoke of Damansara Realty's property services division, which also handles hospital consultancy and is one of the cash cows of the company.
The division is eyeing a private hospital management contract in Jakarta, Indonesia, and in Laos.
"We also received six requests to manage aged care and retirement living homes," he added.
Further, he said, the company has inked a joint-venture agreement with Pacific Asia (PNG) Ltd in relation to consultancy services, facilities management and hospital management services in Papua New Guinea.
"This joint venture will create long-term revenue from hospital management fees and short-term revenue from construction," he said. Currently, its main client is KPJ Healthcare Bhd.
For the first quarter ended March 2016 (1QFY16), Damansara Realty posted a net loss of RM3.86 million, compared to a net profit of RM4.57 million for 1QFY15, due to lower contributions from its property services and parking segments. Revenue also fell to RM43.32 million from RM58.66 million.
For FY15, the company recorded a smaller net loss of RM2.92 million,  compared with RM4.51 million in FY14. Revenue rose to RM207.22 million from RM198.61 million.
Damansara Realty's share price closed up 0.5 sen or 0.77% at 65.5 sen last Friday, bringing it a market capitalisation of RM201.09 million.