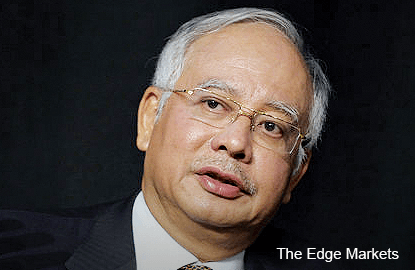 (Oct 2): Prime Minister Datuk Seri Najib Razak should not wait any longer but file a suit in Malaysia or the US if he is confident that The Wall Street Journal (WSJ) had defamed him with their reports on the RM2.6 billion in his personal accounts, lawyers said.
Lawyer S. N. Nair said seeking damages was secondary as Najib must first vindicate himself through the court that WSJ was liable for injuring his reputation.
He said a defamation suit was filed in one's personal capacity, but Najib has to clear his name because he is also the head of a government.
"His reputation will also reflect on the nation," Nair said in response to the prime minister's lawyers, who recently said there was no point filing a suit if WSJ invoked a US law that would protect it from paying damages.
Najib's lawyers have said they are waiting for a reply from WSJ's counsel in Singapore before deciding whether or not to proceed with the suit against the newspaper.
In July, WSJ revealed that some US$700 million (RM2.6 billion) was deposited in Najib's personal bank accounts.
One of the prime minister's lawyers, Datuk Hafarizam Harun, said they wanted to know if the paper's publisher, Dow Jones & Company, would invoke a US law to frustrate any judgment should Najib win the defamation suit in Malaysia.
He was referring to the Securing the Protection of Our Enduring and Established Constitutional Heritage (Speech) Act, which WSJ's publisher, as a US-registered company, could invoke to deny Najib from enforcing any judgment obtained in a Malaysian court.
The legislation states that no judgment by a foreign court can be enforced if media freedom and judicial independence in that country were not on par with the US.
"WSJ will be protected (from paying damages) under the law. So, it will be futile for us to file a suit but cannot enforce the judgment," Hafarizam had said.
But Nair said Najib could also file a suit in the US to avoid the invocation of the Speech Act.
"Defamation laws in the US are quite skewed in favour of the press due to the stringent freedom of speech in their constitution," he said.
Nair added that Najib could also sue WSJ in Malaysia and seek vindication and damages.
"If he feels strongly about wanting damages, he is probably right that the lawyers  for WSJ may invoke the Speech  Act. So ultimately he has to make a considered decision as to whether  he wishes to proceed," he added.
Nair said he believed that WSJ would appoint lawyers to contest any suit filed by Najib in Malaysia as it also involved the credibility of the newspaper.
Lawyers for Liberty executive director Eric Paulsen said he doubted if WSJ's lawyer would reply to the query by Najib 's legal team, as it was tantamount to revealing their strategy.
He said most lawyers would file suits after looking objectively into the published articles and determine if they were defamatory.
Paulsen said those holding public office would look for vindication to regain their standing and credibility.
"How does monetary compensation vindicate Najib?" he asked, adding that a court ruling finding WSJ liable was a better way to restore his battered image.
Najib gave instructions to sue WSJ in early August after the Malaysian Anti-Corruption Commission (MACC) said that the RM2.6 billion money came from donors, and not from state-owned strategic investor 1Malaysia Development Bhd (1MDB).
In late July, WSJ refused to respond to a request from Najib's lawyers for a clarification as to whether the paper's report on the money in Najib's accounts meant that they were accusing Najib of misappropriation of funds.
The publisher instead said they stood by the report dated July 2, and a subsequent opinion piece published on July 6, which they added were clear enough and based on documents sourced from Malaysian investigators. – The Malaysian Insider