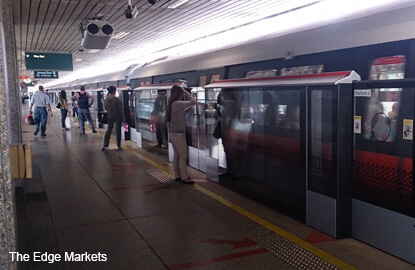 SINGAPORE (Jan 25): By 2030, the Singapore Government aims to have 75% of commuters use public transport as their main mode of travel. That is an increase from the current levels of about 59%.
To get there, the government has already outlined its plans to increase the rail network from 183 km now to 280 km by 2020, and then again to 360 km by 2030.
With the opening of the third phase of the Downtown Line in September, Daiwa Capital Markets believes it will transfer ridership market share to the line, and reduce the congestion on the 30 year old North-South and East-West lines. At the same time, it would also help to reduce the congestion on major roads like Bukit Timah Road, and improve bus services plying those roads as well.
Moving forward, the tender for the upcoming Thomson-East Coast Line is scheduled to be called in 1Q17 and would cost S$24 billion to construct. The 31 stations on the 43 km track are expected to be opened progressively in 5 stages between 2019 and 2024. By then, the new line would likely draw some S$174 million in revenue.
According to the regulator, the Thomson-East Coast would be operated under a similar contracting model as the bus sector, and will come with a contract period of 9+2 years. "We believe this will be positive for the eventual operator as it avoids potential start-up costs and relieves the operator of the burden of revenue and ridership risk, particularly in the initial ramp-up stages of the line," says Daiwa's analysts Ramakrishna Maruvada and Shane Goh.
The tender will only be open to the two incumbent operators. Given the rail disruptions which affected SMRT, Maruvada and Goh believe the tender would likely be awarded to ComfortDelGro. With that, ComfortDelGro's ridership market share could likely increase from 24% in 2016 to 50% by 2024, based on current ridership levels.
Shares of ComfortDelGro are up 2 Singaporean cents at S$2.45 on Wednesday.