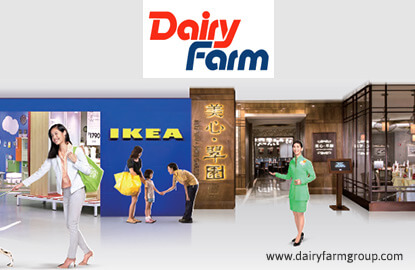 SINGAPORE (March 17): Shares in retailer Dairy Farm International Holdings are up 24.1% this year as the company continues to turn its business around. On March 2, the operator of Giant supermarkets and Guardian stores reported a 7% increase in underlying earnings for FY2016 to US$460 million (S$650 million).
In FY2015, Dairy Farm's underlying earnings fell 14% to US$428 million. The earnings growth was driven partly by a 13-basis-point net improvement in operating margins as well as increased contributions from Yonghui Superstores Co and Maxim's. Dairy Farm owns a stake in Yonghui, an operator of hypermarkets in China. Maxim's is its Hong Kong restaurants business.
CIMB Research has raised its core earnings forecasts for FY2017 and FY2018 by 8% and 5% respectively, reflecting higher margin assumptions. It has an "add" rating on the stock, with a price target of US$9.18. "Overall, we are positive on the stock's margin recovery initiatives that have flowed through the numbers earlier than expected," says CIMB's Jonathan Seow in a March 3 report. "We are confident that Dairy Farm has truly turned the corner."
To find out why Seow and other analysts are positive on Dairy Farm, get your copy of The Edge Singapore (Issue 771, week of March 20), available at newsstands today.