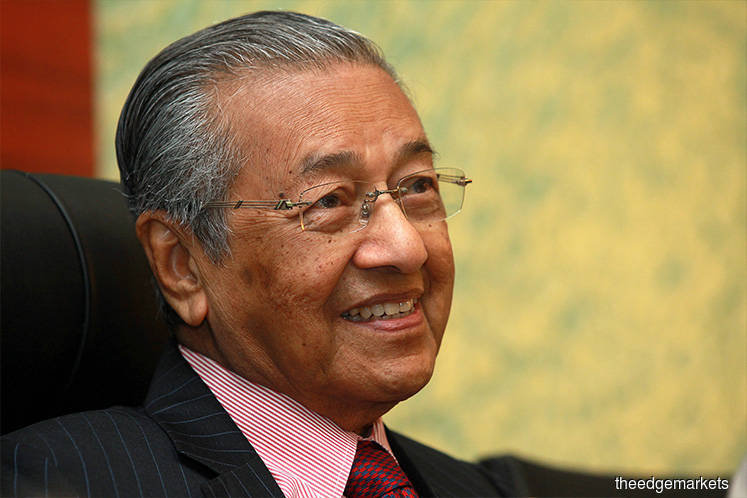 KUALA LUMPUR (July 19): Council of Eminent Persons (CEP) chairman Tun Daim Zainuddin is in China to try to renegotiate contracts entered into by the previous Barisan Nasional government with Chinese firms, said Tun Dr Mahathir Mohamad.
The Prime Minister said Daim has yet to report back to him on the outcome of his meetings with the Chinese companies.
"What he is trying to do is to try and renegotiate the loans (received from Chinese banks) and the contracts we have given to Chinese companies because we find that they are costly.
"Part of the money (from the loans) is not really needed, and how do we deal with the part we don't need?" he told reporters at the Parliament lobby.
Yesterday, Daim met with Chinese Prime Minister Li Keqiang, and handed over a letter from Dr Mahathir. He also had a meeting with Chinese Foreign Affairs Minister Wang Yi.
Daim was quoted as saying that Dr Mahathir understands China and has been proactively developing Malaysia's relationship with the country.
Contracts entered into by the previous government with Chinese firms, including the RM60 billion East Coast Rail Link (ECRL) and RM9.4 billion gas pipeline projects under Suria Strategic Energy Resources Sdn Bhd (SSER), have been suspended until further notice.
Dr Mahathir had said the ECRL contract terms were "strange" as the money from the RM55 billion loan given by China Exim Bank for the project is being kept abroad and paid to the project's main contractor, China Communications Construction Co Ltd (CCCC).
SSER, mandated to undertake the Multi-Product Pipeline and Trans-Sabah Gas Pipeline projects, awarded the project to China Petroleum Bureau on Nov 1, 2016.
Malaysia Railway Link Sdn Bhd, which handles the ECRL project, has instructed CCCC to suspend its engineering, procurement, construction and commissioning contract on grounds of national interest.
Both MRL and SSER are wholly-owned subsidiaries of Ministry of Finance Inc.