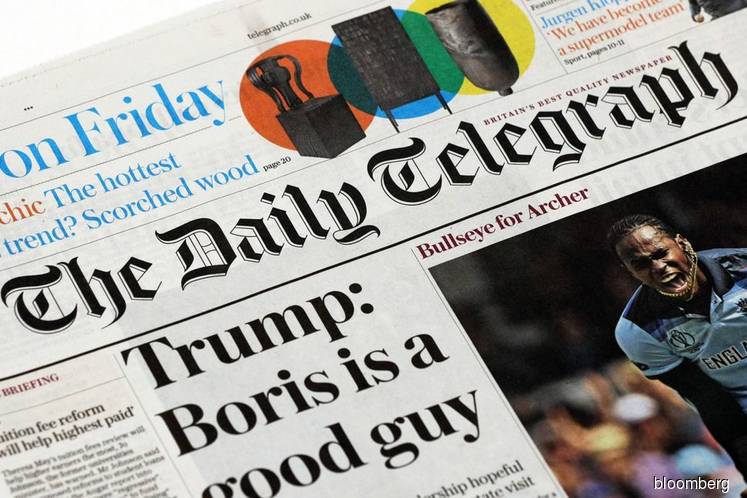 LONDON (Oct 8): The owner of the Daily Mail newspaper may attempt to buy rival The Daily Telegraph, according to analysts at broker Liberum Capital Ltd, a deal that would combine two of the U.K.'s most prominent right-wing and Brexit-backing newspapers.
With about 200 million pounds (US$245 million) of net cash on its balance sheet after the recent sale of energy-information business Genscape, Daily Mail & General Trust Plc is positioned to pursue its stated preference for bolt-on acquisitions rather than shareholder returns, Ian Whittaker and Harry Read wrote in a note. The Daily Mail declined to comment.
The analysts further predict that assets controlled by News Corp and the Telegraph Media Group (TMG) are likely to come up for sale, given the age of their respective controlling influences, 88-year-old Rupert Murdoch and the 84-year-old Barclay brothers. A spokesman for the brothers said they have no plans to sell TMG or any part of it.
The Telegraph "may fit more into the mould for DMGT" than News Corp's The Sun, from a demographic standpoint, while also facing few regulatory obstacles from a circulation standpoint, the Liberum analysts said. However, they don't think the Telegraph would be cheap, suggesting a price of 200 million pounds to 300 million pounds.
The comments come as U.K. newspapers continue to seek back office synergies and to reduce other costs by merging ad departments and editorial functions. Some are also moving to online subscription-based models, as paper circulations decline.
Daily Mirror owner Reach Plc, previously known as Trinity Mirror Plc, bought tabloids The Express and The Star in 2018. Both Reach and DMGT have also been speculated as potential purchasers of JPIMedia Ltd's i newspaper, which was originally launched as a sister paper to the left-leaning Independent.
A better buyer of The Sun would be Axel Springer SE, the owner of the German tabloid Bild, the Liberum analysts said. Axel Springer declined to comment.
The broker also said DMGT may have recently benefited from the U.K. government's reported 100-million-pound spending on Brexit advertising, ahead of the Oct 31 deadline. In September, the analysts forecast that broadcaster ITV Plc and digital billboard firm JCDecaux SA may have benefited from the same campaign.