This article first appeared in The Edge Malaysia Weekly, on June 18, 2018 - June 24, 2018.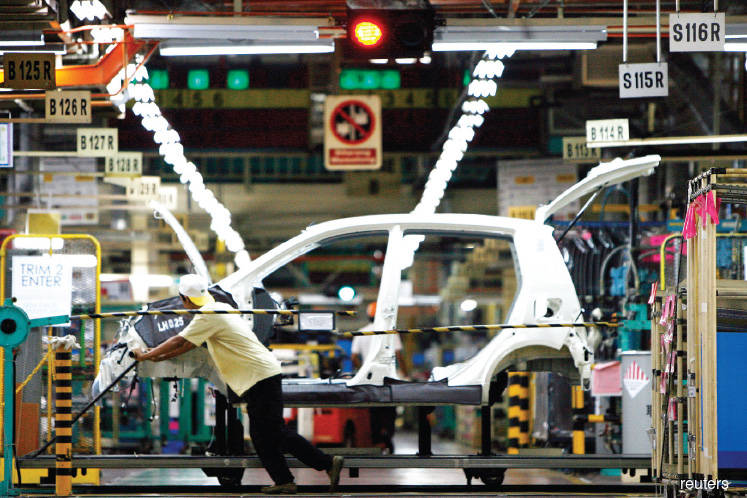 IN a month, the shareholder tussle at Med-Bumikar Mara Sdn Bhd over its majority stake in MBM Resources Bhd (MBMR) is set to resume following the last court hearing in May. But "vehement" objections by a key Japanese partner remain a stumbling block for UMW Holdings Bhd, even if the conglomerate manages to take control of MBMR.
Recently filed court documents indicate that Daihatsu Motor Corp (DMC), a key stakeholder in UMW's quest to take majority control in Perusahaan Otomobil Kedua Sdn Bhd (Perodua), remains unconvinced that it should support the move.
Unsatisfied with UMW's reasoning, DMC had threatened to walk away from Perodua if UMW persists with its goal, a May 2 letter shows.
That said, a UMW official says lines of communication with DMC remain open and discussions are ongoing to address its concerns.
UMW already has 38% equity interest in Perodua and is seeking to gain control of MBMR's 22.58% stake in the car manufacturer by acquiring Med-Bumikar's 50.07% interest in MBMR.
Its March 7 offer to acquire the stake for RM501 million (RM2.56 per share) was what sparked the legal tussle among Med-Bumikar shareholders.
While Med-Bumikar's board rejected the offer as being too low, an opposing faction of shareholders led by Majlis Amanah Rakyat (Mara) was in favour of accepting the offer.
Mara's side collectively holds 52.06% while the minority shareholders, led by executive chairman Datuk Abdul Rahim Abdul Halim, hold the remaining 48% or so.
At present, the minority faction outnumbers the Mara-led faction five to two on the board.
In a nutshell, one lawsuit was filed by the Mara-led side on April 30, seeking to annul the appointment of two Med-Bumikar board members and to appoint two of its own nominees.
If the Mara lawsuit is successful, the balance would tilt in favour of the 52.06% shareholders with four nominees against three on the other side.
On the other hand, the minority side had filed a counterclaim on May 28, seeking a declaration that the board had unfettered discretion to reject the UMW offer.
The counterclaim also seeks a declaration that two resolutions passed during the April 30 extraordinary general meeting are null and void as they are on matters that fall under the board's management powers.
To recap, the EGM saw the majority faction pass a resolution to accept the UMW offer subject to unspecified conditions, as well as the appointment of two new directors to the Med-Bumikar board.
The resolutions were passed with a 52.06% majority as the other faction had walked out of the proceedings in protest.
UMW is not a party to the proceedings. However, it has extended the validity of its offer to Oct 30 — a second extension since the original cut-off date on March 28.
Neither extension came with an offer of a price revision. UMW maintains that its offer is "fair" and that it remains in engagement with stakeholders. But amid the tussle for control of the board, both factions within Med-Bumikar had signalled that they want a higher price, so, either way, UMW may be pressured to reconsider.
DMC unconvinced
Among the court documents submitted alongside the May 28 counterclaim is a letter from DMC expressing its strong objection to UMW's proposed takeover of Perodua.
DMC is a 30% shareholder of Perodua and its technology partner. The letter, dated May 2, was addressed to all Perodua shareholders. The contents has not been made public before and it is the second such letter from the Japanese automaker following the first dated March 22 (see The Edge, Issue 1213, May 7: "UMW's Perodua pursuit sparks legal tussle").
Written in response to the outcome of the April 30 EGM, the May 2 letter reiterated DMC's objections to and concerns over UMW's proposed takeover of Perodua.
Among others, DMC said Perodua shareholders have the first right of refusal should any shareholder wish to sell. Accordingly, it pointed out, any share sale must obtain the approval of all shareholders based on its understanding of the relevant clauses.
DMC also reminded Perodua shareholders that it had entered into the joint venture more than 25 years ago, mainly because no shareholder held majority control.
For that reason, DMC said the proposed UMW acquisition was an "affront to the spirit and objectives" of the original Perodua joint-venture agreement.
"In the circumstances, we vehemently object to this acquisition and hereby give notice that Daihatsu will review its position as the technology partner of Perodua if the acquisition proceeds.
"The shareholders had enjoyed a long-lasting relationship prior to the formation of Perodua and it is our deepest regret that this relationship will now collapse," DMC concluded.
Its second letter came on the heels of an earlier one on March 22, in which DMC had asked for an explanation from UMW on why it was seeking majority control of Perodua. In the letter, DMC had warned that its technological partnership with Perodua may be reviewed if the proposed acquisition proceeds.
The May 2 letter noted that UMW's clarification in a letter dated April 3 had not addressed DMC's concerns.
The continued objection from DMC presents a major hurdle to UMW's ambitions to take majority control of Perodua, given that the Japanese carmaker controls the manufacturing operations.
It is also understood that Perodua is not ready to undertake the development of new models without a technological partner.
Pressed by The Edge at a Perodua function on May 22, Perodua CEO Datuk Dr Aminar Rashid conceded as much. "[It has] imparted a lot of knowledge and we have reached a certain level where we can do quite a lot ourselves as far as R&D is concerned. But there is still a lot more that we can learn."
Hence, even if UMW successfully gains majority control of Perodua, the key risk remains that DMC will make good on its threat and walk away from the national car project. In that case, unless it can bring in a new partner of DMC's calibre, it would be a Pyrrhic victory for UMW.
Save by subscribing to us for your print and/or digital copy.
P/S: The Edge is also available on Apple's AppStore and Androids' Google Play.