This article first appeared in The Edge Financial Daily, on March 11, 2019.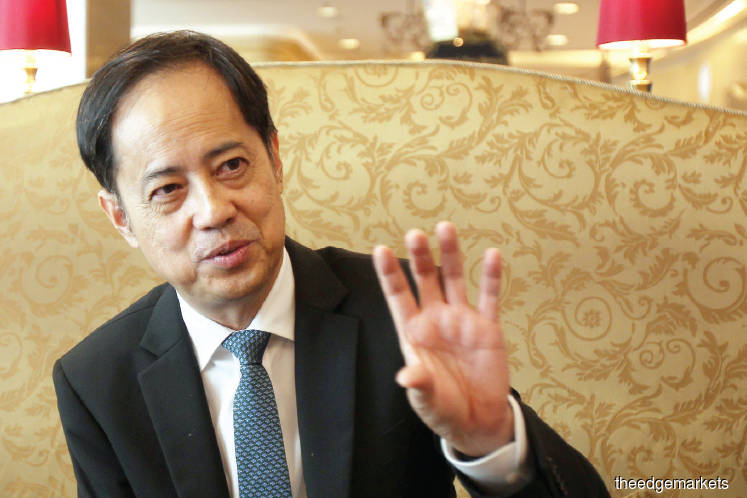 Lim: There is no mandate that Daibochi must buy everything Scientex produces. Photo by Mohd Izwan Mohd Nazam
KUALA LUMPUR: Flexible plastic packaging manufacturer Daibochi Bhd, which has received a mandatory takeover offer from Scientex Bhd, is gearing up for a better year following a dip in earnings last year, with its managing director Thomas Lim anticipating a high single-digit growth in its top line on the back of contracts secured.
Daibochi's net profit for the financial year ended Dec 31, 2018 (FY18) fell 41% to RM15.24 million from RM25.93 million last year — despite revenue rising 11% to RM430.76 million from RM388.65 million — no thanks to higher cost of materials arising from an unfavourable foreign exchange, and a one-off merger and acquisition cost incurred in the final quarter of FY18.
"In 2019, quite a few contracts have been secured, so we are quite comfortable with [projected] top line [growth]. With the higher turnover, we are expecting it to be able to absorb some of the increase in cost this year," said Lim in an interview.
There is also anticipation that raw material costs for this year will likely go lower rather than higher, Lim said. "Thus, we are cautiously optimistic of improved top line and bottom line 2019," he said.
In line with the anticipation of higher sales, Daibochi has planned for a capital expenditure (capex) of RM10.4 million in FY19 to purchase extrusion machines and other supporting equipment, which Lim thinks will have a positive impact on the group's turnover.
On March 4, Scientex issued an offer document to take over shares in Daibochi that it does not already own at RM1.59 cash per share, or through a share swap based on a ratio of 5.535 Daibochi shares to one Scientex share to be issued at RM8.80 apiece. The offer came after Scientex's recent acquisition of a 42.48% stake in Daibochi, which triggered the mandatory offer.
Scientex's entry into Daibochi has provided many synergistic benefits, said Lim. Scientex, being Daibochi's upstream supplier of biaxially-oriented polypropylene films, has not only enable the latter to enjoy economies of scale in terms of raw materials, but also allow both companies to tap into each other's resources and expertise, he said.
"But there is no mandate that Daibochi must buy everything Scientex produces," said Lim, adding that Scientex also does not need to sacrifice its margin entirely just to sell Daibochi its products at a lower price. "That is not the kind of synergy we're looking at," he said.
Moreover, despite Scientex being its current largest shareholder, Lim said Daibochi will still be operating independently and the present key management will still be there to carry out day-to-day operations as usual. "The understanding is that our board will remain and there is no plan for changes in senior management," said Lim. Scientex will, all the same, be introducing a new director to Daibochi's board.
"The clear direction from Scientex is that they want us to grow, and to do things or make decisions that are best for the business and not to [just] benefit Scientex," said Low.
While Daibochi is certain the synergy between Scientex and the company will be a boon to the company, executive director Low Jin Wei said Daibochi will still be focused on seeking mergers and acquisitions which complement its business, and will not constrain themselves to looking at only Malaysian companies, but the wider region it operates in too.
Moving forward, as multinational companies (MNCs) — such as Nestle and PepsiCo — are heading towards sustainable business practices, whereby they are demanding that packaging be sustainably produced by 2025, Lim said one of the synergies Daibochi anticipates from Scientex's entry is for the both companies to tap into each other's areas of expertise to produce more recyclable products. This is now one of Daibochi's biggest challenges.
"To recycle, we have to separate the multi-layered packaging, which is difficult because it is made up of different materials," Lim explained. Flexible packaging is any package or part of a package whose shape can be readily changed, like bags and pouches.
Daibochi is working closely with Nestle, one of its largest customers, to produce a homogeneous packaging material that will make it easier to be recycled.
While Daibochi's sustainable packaging segment has yet to contribute significantly to the group now, Lim anticipates its contribution to increase this year.
Myanmar JV's contribution anticipated to rise
It has been almost two years since the company's joint venture (JV), Daibochi Packaging (Myanmar) Co Ltd started its operation. The business reported a revenue of RM34.84 million in FY18 and contributed some 8% to the group's total revenue.
Lim expects the figure to continue to grow as the JV company is pursuing more contracts from food and beverage and fast moving consumer products producers. It is preparing to serve MNCs like Nestle and PepsiCo in Myanmar by 1H19, Lim said. Hence, the JV is targeting a double-digit growth in top line in FY19.
Lim said MNCs require certain standards to be met before being appointed as one of their suppliers. "Part of the standards required is the ISO 9001:2015 accreditation (quality management systems) to food safety certification, which we (the JV) secured in January this year," said Lim, adding the only remaining requirement to be fulfilled is the audit certification for its Myanmar plant.
Daibochi has also set aside another US$3 million (RM12.4 million) as capex in FY19 to boost production at the Myanmar plant. The spending will involve purchasing of a printing machine, a lamination machine and other supporting equipment.
With the takeover offer, investors are probably wondering about which stock will be a better buy.
According to Bloomberg, MIDF Research Ng Bei Shan has recommended that investors accept Scientex's offer of RM1.59 per Daibochi share. "We opine that there is limited upside gain in the near term while the 1.9% dividend yield is unappealing," said Ng in a report dated March 5. "While we think that there will be synergistic benefits through the merger with Scientex, we also reckon that it will take some times for these benefits to materialise," she added.
CIMB Research's Nigel Foo, meanwhile, has kept a "hold" call on Daibochi, with a target price of RM1.60. He told The Edge Financial Daily that at the current price, there is not much arbitrage opportunity. "If you want exposure, then investors could directly buy into Scientex," said Foo, adding that until the takeover offer is over, the share price of Daibochi will remain at its current level.
An analyst, on condition of anonymity, said that Daibochi would be a "better bet" between the two counters in the long term. While he noted that Daibochi's share price is now constrained by the offer price, he said once the offer period ends, the company might have higher upside, given that it could see a rebound in earnings.
Daibochi shares closed one sen or 0.64% higher at RM1.58 last Friday, which valued the company at RM517.21 million. Over the past 12 months, the stock has fallen over 33% from RM2.30.