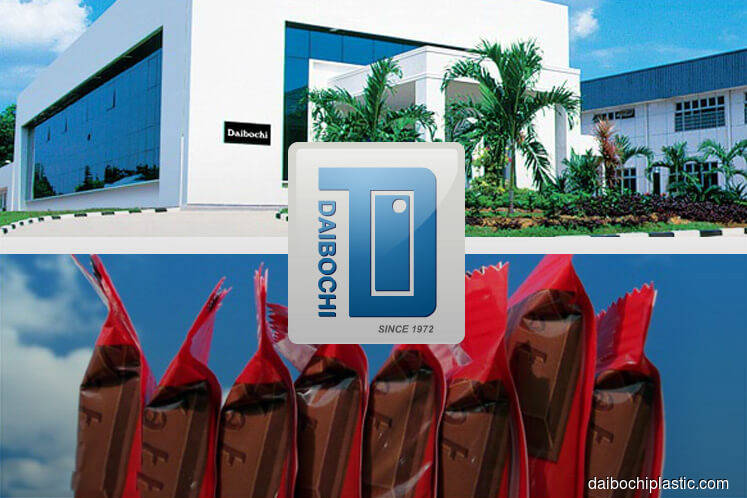 *This story has been updated*
KUALA LUMPUR (Dec 2): Daibochi Bhd posted net profit of RM10.98 million in its first quarter ended Oct 31, 2019 (1QFY20), on a revenue of RM152.56 million -- both record high quarterly figures for the flexible packaging manufacturer.
This gives the group an earnings per share of 3.35 sen for 1QFY20. There were no year-on-year comparable figures, as the group had changed its financial year end last year from Dec 31 to July 31.
Results for this quarter under review had included contribution from the group's newly acquired subsidiary, Mega Printing & Packaging Sdn Bhd (MPP), the acquisition of which was completed in August this year, Daibochi said in a stock exchange filing.
The return to black, in contrast to the group's preceding quarter ended July 31, 2019 (7QFY19) when the group posted a net loss of RM300,000, was also due to enhanced operating efficiency and favourable product mix after undertaking optimisation and integration efforts under the Scientex Group, Daibochi said in a separate statement. 
"The group also recorded minimal write down/off of inventories and merger and acquisition costs amounting to RM800,000 in 1QFY20, compared to RM6.8 million in 7QFY19," Daibochi said in a separate statement.
1QFY20's revenue is 23.8% higher than 7QFY19's RM123.3 million, Daibochi said, driven by resilient sales to existing customers, besides new contributions from MPP. "Revenue contribution from domestic customers surged 45.6% from the preceding quarter to RM84.2 million while exports grew 4.5% to RM68.3 million," it said.
Following the group's stronger 1QFY20 footing, the group aims to reinforce its position in Malaysia by securing more customers as well as growing its exports clientele.
"Additionally, we are charting new grounds with the commercialisation of our first sustainable packaging solution to a major local beverage brand. This highlights our research and development prowess, and capability to collaborate with major corporations in support of their long-term sustainability initiatives," said Daibochi's executive director Low Jin Wei.
The sustainable flexible packaging solution is a mono-material laminated structure that is fully recyclable and developed in-house, Daibochi said. The first delivery of the product has been made to a "prominent local beverage brand in 1QFY20".
"In the year ahead, we are targeting stronger sales through new customer acquisitions, supported by a healthy outlook on order expansion from existing customers in line with resilient demand in the food and beverage and fast moving consumer goods (FMCG) sectors.
"Furthermore, we stand to benefit from a first mover advantage as we supply the rapidly emerging sustainability trends in regional markets. The latest success with a major brand in replacing their non-recyclable packaging, highlights the vast potential going forward, on anticipated surge in adoption by other leading players," Lim added.
At the midday break today, Daibochi shares rose 4.39% or 10 sen to RM2.38, valuing it at RM780.39 million.