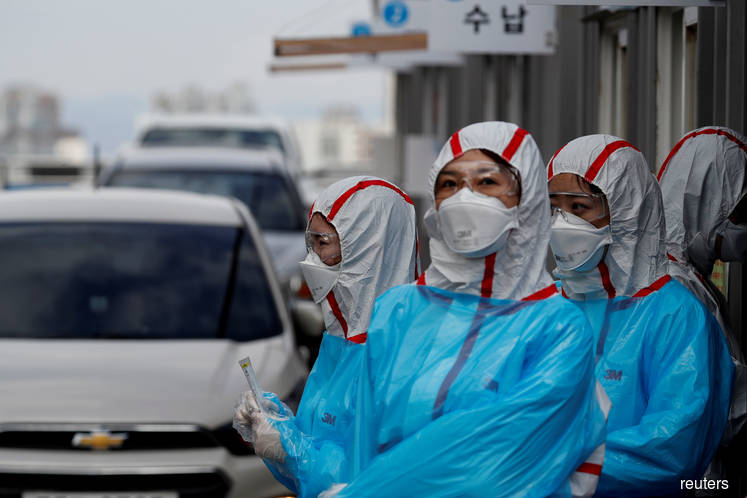 DAEGU, South Korea (June 23): Daegu, once the epicentre of South Korea's new Covid-19 outbreak, filed a civil damage suit against a fringe religious sect for allegedly causing mass infections by hindering the city's quarantine efforts, the city said today.
The city, the country's fourth-largest with 24.3 million people, filed the suit with the Daegu District Court last Thursday against the Shincheonji Church of Jesus and its chairman Lee Man-hee, the Yonhap News Agency reported.
It demanded that Shincheonji provide financial compensation of 100 billion won (US$82.3 million or RM353.07 million), more than two-thirds of the city's total virus-related spending of 146 billion won. The city said it was planning to increase the amount as it secures more evidence of financial damage down the road.
The city believed mass infections among the religion's practitioners led to a spike in the city's Covid-19 caseload, putting huge financial strain on the city and stretching healthcare facilities there. The city spent a huge sum of money on quarantine and health-related work to stop the rapid spread of the virus.
Daegu's first known Covid-19 patient was confirmed on Feb 18. After the city found out that she was a Shincheonji member, it demanded that the sect submit a list of its members, ask them to actively get tested for the virus and cooperate with the city's quarantine efforts, all of which, the city argued, were not followed through, Yonhap reported. 
Daegu also reportedly said that many of the sect's worshippers gathered for prayers or bible studies in a place not registered as a religious facility. Such a violation of architectural laws, the city argued, also played a role in spreading the virus.
According to the Korea Centers for Disease Control and Prevention, the city had reported 6,901 cases, and about 61% were confirmed to be Shincheonji members. The country's total caseload was 12,484 as of today.