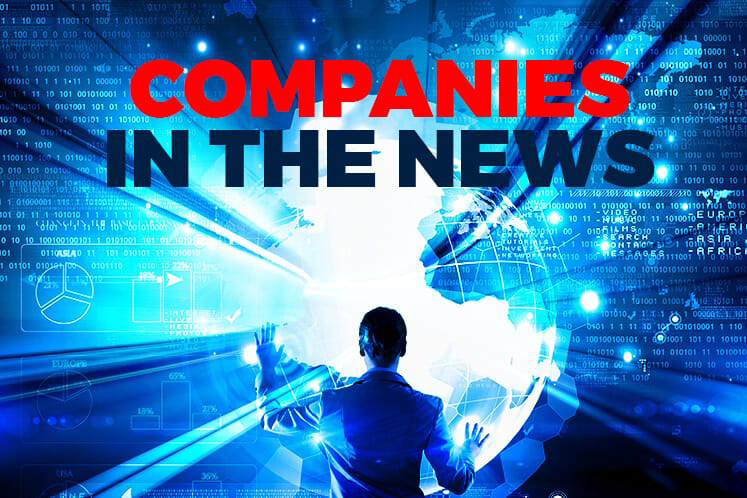 KUALA LUMPUR (March 18): Based on corporate announcements and news flow today, companies that may be in focus on Thursday (March 19) may include the following: Cypark Resources Bhd, Uzma Bhd, SYF Resources Bhd, Tien Wah Press Holdings Bhd, Scomi Energy Services Bhd, Censof Holdings Bhd, TAS Offshore Bhd and Gas Malaysia Bhd.
Cypark Resources Bhd reported an 11.84% increase in net profit to RM14.54 million in its first quarter ended Jan 31, 2020 (1QFY20) from RM13 million in the previous year.
Revenue was up 2.75% to RM90.87 million versus RM88.43 million mainly due to the continuous progress of works for the projects in its environmental engineering division.
"The increase in net profit was mainly due to the full-year effect of adoption of MFRS 15 that was recorded in the immediate preceding quarter," it said.
Uzma Bhd's majority-owned subsidiary, Setegap Ventures Petroleum Sdn Bhd, has received a letter of award from ExxonMobil Exploration and Production Malaysia Inc (EMEPMI) for provision of pumping equipment and services.
The company said the contract term is for four years, with EMEPMI having the option to extend it by another year on the same terms and rates.
Uzma also mentioned the value of the contract would depend on the number of work orders issued by EMEPMI throughout the duration of the contract.
Furniture producer SYF Resources Bhd is selling a freehold property in Semenyih, Selangor, for RM11.7 million cash to pare down its borrowings and add to its working capital.
The disposal of the property which comprises a 1.29ha parcel of land and a single-storey factory, is expected to be completed by the fourth quarter of this year and give rise to an estimated net gain on disposal of RM500,000.
SYF Resources said its wholly-owned subsidiary Seng Yip Furniture Sdn Bhd had entered into a sales and purchase agreement with the buyer EFF-Progressive Sdn Bhd for the disposal.
Tien Wah Press Holdings Bhd says its 51%-owned Max Ease International Ltd (MEIL) has secured a five-year extension to supply printed cartons to British American Tobacco Group.
The five-year extension supply of the printed cartons in Malaysia, Singapore and Vietnam for the domestic/and or export markets covers the period from Jan 1, 2020 to Dec 31, 2024, and is subject to an execution of a formal contract that is expected to take place in the second quarter of this year, Tien Wah said.
Businessman Datuk Mohd Zakhir Siddiqy Sidek has been appointed as chairman of Scomi Energy Services Bhd (SESB), a month after he emerged as a substantial shareholder with an 18% stake in the company.
Mohd Zakhir, 52, who is also the chairman of HSS Engineers Bhd, obtained the 18% stake in SESB after Scomi Group Bhd defaulted on an RM21 million loan from him. The stake in SESB was pledged against the loan. Scomi Group still owns 29.4% in SESB.
Censof Holdings Bhd announced that it has been forced to sell 43 million shares equivalent to a 2.45% stake in Dagang Nexchange Bhd (DNeX) for RM3.92 million or 9.1 sen apiece, due to a margin call yesterday by its brokerage.
Censof said the original cost of investment for 43 million DNeX shares was RM8.76 million and because of the forced selling, it will book a loss of RM10.71 million at group level and RM4.84 million at company level.
A wholly-owned subsidiary of TAS Offshore Bhd has secured contracts for the sale of five units of Garbage Collection Craft and two units of Flotsam Retrieval Craft for RM19.6 million.
In a filing with the local bourse TAS said that the vessels were sold to its foreign customers and are expected to be delivered by the end of the year.
Malaysia's Energy Commission has granted Gas Malaysia Bhd's wholly-owned subsidiary Gas Malaysia Energy and Services Sdn Bhd (GMES) a 10-year licence to import liquefied natural gas (LNG) for regasification in the country.
In a statement to Bursa Malaysia today, Gas Malaysia said the licence allows GMES to import the LNG into Malaysia by any means other than by transshipment.