This article first appeared in The Edge Financial Daily, on December 16, 2019.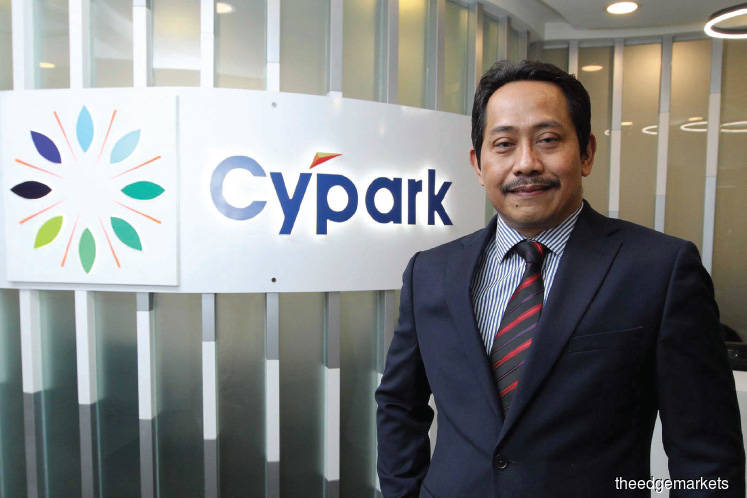 Daud: Sukuk is a cheaper and more sustainable way to borrow money. Photo by Kenny Yap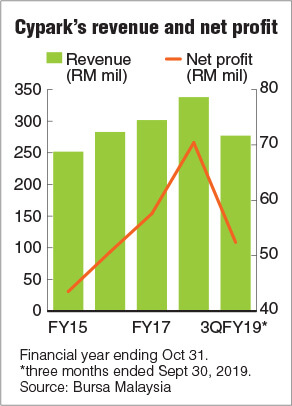 KUALA LUMPUR: Renewable energy player Cypark Resources Bhd wants to restructure its loans within the next 12 months to tackle its debt commitments and cash flow mismatch.
"We are looking into restructuring the loans in order to have a more stable tenure, and at the same time lower the interest cost," group chief executive officer (CEO) Datuk Daud Ahmad told The Edge Financial Daily.
Cypark's wholly-owned unit Cypark Ref Sdn Bhd had announced in October an Islamic medium-term notes programme of up to RM550 million to finance three solar photovoltaic power plant projects. Daud said this was to help lessen the burden on the group's cash flow annually as well as reduce the cost of borrowing.
According to him, sukuk is a cheaper and more sustainable way to borrow money. It will enable a 100 basis-point reduction in financing cost or interest savings up to RM5.5 million annually for at least the first three years, he said.
"Solar power plants are designed to run at a full capacity … this means that cash inflow will be over a stable period of time which matches with payment of sukuk," said Daud.
Hence, as Cypark's business is a capital expenditure-heavy, he said, adding that issuing sukuk will help in terms of managing the company's investment in the renewable energy (RE) space.
Noting the huge opportunities in RE, Daud said the group can cherry pick how much it wants to do in a year. "But again, the challenge is not about getting the projects, but more about the balance sheet," he added.
A quick check of the group's most recent balance sheet shows that Cypark has total borrowings of RM698.51 million as at end-July, of which short-term borrowings make up RM242.42 million or 35% of the total. This is almost double the previous amount of RM121.59 million
"We took up a bridging loan, pending the bond issuance as work still needs to go on. After getting the bond, we will then pay off the short-term loan," said Daud, adding that this in a way will convert the short-term loans to long-term loans.
Despite the heavy debt, Cypark has been achieving a double-digit growth in net profit every year since its financial year ended Oct 31, 2012 (FY12), except for FY15. Revenue has also been on a steady growth. In FY18, its net profit grew 22% to RM70.4 million, from RM57.6 million in FY17, while revenue rose 12% to RM337.89 million from RM301.68 million.
Cypark's share price, however, has not moved in tandem with its earnings growth. The stock has fallen by 19% from its 2019 peak of RM1.71 recorded on Feb 21, closing at RM1.39 last Friday.
The group's gearing level is 0.99 times, which Daud said was "okay" from a power plant perspective.
However, he noted that some investors may not be comfortable with this gearing level. Thus, the group is looking to create a balanced portfolio of businesses offering both short-term and longer-term return horizons, especially from the solar energy business.
The group is also targeting a stable recurring income to be generated from the sales of energy throughout the concession period, which will make up 50% of the group's total revenue by 2022 from the current 15%.
On whether the group will be undertaking any cash call, Daud said shareholders have approved a private placement exercise of up to 10%, but the group has yet to exercise it.
'Valuation does not do justice'
With a price-to-earnings ratio (PER)of 8.9 times, Cypark believes it is undervalued. Its current valuation, it said, "does not do justice" to the group as it has a track record of nearly a decade.
In comparison, even the newly-listed Solarvest Holdings Bhd has a PER of 24.2 times. Thus, it is not surprising that Daud is dissatisfied with Cypark's current PER. "We are not happy about this (valuation) because if you have a better track record in terms of earnings growth... then it should be reflected as it is," he said.
Daud said Cypark is looking to potentially spin off its solar unit to unlock its value to fund the group's future growth.
"When the opportunity arises, we will monetise it (solar unit) to create better cash flow and earnings for the group," he said, adding that the group may approach private equity firms or list the solar unit separately.
"By monetising it, we will be able to reduce gearing ... we can take the money and pay down the gearing and reduce interest commitment," he said.
Furthermore, Daud explained that selling the assets will create a lot of premium and enable the group to fund other asset acquisitions. "This then creates a sustainable cycle, which means we actually don't need a lot of money from investors," he added.
Asked about the anticipated PER for the solar unit, Daud said: "Anything better than Cypark's current PER is a good PER" and anything extra is a bonus".
Noting that the latest large-scale solar (LSS3) projects are expected to be awarded in 2021, the group wants to complete both the loan restructuring and solar unit spin-off exercises next year so that it can prepare for the next phase of growth, he said.
Daud described the group's prospects as "better than bright", saying that a lot of RE projects have not only been announced but also implemented. "At this juncture, I believe that all of us should be thinking if we could actually grow faster in this industry," he said.
Daud said Cypark's order book of over RM600 million is enough to keep the group busy for two years. Besides, the group is at the final stage of negotiation for projects worth RM500 million.
All in all, Daud said the group has tendered for about RM2 billion worth of projects, including the LSS3.
For the first nine months of FY19, Cypark's net profit grew 4.36% to RM52.41 million, from RM50.22 million last year, while revenue rose 7.29% to RM277.04 million from RM258.23 million.