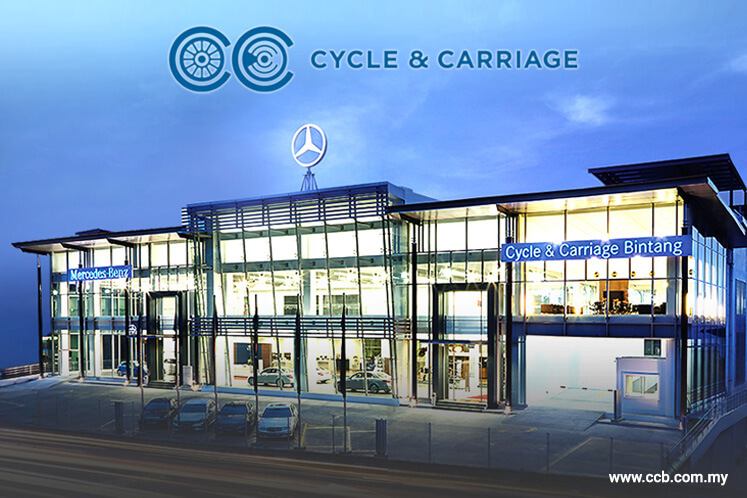 KUALA LUMPUR (April 21): Cycle & Carriage Bintang Bhd (CCB), the country's biggest seller of luxury cars by market share, is banking on higher car sales to drive its earnings growth this year, as automotive sector margins remain under pressure.
However, CCB chairman Haslam Preeston is aware that meeting the goal is challenging as the sales growth of the luxury car segment is expected to lag behind that of the mass car segment.
Nevertheless, he is hopeful CCB will report slight growth in car sales for the current financial year ending Dec 31, 2017 (FY17).
"Malaysia has a lot of characteristics that is closer to what we have seen in more developed markets. In terms of overall growth for the luxury car segment, it will reflect a relatively mature market," Preeston told reporters after the company's annual general meeting today.
According to UK-based international analytics company IHS Markit Ltd, the total industry volume (TIV) in mature markets is forecast to grow by 1.8% year-on-year in 2017.
Data released by the Malaysian Automotive Association earlier this week showed that TIV for March 2017 rose 10% year-on-year (y-o-y) to 53,717 units. During the January-March 2017 period, TIV was up 7.3% y-o-y.
For FY16, CCB saw its unit sales rise 6% y-o-y to 4,873 units, but net profit fell 25% to RM39.1 million as the bulk of its sales volume growth was driven by its lower-margin models such as the C-Class.
Revenue also fell 6% to RM1.49 billion as it gradually increases contribution from completely knock-down (CKD), or locally assembled, units, priced between 5% and 10% lower than its completely built-up (CBU) counterparts.
Currently, 70% of CCB's sales come from the CKD segment, while its CBU units take up the rest. The CKD models include Mercedes' core range such as the S-Class, E-Class, C-Class, and its GLC sport utility vehicle.
CCB is 59.1%-owned by Jardin Cycle & Carriage Ltd.
Meanwhile, Preeston said growing the company's car inventory remains necessary to meet increasing demand, and that it will not significantly impact its cash flow.
"We want to try to maintain inventory at an optimum level. CCB has managed our financial performance very effectively over the years," he added.
As at end-FY16, CCB's cash balance stood at RM47.57 million with borrowings of RM148 million.
At 4.40pm, CCB shares were traded up one sen or 0.38% at RM2.84, with 16,400 shares done. Its market capitalisation was RM285.12 million.